Chloé seamlessly weaves together style and sustainability
In celebration of Chloé's A/W 2022 show today at Paris Fashion Week, we look to our interview with is pioneering creative director Gabriela Hearst, featured in our March 2022 issue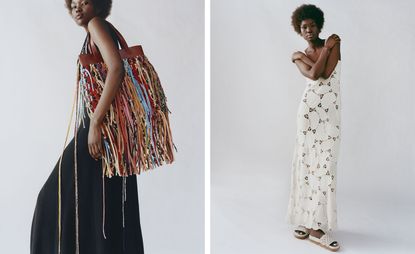 (Image credit: TINO CHIWARIRO)
Gabriela Hearst compares operating a Parisian womenswear brand with a sustainable ethos to making an Italian Caprese salad. 'You need to be working with the best ingredients, great tomatoes and buffalo mozzarella,' she explains. 'Before I joined Chloé, there was an oversight in the ingredients being used to create its final product.'
Before the Uruguayan designer became creative director of Chloé – a brand associated with an insouciant spirit and beachy bohemianism – in December 2020, she had been running her eponymous New York men's and women's label like a cult zero-waste trattoria. Founded in 2015, the same year Hearst began remotely running her late father's 17,000-acre ranch in Paysandú, western Uruguay, it had an environmentalist approach from the outset. Timeless and uncompromising in its aesthetic, the plastic-free brand releases its signature 'Nina' bag in excess-conscious limited runs. In 2019, it produced the first carbon-neutral runway show and opened a Foster + Partners-designed boutique in London's Mayfair, using only sustainably sourced and recycled materials'.
For Hearst, who applied for the creative director position with a 92-page presentation, Chloé presented an exciting opportunity to work on a larger scale. 'I wanted to see if we could apply the research and development practice from Gabriela Hearst, a smaller brand with a lower environmental impact, to a larger one,' she says. First, she focused on Chloé's 'low-hanging fruits' – materials that could be immediately eliminated from its supply chains, such as galvanised metals and semi-synthetic viscose. She also refused to do cotton T-shirts – a mass-produced commercial hit for many luxury brands that requires around 2,500 litres of water per piece – except for a deadstock cotton jersey iteration, in collaboration with Unicef. 'There was a lot about the materiality process that we were able to change really fast,' Hearst explains.
For S/S 2022, Hearst presented a joyful and laid-back Chloé collection on the left bank of the Seine, where models sporting kaftans and breezy summer slips were bathed in glowing sunlight. Fifty-eight per cent of the collection was crafted using 'lower-impact' materials, compared to A/W 2021's 40 per cent. Sleeveless dresses were patchworked from hand-cut nappa leather, or accented with a net woven from upcycled silk, while the brand's originally cotton tote bag was reworked in linen. The show also debuted Chloé Craft, a selection of meticulously handworked pieces, signposted with an organic spiral motif.
'We are becoming part of a world with limited natural resources and need to learn how to work better with secondhand things,' adds Hearst of Chloé's S/S 2022 collaboration with Ocean Sole, a Kenyan art group that upcycles old flip-flops. Soles from the brand's 'Lou' shoe line were formed from this salvaged ocean waste. Chloé also continued its 15-year partnership with Akanjo, a Malagasy social enterprise that encourages disadvantaged women to learn artisanal skills, on colourful crocheted elements within the collection.
Hearst attributes her utilitarian, circular approach to design to growing up on a ranch. Every item brought in from outside the farm was logged, including pantry ingredients such as sugar, dried pasta and flour, as the nearest shop was a two-and-a-half hour drive away. Her family made their own soap from lard. 'Nothing was thrown away,' Hearst says. 'Recently, I was trying to replace a water tank in my bathroom, but we can't unless we find something to do with the old one'.
It's confronting to analyse every element of your supply chain, every product, every method, every material. But for Hearst, Chloé isn't about ticking a few eco-conscious boxes. 'It's about changing your volume drivers,' she says. 'Whatever you're making the most of, has the most impact.' In October 2021, Chloé was the first luxury fashion house to attain B Corp status, a demanding certification that incorporates 300 questions surrounding governance, workers, communities and environmental impact. Secondhand retail platform Vestiaire Collective and outerwear specialist Patagonia also hold the certification. 'Now we have to improve our scores,' Hearst enthuses.
'I want to get to the point where we are inventorying everything that we use and operate with complete transparency.' By 2025, the brand aims for 90 per cent of its materials to be lower-impact, with 30 per cent attained through fair trade sourcing. 'Whatever the ingredients were for the stew, everything was inventoried,' says Hearst of the cataloguing that defined her formative years. Italian salad, Uruguayan casserole or Parisian luxury house – it's the ingredients that contribute to their success.
INFORMATION
chloe.com (opens in new tab)
A version of this article is featured in the March 2022 issue of Wallpaper*, on newsstands now and available to subscribers (opens in new tab)