Fan mail: the greatest S/S 2018 fashion week invitations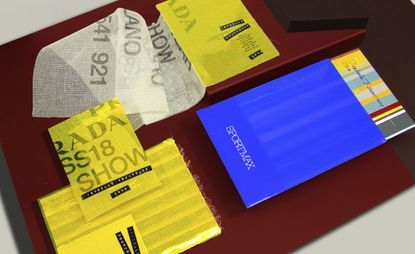 (Image credit: Aylin Bayhan)
Poster art: Loewe loves a poster-themed invitation, so for its S/S 2018 men's presentation, the Madrid-based label opted for a fold-out of a model lounging by a pool at Salvador Dalí's house in Cadaqués, Catalonia. The poster, part of the brand's spring lookbook, was created in collaboration with graphic design studio and regular collaborators M/M Paris. Just like the windows of a home, it featured sleek rectangular cutouts.
Home comforts: Designers were keeping house for S/S 2018, with a series of invitations revelling in domestic bliss. Anya Hindmarch's came complete with a branded bar of soap, while Miu Miu's was lined with a layer of sponge – what chicer tools for kitchen chores? More study-focused, Chalayan's women's invitation came complete with a pink Post-it note and JuunJ's with a white collar. Dries Van Noten's menswear invitation was printed with a retro office interior, boasting an old IBM computer.
True romance: In London, a host of show invitations nodded to nostalgia. Burberry's featured an image by Dafydd Jones, of two students at the Magdalen Commemoration Ball at Oxford University in 1988, lying in formal clothing on the grass. Simone Rocha's fold-out included two machine stitched-red figures with gothic trailing threads. Also otherworldly, the invitation to Thom Browne's women's show in Paris featured a card with a hand written poem speculating on the possibilities of dreams.
Feeling blue: The hue du jour during Paris men's, blue accents were seen across the city's invitations. At Louis Vuitton, an inky stripe completed the brand's luggage-tag-inspired offering. At Yohji Yamamoto, a transparent black envelope encased a paper concertina printed with various global typescripts, which folded from a piece of sky blue card.
Box of tricks: Gucci presented its show attendees with a metal tin inspired by old pharmacy boxes. Its lid featured a mythical illustration taken from a German alchemical manuscript from the early 1700s, and opened to reveal a sheet of branded, chemist-inspired wrapping paper. Concealed inside? A thread holder, aromatic paper, five candles and a packet of matches. Talk about a hot ticket!
Bookworms: During the Paris womens' shows, designers encouraged front rowers to engage in a spot of light reading or doodling. At Yohji Yamamoto, a yellow paged notepad was bound in plastic; at Hermès, guests were treated to a booklet listing the components of the brand's 46 catwalk looks and a poem penned by Jarvis Cocker called 'Hermès Colours'.
Orient express: Designers looked to Japan for their menswear show invitation inspirations. Take Paul Smith, which mailed guests a scaly plastic fish inscribed with Japanese typography. Or Emporio Armani, who printed an inky Oriental floral pattern onto its fabric-covered invitation. At Lanvin, guests kept themselves cool with a polka dot fan.
Band aid: Brands bought the entrance cues of music venues to the catwalk. From lanyards at Fendi and Versus, and barcoded tickets at Vetements, to sticky yellow wristbands at Marques'Almeida, we'd never felt more like we were with the band.
Hole in one: Designers brought cutouts to their catwalk invitations. Take the circular punches in Craig Green's offering, evoking the hole motifs in his menswear designs, or the undulating curves in the Akris invitation, which nodded to a plywood sculpture by Alexander Girard (an inspiration behind the brand's women's collection). Or the circle cutout of a surreal horizon at Dirk Bikkembergs, and a viewfinder-like chink in the invitation for Natacha Ramsay-Levi's debut for Chloé. Talk about making the cut!
Material world: Folds of fabrics acted as keepsake invitations. For Dries Van Noten's women's show and Luke and Lucie Meier's debut at Jil Sander, the designers opted for subtle cream shades of fabric, printed with bold black typography. Marni's women's invitation featured a fold-out handkerchief finished with messy loops of thread, while Carven's came with a pouting beaded fish. At Rick Owens' women's show, a scarf was printed with an illustration of a futurist sculpture by Thayaht, while at Tsatsas, the German accessories brand created a fabric invitation printed with an image of a rusty shipping liner.
Touch points: Textures were of top importance for S/S 2018, with Saint Laurent and Giorgio Armani opting for invitations in sumptuous leather – a white calfskin envelope for the former's women's show, and a tan leather invitation for the latter's men's offering. At Marni's menswear show, creative director Francesco Risso favoured a tactile invitation printed on corrugated cardboard.
Clear view: Brands both emerging and established opted for invitations encased in cellophane. Kiko Kostadinov used a press stud to fasten a white strip of paper inside a glossy sheer plastic envelope. For Prada's men's show, the brand enclosed a white cardboard sleeve for a 'Draft Novel' inside a clear tearable pouch.
Receive our daily digest of inspiration, escapism and design stories from around the world direct to your inbox