At home with Rick Owens
Speaking in the run-up to his S/S 2023 menswear collection, shown today in Paris, renegade designer Rick Owens talks working process, inspiration, and the 'concrete palace' he calls home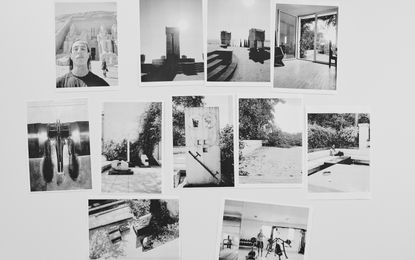 (Image credit: Courtesy of Rick Owens)
Rick Owens (opens in new tab) is one of fashion's true renegades; since 1994, when the American designer launched his first store on Hollywood Boulevard, he has carved a singular path with collections that defy categorisation. In fact, when it comes to describing his clothing – which people have, variously, as moody, gothic, brutal – the defining feature seems only to be a sense of the otherworldly and unexpected, pieces straight from a dream (or, indeed, nightmare). His models might have another body strapped, upside down, on their front; faces transformed with prosthesis into horn-sprouting aliens; be wrapped in towering cocoons of fabric, raised up on sky-high perspex heels. His collections are shown each season at the Palais de Tokyo in Paris, where he has erected vast scaffold structures on the exterior – sometimes on fire, other times disappearing into clouds of fog. In short, he likes extremes.
At home with Rick Owens
Owens spends much of his time in his Paris residence, the converted French Socialist Party headquarters on the Place du Palais Bourbon which he purchased in 2004 with his wife, the polymathic creative Michèle Lamy. He calls it his 'concrete palace', 'insulated, isolated, removed, and remote'. Speaking from its terrace in the run-up to his S/S 2023 men's collection – which will be shown today in Paris – Owens invites Wallpaper* home.
Wallpaper*: Where are you at the moment as we speak? What can you see?
Rick Owens: I am on my terrace in Paris overlooking the gardens of the Ministry of Defence – the roses are just starting to bloom and the wisteria that always seems to struggle a bit looks lush and confident this season. There are a few concrete prongs from our furniture collection lying around like brutalist boulders and they encircle a concrete Huma Bhabha sculpture that looks like a concrete portal to another world.
W*: Where do you call home? Describe your neighbourhood/area.
RO: I have lived in a concrete palace in the 7th arrondissement of Paris for 15 years – it feels insulated, isolated, removed, and remote. There is a reserve and aloofness on this side of town that feels slightly chilly and austere. I'm into it. On my way in from the airport, driving through the Place de la Concorde, I love the grandeur of the setting and its contrast to the square I live on just beyond it. I always feel a soft rush of emotion driving past the gates of the Tuileries, past the fountains and the obélisque, enjoying the delicious curliness of Parisian confection before sliding into the concrete cave I live in.
W*: Where and when do you find you are most productive?
RO: There is one weekend before every collection when I am in Italy with the factory to myself and gather all my notes and fabrics and flowers and candles and cookies and movies and music and shuffle it all together and print it out and cut and tape and staple and end up with the seed of a hint of a mood of a collection. This is what I present to the team the following Monday and the collection evolves from there. I have an apartment on the top floor of the building across the street from the factory and follow a strict regimen of working out, having high protein meals delivered from our canteen downstairs, and reviewing the progress of the collection every morning on the terrace smothered in jasmine harbouring at least two active birds nests at a time.
W*: What are you working on at the moment? How is it going?
RO: I am trying to figure out how to stage my next runway show a month away. I had originally reached out to an artist on Instagram who transformed himself into a distorted creature covered in patchy fur teetering on extended legs and arms like a starving gorilla painted by Salvador Dalí. I first saw a video post of him staggering down a suburban street with long greasy hair covering a haunting mask-like face and was smitten. He exuded the same grotesque alien glamour I had first encountered on Bowie's Diamond Dogs album cover in the sales bin in the basement of the Kmart in the small town I grew up in. I reached out to this artist and asked him if he could be reproduced so I could have ten creatures walking the runway in the collection I envisioned... I would create oversized bombers and shirts to fit the animalistic bodies and produce these as distorted oversized garments that had been redesigned to fit his aliens. He was into it but said he had already been approached by a prominent singer to appear as back-up during a music festival. I asked him: wasn't the prospect of having ten of his creatures as models on a Parisian runway more prestigious than two of his creatures being drowned in the chaos of a music festival? Apparently not – at the last minute he dropped me and looked like he had a wonderful time at the festival.
Afterwards, I wondered if it was all for the best since using these creatures might have felt too gimmicky. I am certainly not above a gimmick but I hope I am using my bombast to promote values I believe in – would using these creatures illustrate my constant underlying message of considering options of beauty outside the strictly narrow parameters of the general fashion world and popular culture? If I can blur the lines of what's considered acceptable beauty and celebrate the misfit, might that support attitudes of tolerance and inclusivity?
W*: What is your favourite place, anywhere in the world? And why?
RO: My current favourite place is a rustic hotel in Luxor, Egypt, within view of the Valley of Kings. The landscape feels remote and untended and the roads getting to it are raw and unpaved. The hotel itself feels like a dusty 1930s movie set with vast high-ceilinged rooms and shaggy dry gardens and a huge pool. It always feels abandoned and empty with just the birds in the palms around the pool and ancient tombs visible off in the distance. I love feeling the insignificance of myself and my concerns in that scale of space and time.
W*: If Wallpaper* came for dinner, what would you cook us?
RO: I have absolutely no place in a kitchen, but we have a fantastic chef that always comes up with the most delicious farmers market fish and exquisite seasonal vegetable dishes. After that come slabs of slutty cheesecake.
W* What are you reading, and what do you think of it?
RO: I'm reading a Gavin Lambert biography on Lindsay Anderson, one of the leaders of the 1960s British New Wave cinema – I enjoyed Lambert's biography of Alla Nazimova, the silent screen star who produced one of my all-time favourite movies, the 1923 version of Salome. Lambert's bios are always titillating and queer-centric and I enjoy studying the creative arcs of eccentric creators having maintained a comparatively consistent output of creative expression despite life's distractions. I suppose in a way I like to see how it was done to keep myself on course in my own little way.
W*: What's your favourite indulgence and why? When did you last indulge?
RO: When I'm at the Italian factory there are so many places to visit nearby for a little aesthetic boost – last month I stayed at the Villa Feltrinelli in Lago di Garda, which had been Mussolini's last residence when he was confined during the Second World War, where I bathed in his bathtub. Just down the lake is Il Vittoriale, where Gabriele D'Annunzio lived, a fantastic compound which is one of my favourite personal Disneylands.
W*: What's inspiring you right now?
RO: I am studying the work of Austrian artist Walter Pichler – his bleak brutalist utopian efforts and 1960s concrete forms and earthworks are really speaking to me right now. Maybe it's the melancholy of idealistic dreams having fallen short that I always see in retrofuturism...
W*: What's top of your to-do list?
RO: Top of my list is making my next runway show relevant and of enough cultural and historical value to offset the hyperbole and consumerism and carbon footprint it will be promoting. Hopefully, there is enough moral value, entertainment, and economic contribution that will make the whole mess worthwhile.
W*: How do you switch off? Do you switch off?
RO: I have taken a one-and-a-half hour nap every day for at least 15 years – it started out as a way of withdrawing from all the new energy directed my way when I started producing my collections in Italy, but I also realise it's a form of meditation allowing myself to empty out clutter in my head and hit a refresh button that serves me much better than plain endurance.
W*: Ten years from now you'll be…
RO: I see myself tottering around in gold python platform clogs and a black silk charmeuse kaftan and turban in a walled garden designed after Violet Venable's garden in Suddenly Last Summer, petting and whispering to the Onagadori roosters I plan on devoting the rest of my life to breeding.
Jack Moss is the Fashion Features Editor at Wallpaper*. Having previously held roles at 10, 10 Men and AnOther magazines, he joined the team in 2022. His work has a particular focus on the moments where fashion and style intersect with other creative disciplines – among them art and design – as well as championing a new generation of international talent and profiling the industry's leading figures and brands.