Rick Owens S/S 2020 Paris Fashion Week Women's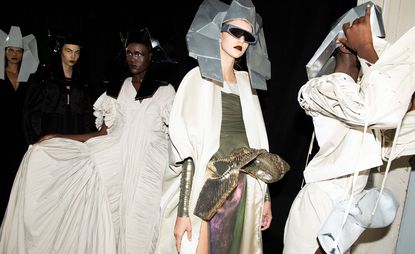 (Image credit: Jason Lloyd-Evans)
Mood board: Grandmothers have been on designers' mood boards for spring. In London, Richard Malone celebrated his family matriarch, a feisty working class seamstress who inspired his creative output, and in Milan, Arthur Arbesser looked to a discovered box of his grandmother's fabric swatches, gathered over decades. After a men's and women's season in autumn, celebrating the work of 70s unsung design hero Larry LeGaspi, and an accompanying Rizzoli print release, Owens looked to the life of his Mexican grandmother for S/S 2020. His shows often coincide with poignant political moments; for example, S/S 2019 women's Babel-inspired offering when Christine Blasey Ford was providing testimony against Brett Kavanaugh. 'The debate over a border wall made me more conscious of who I would be separated from,' Owens explained. This week, the Democrats announced a formal impeachment inquiry into the American President Donald Trump.

Finishing touches: There was something strong, regal and resplendent about the offering, which was imagined in Owens' usual neutral tones, with pops of pink and gold – a nod to the colours employed by Mexican architect Luis Barragán. Models resembled futuristic goddesses, clad in sequin kaftans and sculptural mantles, sharp-shouldered jackets, slashed tube skirts and pixel-like metal headdresses, which evoked costumes in Fritz Lang's 1927 science fiction drama Metropolis. Owens' futuristic sense was also seen in Aztec graphics emblazoned geometrically on the back of capes, inspired by Josef and Anni Albers' abstract Bauhaus interpretations of Aztec monuments.

Scene setting: Owens staged his show in his usual open-air location, next to the fountain of the Palais de Tokyo. His vision was ethereal and dreamlike, aimed at recalling 'Fantasia-era Disney,' and as the show began, men and women dressed in monastic robes lined the fountain, dipping nets into the water and swathing the setting in bubbles.