At home with Manolo Blahnik
Speaking from his home in the Canary Islands, the legendary shoe designer talks about finding inspiration, his current reading list, and what he would serve if Wallpaper* came to dinner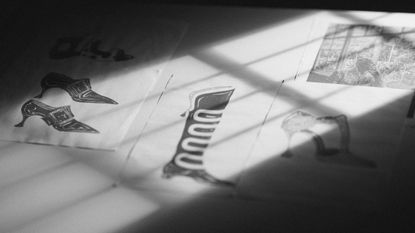 (Image credit: Courtesy of Manolo Blahnik)
The most lauded shoe designer of our time, Manolo Blahnik is as much beloved in the rarefied circles of high fashion as he is a household name. He is also in the pantheon of legendary figures who need only their forename for recognition; colloquially, his exquisitely crafted shoes are known simply as 'Manolos'. And, such is his staying power that this year marks 50 years of his eponymous label – down to both an innate understanding of changing sartorial desires and a singular, uncompromising vision, which always returns to an aesthete's search for beauty.

Born on the Canary Islands in 1942, where as a child he would famously craft miniature shoes for local reptiles (a 2017 film was aptly titled Manolo: The Boy Who Made Shoes for Lizards), it was not until 1969 – after a chance meeting with American Vogue editor Diana Vreeland – that he returned to this childhood fixation and the medium which would define his career. Blahnik was introduced to Vreeland by friend Paloma Picasso while he was studying art and set design in Paris; Vreeland, on a glimpse of Blahnik's sketches for an upcoming production of A Midsummer Night's Dream, was particularly taken with the cherry and ivy-covered heels he had drawn for the character of Hippolyta. 'Young man, stick to the extremities and make shoes,' she declared. He obeyed; from then on, Blahnik would describe his life as a feted shoemaker as an 'accident'.
At home with Manolo Blahnik
Alongside the Canary Islands – where the designer still lives – London became a second home, Blahnik founding his first store on Old Church Street, Chelsea, in 1970 (something of an Anglophile, he admits that bread and butter pudding remains his favourite dish, particularly the one served at Wiltons restaurant on London's Jermyn Street). Holding court at the store, he would entertain many of the women who would go on to be lifelong devotees – from Bianca Jagger to Anna Wintour, the latter still rarely seen without a pair of his shoes on her feet. Through the 1980s, he designed shoes for the runway – Isaac Mizrahi, Oscar de la Renta and Calvin Klein among his clients – continuing this dynamic spirit of collaboration into our current century, uniting with musician Rihanna on a series of collections beginning in 2016, as well as rebellious then-Paris-based label Vetements on a memorable (and much re-posted) pair of waist-high satin boots for its S/S 2017 collection. Most recently, he collaborated with Birkenstock, beloved by the designer and purportedly the only shoes he wears himself at home.

Speaking to Wallpaper* from the Canary Islands – landline at times blurry from damage caused by a recent volcanic eruption – Blahnik speaks with an effervescent train of thought that shifts between past and present. One anecdote runs into another, the original question often lost in the excitement of recounting something new (it makes the title of a survey of his work, Fleeting Gestures and Obsessions, feel entirely apt). It is not unlike his own approach to design, where a season might be almost entirely sketched out before being discarded in the pursuit of the absolute perfection that has long defined Manolo Blahnik the label.

Here, as part of our 'At home with' interview series, Blahnik shares a glimpse into his creative process, accompanied by original sketches of his Autumn 2022 collection – arriving in the coming months.
Wallpaper*: Where are you at the moment?
Manolo Blahnik: I'm in a wonderful place with palm trees [on the Canary Islands], which was my grandmother's house – I was born there. So that's where I am now. I can see the mountains and the sea. What else could you want?
W*: Where do you call home?
MB: This is where I was born, and grew up, and I love it. I have another home up in the mountains, which I like very much because it's totally mine. I've repaired these 18th-century shepherd's homes, and I've done the gardens [and] planted a lot of trees. So these are the two places I call home.
W*: Do you have neighbours?
MB: No, I don't have neighbours – thank god! I can scream as much as I want.
W*: Where or when are you most productive?
MB: At night – no phones, no people trying to bother me. I read and I create at night. Sometimes I watch a film until late. Nighttime is my moment.
W*: What are you working on at the moment?
MB: I work in advance – I change the original idea 100 million times for a collection. Then I choose things [I like], and also other people choose for me, unfortunately. That's just the way it works nowadays. But I'm working now, and it's going well actually – if I stay with this idea!
W*: Is there a place that you go for inspiration?
MB: I go up to the mountains, and see the wonderful sea. This summer, though, it has been rain, rain, rain. Usually, June is wonderful here. Today it's cold – I'm wearing my jumper right now, it's not good. But that's where I would go, up to the mountains, if I needed inspiration.
W*: Where is your favourite place in the world to visit?
MB: I adore Basque [in north-west Spain]; I have a house there, and I work very well when I'm there. It's very quiet. I think in another life I might have been Georgian, so possibly that's a reason why I love it. I also love Ronda, in the south of Spain, which is where my mother's family is from. I like so many places [around the world], but these are my two favourites at the moment.
W*: If Wallpaper* was to come for dinner, what would you serve? Is there a dish you cook?
MB: It would be a disaster! I don't cook at all. I used to do a fruitcake, things like that, but I don't anymore. Maybe my housekeeper – who is not very good either – could do something English. She does quite a good steak and kidney pie.
W*: What are you reading at the moment?
MB: Henry James. Oh my god, but how wonderful is Henry James? Have you ever read Travels with Henry James? It's from the end of the 19th century, but it's so captivating – almost like you are under a spell. All of his books are wonderful, but this is the most incredible and sharp – it's divine. I wish I was around at that time; the last two years have been so disappointing for anybody who loves travel, and beauty. But Henry James – you must read this book immediately!

I also love Colm Tóibín – he's an incredible writer. The Magician is all about the family of Thomas Mann. It's almost like a biography. I've been reading like crazy these days – I've also gone back to read Thomas Mann's Confessions of Felix Krull, which is about this poor boy whose father was a Champagne maker in the Rhine. It is complicated to explain, but it is wonderful. I've been reading every book by Thomas Mann, apart from The Magic Mountain, which is a bore. Though I wouldn't mind being sick in a wonderful sanatorium like that [laughs].

Finally, I've been reading James Baldwin's short stories, including Sonny's Blues, about a jazz musician struggling to survive. Everybody's read Giovanni's Room, but these are something different. I love that period. American writers nowadays don't interest me – the last interesting one was Tom Wolfe.
W*: Do you read more than one book at once?
MB: I'll pick up one book, and then I just go into another room and read another. Some books I read in seconds. Last night, I was reading and talking to my dogs. With my dogs, I don't need anything else. When you have dogs, and books, and wonderful images, and you travel, you don't need anything else.
W*: Do you have an indulgence?
MB: Oh gosh, it used to be sweets. But I've had to stop. I used to have three boxes of Elvas Plums from Fortnum & Mason each Christmas time. This year – none. I don't have many of my indulgences now, but I do have dreams sometimes. I'm burdened by dreams of puddings! Pudding and Wiltons [restaurant, London]. I haven't been to Wiltons for over two and a half years. Dreams of bread and butter pudding from Wiltons – can you imagine? England is the only place in the world that does bread and butter pudding properly. I'm going to go straight to Wiltons when we get out of this mess.
W*: How have you found life over the pandemic?
MB: The pandemic times have been in a way absolutely wonderful, because you can do the things that you want to do, and you don't have the pressures here and there. But I'm starting to enjoy talking to people again – if they understand what I'm talking about because I talk so fast!
W*: Is there anything particularly inspiring to you right now?
MB: Frankly, there are too many things. When you have too many ideas you have to really do a selection and edit yourself. At the moment I'm thinking about southern Spain, the architecture and churches from Cádiz, which is very different to anywhere else. But maybe it will all change, but that's what I'm thinking about right now.
W*: What are some of your favourite shoes from the Autumn 2022 collection?
There is one with a buckle, the Arre – that is my most loved shoe. It is kind of fetishistic. You see that type of shoe a lot in French cinema, like Louis Malle, Le Feu Follet. You used to see that shoe in so many films, but I hadn't seen it for a while. They were black, and shiny, and had a buckle – not as big as mine. I tried to remind myself of them. There is also a boot I enjoy, it's called the Gurzuf, it has decorations inspired by Prussian [livery], but also Art Nouveau windows. There are the tartan shoes, too – tartan is one of my old things which I tried to recover. The thought of Grace Coddington, Linda Evangelista, and all of these Scottish girls that I love. I wanted to get that feeling again – I don't know if I achieved it, but I love it.
W*: If you weren't a designer, what would you be doing?
MB: I'd be a stonemason. But now it's too late. I'd love to do things with stone, or marble, or anything. That's what I regret – not being a stonemason, or sculptor, whatever you call it.
W*: What advice would you give someone from a younger generation?
MB: The only thing you need is passion – a complete passion for what you do, or what you are trying to do.
INFORMATION
Receive our daily digest of inspiration, escapism and design stories from around the world direct to your inbox
Jack Moss is the Fashion Features Editor at Wallpaper*. Having previously held roles at 10, 10 Men and AnOther magazines, he joined the team in 2022. His work has a particular focus on the moments where fashion and style intersect with other creative disciplines – among them art and design – as well as championing a new generation of international talent and profiling the industry's leading figures and brands.