Walk this way: navigating S/S 2021's Paris Fashion Week
How the City of Lights looked to the sartorial realities of our much changed lifestyles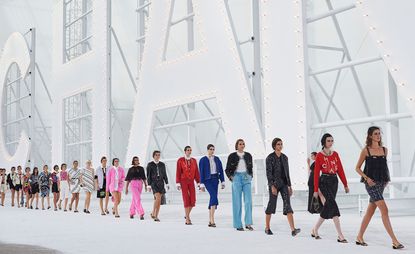 (Image credit: press)
Just days before the opening of Paris Fashion Week, new Covid-19 restrictions were implemented in France. Bars and restaurants in Marseilles were shuttered. In Paris, drinking spots were ordered to close at 10pm and gatherings of more than 10 people were banned in public places. The final city to host the S/S 2021 shows with the most sizeable schedule has been beset with travel restrictions – from the 14 day quarantine required of returning UK citizens, put in place in mid-August – to the announcement that those arriving in Italy from France are subject to a Covid-19 test. But for the City of Lights, and the epicentre of the French fashion industry, estimated at creating one million jobs and €150 billion in direct sales each year, the shows had to go on, if at least in largely 'phygital' form.

French fashion behemoths including Chanel, Dior and Louis Vuitton staged live physical shows, in venues including the top floors of former department store La Samaritaine, which has been shuttered since 2005, and the rooftop of the office skyscraper Tour Montparnasse, while brands including Balenciaga, Thom Browne and new-to-the schedule Wales Bonner devised innovative collection films, featuring in Browne's case, a trio of Olympic athletes. When a week before in Milan, Raf Simons and Miuccia Prada debuted their co-creative collection via a live stream, so Matthew Williams also presented his first collection for Givenchy online, teasing out his debut designs days before on Instagram.
Maria Grazia Chiuri may have presented a softer Dior silhouette for spring – inspired by enforced ease with which we are living our lives – but she didn't go soft on the set design of the maison's show, which was live streamed for the first time on TikTok. Inside a socially-distanced tent at the Jardin des Tuileries, Chiuri enlisted Italian visual artist and writer Lucia Marcucci, to create 7-meter high stain glass collages, that sprung up in 18 illuminated columns, inspired by the 2011 artwork ' Vetrata di poesia visiva'. Collage has a visual resonance with Chiuri, and she uses the art form as a tool to convey her feminist methodology. For the brand's A/W 2018 show, she pasted the walls of the brand's show space with provocative magazine covers and slogans, in a collection which nodded to the student protests in Paris in 1968.

If Dior is defined by the cinched in silhouette, Chiuri relaxed this rigour for spring. Models sported loose gauzy gowns, dressing gown shape jackets, easy tuxedo trousers and utilitarian cagoules. While her silhouettes were made for our at-home habits, details had an escapist élan, incorporating nomadic tie-dye, tassels, crochet and faraway florals. Designs for social-distancing, but still with a dream.
If anyone was going to respond to the practicalities of Covid-19 with technical tenacity it was Coperni. The label has its finger on the pulse of contemporary life, incorporating the digital experience into its design DNA. For S/S 2021, founders Sébastien Meyer and Arnaud Valliant developed 'C+' a protective technical jersey developed using Swiss technology, which is lightweight, moisturising and anti-bacterial. This fabric – which is immersed in silver ions – was incorporated into streamlined designs, which worked to enhance the body, not restrict it, like elasticated trousers and loose buttonless shirts. The collection, shown on the roof of Paris' tallest skyscraper, also featured wet suit leggings and technical blazers, with easy zip fastenings.

Face masks and visors have entered the global accessory lexicon, and for his sophomore outing for Kenzo, creative director Felipe Oliveira Baptista tapped into this phenomenon. Inspired by an early 20th century photograph of a man wearing a structural 3D mosquito net and cap (complete with a hole for his pipe), he created silhouettes which spoke of soft protection. Models walking outdoors at the Institut National des Jeunes Sourds, wore mackintoshes and gauzy archival floral print cagoules, paired with beekeepers hats, some of which had transparent coverings protecting not only the face, but cocooning the entire body.
In 2020, the world accelerated in line with Marine Serre's apocalyptic design vision, with proposes sustainable silhouettes for battling climate change, and environmental and social chaos. These mediate somewhere between sportswear and couture. In 'Amor Fati', a film directed by Sacha Barbin and Ryan Doubiago, she presented a cinematically impressive sci-fi fantasy, with a circular narrative hooked around a laboratory, a natural landscape and an underground water-world. Serre's cast sported balaclavas, Black Panther-centric berets and body suits, arming themselves against upheaval with recycled moire harnesses and holsters.

There's also an apocalyptic armour behind Rick Owens' designs. In recent seasons, the label's creations have drawn on the garb of glam rock stars and mythological Aztec gods. For spring, Owens streamed a show from a piazza in front of Venice Lido's casino – the spot where he spends his summers, and also the city where the term quarantine originated, when during the Black Death, infected ships arriving in the port where isolated for 40 days. An apt allusion to our times, the collection was titled 'Phlegethon', referring to one of the rivers in the Inferno described in Dante's Divine Comedy. Owens equipped his hell dwellers in jackets with bulbous shoulders, fluid gowns, leather hot pants, platform thigh high boots and face masks. Uncharacteristically optimistic hues of creamy pink, banana yellow and candy apple red nodded to Neapolitan gelato. In his show notes Owens said, 'I might just be getting into a taste for the lurid that an undercurrent of threat and dread can inspire.'

Pepto Bismol pink was also a colour favoured by Kiko Kostadinov's Laura and Deanna Fanning, who for S/S 2021, evolved the label's womenswear lexicon, experimenting with both Victorian and 1970s shapes, in bold hues and textures. Standout were hand craft-focused shirred and smocked dresses, which pucker and crinkle around the body, retro wide-collared tailoring, and an update of the brand's curved Louis heel, embellished with colourful crystal beads and accentuated with Gladiator ankle straps.
Wales Bonner showed for the first time on the S/S 2021 schedule, but her collection – presented in 'Thinkin Home', a sunset-drenched film by Jamaican artist Jeano Edwards – was the second in a three-collection spanning exploration of the diasporic connections between Britain and the Caribbean. While A/W 2020's 'Lovers Rock' considered the British Jamaican community in the 1970s in London – inspired by Bonner's father's family, and photographs of teenagers hanging at Lewisham Youth Club, 'Essence' explores the early 1980s origination of dancehall music in her grandfather's home country. Bonner looked to the style of Augustus Pablo, the Jamaican roots reggae and dub record producer and musician, and her collection sung of dancehall vibrancy and sleek British smartness, featuring stripe caftans mixed with tailoring, and fluid knitwear and bold patchwork corduroy. The collection also continued her collaboration with Adidas Originals, on slimline shell suits and colour blocked tees.

'Psychedelic optimism' is how Acne Studios' Jonny Johansson summed up the brand's S/S 2021 collection, designed to celebrate the possibilities of life experienced on pause. Looking to astrological elements as optimistic symbols, the Swedish brand collaborated with the LA-based artist Ben Quinn on a series of star prints layered over organza tunics. Johansson also honed in on luminescent fabrics, finding illumination in pearlised cotton, metallic threads and iridescent paper, and celebrating fluid and diaphonous silhouettes, with handcrafted details. Akris' Albert Kriemler also found inspiration in phosphorescence, namely the light-emitting sculptures of Imi Knoebel. He collaborated with the German Minimalist on a series of fluorescent and vibrant creations that nodded to the artist's graphic and colour-focused oeuvre, including caftans and relaxed dresses and chic tracksuits. 'A Knoebel line, colour or form is instantly recognisable as its own. It represents what felt very right for this moment,' Kreimler explained. 'Something designed today should not be obsolete tomorrow.'
There have been diverse opinions regarding the return to the physical show format, and one designer content with finding alternative methods is Jonathan Anderson. For the men's shows back in July, he devised a 'show-in-a-box' concept for his eponymous label, and for Spanish house Loewe where he is creative director, containing interactive runway show-inspired ephemera. At Loewe, the label's S/S 2021 men's design was imagined as a grey canvas index card box – conceived in collaboration with M/M (Paris) – packed with fabric swatches, a record, and a pop-up show set, inspired by Duchamp's 'Boîte-en-valise', a box the artist carried in a suitcase with miniature monographs of his own work.

For S/S 2021 womenswear, Anderson broke out of the boundaries of the box, creating a 'Show-on-the-wall', an artist's portfolio featuring S/S 2021 looks, accompanied by an interactive selection of ephemera, encouraging its receiver to immerse themselves in the collection's elements, as the viewer would at a physical runway show. Eagerly Instagrammed add-ons included a roll of wallpaper designed by Anthea Hamilton, plus a border roll depicting spring's voluminous and architectural shapes – enhanced with plumes of taffeta, ruffles of broderie anglaise, glittering knots and XL pleats – sent with Loewe monogrammed scissors, a canvas tool bag, paintbrush and glue.

RELATED STORY
Nadège Vanhee-Cybulski also placed focus on the printed form, sending out a collectors' item scrapbook to accompany Hermès' physical show, with atmospheric images lensed by creatives including Wallpaper* collaborator Katrien De Blauwer. The maison's accompanying collection was a masterclass in seductive minimalism. Body suits with cut-out backs were paired with knee length skirts in the supplest leather, crisp trousers styled with bandeaus, while shawl coats featured rolled up collars that unpoppered into scarves. The colour palette was rich and restrained in tones including caramel, sorbet yellow and scarlet. The most luxurious house shoe for spring? The Hermès clog, complete with an 'H' detail leather upper.
Paul Smith – whose beloved British brand celebrates its 50th anniversary this year – immersed himself in his personal history for spring. The designer – who swapped a physical or digital show for a lookbook and walk-through press appointments in London – was inspired by over 30 holiday photo albums, featuring snapshots of himself and wife Pauline. 'We designed it over the phone!' Smith laughed of the creative process behind the soothingly optimistic collection which features easy zip-up jackets in stripe tailoring fabrics, silk skirts and beach shorts emblazoned with enlarged archive rose prints, plus unconstructed tailoring. A double-breasted jacket with tactile prick stitch detailing, was inspired by the retro shapes Smith spotted on trips to Havana. 'If people have been wearing sweats and tees all year, we ned to ease them back in,' he said of the soft shapes.

There was also a nostalic nod behind Miu Miu's spring offering, which featured super sweet girlish silhouettes, like tracksuit tops paired with retro briefs, stripe halternecks and tennis skirts, knitted polo shirts and micro minis shimmering with plastic pailettes. It spoke of the innocent joy on dressing up and was sublime in its celebratory tone.
Designers used the downtime experienced during global lockdown to reconsider the core values of their brand. In fashion cities across the world, labels have presented pared-back or streamlined collections, with fewer looks and more focus. This concept resonated with designer Satoshi Kondo, who, troubled by the sheer number of shipment boxes used to transport Issey Miyake's last A/W 2020 offering from Tokyo to Paris, conceived a collection so compact it fitted into one. S/S 2021 features a number of shrink-inspired silhouettes that nod to the brand's prowess in fabric development and innovation, from a technical parka and poncho which can be folded into a garment bag, to zig-zag knit patterned tops and dresses that can be rolled into a shape of a sponge.

Y/Project's Glenn Martens also presented a vision which evoked the 'essential meaning' of the experimental brand. Celebrating the versatility of its hybrid silhouettes, an accompanying 'How to wear' film showed how pieces could shaped, with the incorporation of zips and poppers. At Schiaparelli too, Daniel Rosenberry's third collection for the house was focused on 'essential silhouettes in the best fabrics' that assimilated the hand-focused flourishes of haute couture, like trouser suits in the brand's signature hot pink with Rorschach test-centric prints, Delphic gowns and chain-embellished shirting. These silhouettes were anything but shy, and were paired with hammered gold jewellery with nose and keylock details – surrealist symbols of the house.
While few were physically able to attend Paris for the spring shows, brands chose to celebrate the city itself. At Ami, the brand held its first show on the womenswear schedule, on the bank of the River Seine. In a more seductive spin than previous seasons, models sported dresses with cut-outs at the décolletage and check pencil skirts paired with string vests, inspired by Nineties evening wear. The urban landscape also inspired the soundtrack to Paco Rabanne's pared-back physical show at Espace Commines, which bought a relaxed, daytime ease to the brand's disco-centric shapes. Nostalgic noises, that were silent for so much of this year, accompanied the collection, like dogs barking, police sirens honking, cars indicating and bike bells jingling.

The fashionable flaneur was also a focus. In a digital film presented as a music video, Balenciaga's S/S 2021 models stomped towards the Place Vendôme and along the Seine in the dark, miming to a synthy take on Corey Hart's electro pop hit 'Sunglasses at Night,' sporting chainmail dresses and hybrid sportswear, fluffy heeled hotel slippers and wraparound shades, naturally. Rokh's Rok Hwang was also fascinated with the concept of walking outside at night - a pastime we've all appreciated in recent months - recalling teenage wanders with friends when living in Austin Texas. The brand's cinematic show film, set in an otherworldly location, featured modern flaneurs in fighting forms, including ruffled and tartan Victoriana dresses layered with leather harnesses.
For his debut at Givenchy, 1017 ALYX 9SM founder Matthew Williams teased out snippets of his S/S 2021 showcase a week before on Instagram, posting low-fi close-up images of chains and padlocks, lensed by Nick Knight. Hardware was essential to the designer's vision, which was revealed in a surprisingly low key lookbook, with metal elements designed as a luxurious interpretation of the much-coveted logo. Williams looked at the codes of the historic couture house through a Gen Z-centric streetwear lens, featuring sleek, architectural shapes like square shouldered leather capes paired with gauzy bejewelled gowns, severe tailoring and tube dresses with seductive exposed backs. Williams nodded to previous creative directors, celebrating the tenure of Alexander McQueen with animalistic accessories, like sandals with curving horn heels and caps with knobbly antlers, and to Riccardo Tisci, in a hardware-focused revision of the graphic Antigona bag, beloved of supermodels in the Noughties. Referring to the collection as a 'sampler' of things to come, William's Gen-Z fans will be fixated on what is next.
Chanel is one of many red carpet labels that has lost out to countless cancelled occasions this year, although Julia Garner and Shira Haas did opt to wear the brand to the Emmy's first ever 'phygital' awards show. With a typically insouciant mindset, creative director Virgine Viard was attracted to the off-duty attitude of an actress before a photocall for S/S 2021. In the show's press release she spoke of women with 'their attitude a little out of sync with the outfits they're wearing' – a feeling many people have experienced this year, dressing up for visual dinner parties and on-screen events. Models walked against a huge Hollywood-inspired Chanel sign – the letters of the house erected with huge scaffolding – at a physical show inside the Grand Palais, sporting fluid asymmetric dresses, power shouldered skirt suits, sequin bermuda shorts and slogan t-shirts inspired by neon lights. The show celebrated cinematic escapism, one of which was rooted in reality.

Also intrigued by the codes of dressing today, John Galliano dissected the haute couture shapes and techniques used in Maison Margiela's Artisanal collection, creating ethereal, finely crafted and avant-garde creations which were presented in 'S.W.A.L.K 2', a Nick-Knight directed sequel to the brand's video in July. The 40 minute film flits between fitting scenes in the label's studio, and a sprawling estate in Tuscany, where Galliano's models dance the tango, offering extensive insight into the creative process behind creating a collection.

Louis Vuitton's Nicolas Ghesquière was also fascinated by the concept of 'in between garments' that reflect the on-pause lifestyle of today, somewhere between suiting and sportswear, at home clothes and ones for dreaming of going out. Usually showing in various areas of The Louvre, from its IM Pei-designed Cour Marly to its underground Pavillon de l'Horloge, the label decamped to the top floor of La Samaritane, the LVMH-owned department store which has been shuttered for refurbishment since 2005. In a physical and digital presentation blend, the Art Deco architecture and Art Nouveau frescoes were offset with green screen elements, which showed snippets of Wim Wenders 'Wings of Desire' to audiences at home. Ghesquière's 'stylistically vague' shapes featured 1980s power suiting, chainmail mini dresses and slouchy knitwear. Silhouettes appeared elegantly thrown on, like boardshorts paired with a long duster coat and a 'Peace' slogan tee. The show summed up a season that navigated the online and physical realms, creating clothing which caters to today's much changed lifestyle, one which shows no sign of settling come spring.