Akris unveils luminescent collaboration with artist Imi Knoebel
This Swiss brand has created a colourful collection inspired by the works of the abstract German aritst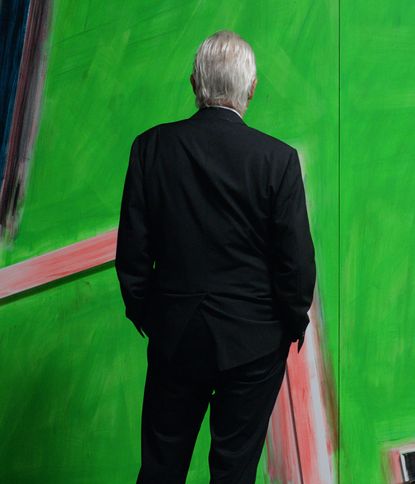 (Image credit: Akris)
In 2004, when Akris' creative director Albert Kriemler visited Galerie Wilma Lock, in the Swiss brand's picturesque home city, St Gallen, he came across 'Face 50', a 2003 artwork by German artist Imi Knoebel - a pioneer of multi disciplinary minimalist abstract art. The piece is part of a series of twelve works, formed from geometric layers of acrylic-topped plastic, which reflects an exploration of colour integral to the Düsseldorf-based artist's practice. 'A Knoebel line, colour or form is instantly recognisable as its own,' Kriemler says of his affinity for the artist.

Kriemler and Knoebel didn't meet until 13 years later, when in Vienna, Kriemler learnt of the artist's colour workshop, where he mixes his one-of a-kind hues from over 700 colour swatches, which are pinned according to tone on its walls. 'I was always fascinated by the way Knoebel dares to develop new hues,' Kriemler says. 'He shares Matisse's desire to "make colour sing" or as I would rephrase it: He lets colour shine.'

Optimistic colours have had particular presence on the S/S 2021 catwalks. Brands including Salvatore Ferragamo, Tod's and Christopher Kane have celebrated vibrant painterly hues, in a fashion proposition that works to channel positivity. 'Colour is everything to me, this season more than ever before,' Kriemler says of the inspiration behind Akris' S/S 2021 collection – which in a collaboration with Knoebel - celebrates the artist's artistic forms and flourishes. Each season, Kriemler takes on the role of not just creative director, but also curator, collaborating with a host of artists, textile designers and architects, including Geta Brătescu, Carmen Herrera, Sou Fujimoto and Thomas Ruff. Last season, Kriemler presented his A/W 2020 collection inside the museum of modern art in Paris, lined with huge artworks by Robert Delaunay, Georges Braque and Pierre Chareau, which inspired his graphic orphist-centric offering. This season – in the wake of Covid-19 restrictions – Akris opted to present its collection as a digital film, directed by Anton Corbijn.
RELATED STORY
Kriemler met Knoebel in his studio in 2019 to discuss their collaboration, but it wasn't until May 2020 that he was able to physically travel to see him again. 'Before then, we continued to share our thoughts and ideas over the phone and screen,' Kriemler explains. 'When we did meet, I showed him the fabrics we'd developed in person.'
The collection is interwoven with elements of Knoebel's oeuvre – in bold and luminescent colours and with cut-out details and graphic patchwork appliqué evoking his spliced 'knife-cuts' technique, and layered experimentations with aluminium, acrylic and paper. A streamlined silk stretch knit dress tessellated with spliced shapes in red, blue and yellow, nods to Knoebel's cut-and-pasted 'Rot Gelb Blau - 54 Messerschnitte' (1979), while a billowing kaftan evokes the geometric lines of 'Blue Angel' (1999). Elsewhere, graphic prints and tulle inserts on tops, metal buttons on double-breasted jackets and leather embellishments on bags evoke Knoebel's experiments with jagged acrylic and wood cut-outs.

When Kriemler and Knoebel had the opportunity to meet earlier this year, they discussed two pieces in particular - 'Raum 19' (1968), a modular sculptural installation formed from 77 pieces of raw spruce and square and cylindrical Masonite boxes, and 'Batterie' (2005), a cube of aluminium panels painted with a phosphorescent substance. A later version of the first artwork, titled 'Raum 19 III' (2006) has been exhibited alongside Batterie, and the two artworks charge each other.

Fluorescent pieces in Akris' S/S 2021 collection nod to this collaborative phenomenon, like easy silk knit dresses, parkas and jogging bottoms - relaxed shapes which also speak of at-home ease. Their luminescence is a charged symbol of collaboration and creativity, illuminating how fashion can dilute a year defined by darkness. 'Clothes will remain powerful vectors to cheer us up, to soothe and to strengthen us,' Kriemler says. 'To help you drive forward.'
INFORMATION
eu.akris.com (opens in new tab)