Akris' century-old roots in St Gallen, Switzerland, are explored in new textile exhibition
'Akris: St Gallen, selbstverständlich' at Textile Museum St Gallen explores the Swiss fashion house's history of craft, backdropped by its home city's links with fabric production and embroidery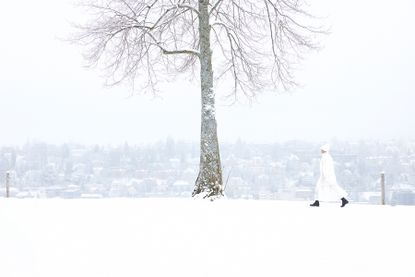 (Image credit: Courtesy of Akris)
Since the 13th century, the medieval city of St Gallen in northeastern Switzerland has been synonymous with textile manufacturing, beginning with simple linen and cotton before a movement towards the intricate embroidery for which it is now best known. From the 1700s onwards, St Gallen embroidery would go on to decorate Europe and beyond – from the Rococo court of France to the growing nation of the USA in the late 19th century – employing over 100,000 workers in the Alpine locale by the turn of the 20th century as manufacturing transferred from handcraft to machine.
St Gallen is also the hometown of Akris, one of Switzerland's foremost fashion houses, which in 2023 celebrates 100 years in business. Akris was founded by Alice Kriemler-Schoch in 1922 as a manufacturer of aprons, and she would go on to dress local women in clothing made entirely from textiles from both St Gallen and the surrounding area. Later – after son Max Kriemler joined the house – Akris would create not only its own garments but also produce collections and fabrics for Parisian couture houses like Givenchy and Ted Lapidus. In 1980, Max's son Albert joined the family business; to this day, he is the creative director of the house's collections, most recently showing a ready-to-wear collection during Paris Fashion Week S/S 2024, inspired by the motifs of Austrian textile designer Felice 'Lizzi' Rix-Ueno.
'Akris: St Gallen, selbstverständlich' at Textile Museum St Gallen, Switzerland
After a series of events to celebrate 100 years – from an exhibition at the Museum für Gestaltung in Zurich to a special fashion show in Paris that brought back archival designs to the runway – Akris makes its return home this month with an exhibition at St Gallen's Textile Museum. The exhibition, which runs until March 2024, is titled 'Akris: St Gallen, selbstverständlich' – a German word that roughly translates as 'natural' or 'self-evident' and has been used throughout the 100th-anniversary celebrations. 'Selbstverständlich is the one single German expression [that] best encapsulates the Akris spirit for me,' Kriemler told Wallpaper* in October 2022.
Rooted in Akris' textile and craft expertise – the house is the only Swiss company to be a member of France's Fédération de la Haute Couture et de la Mode – the new exhibition is a wide-ranging exploration of the relationship between Akris and its home city, particularly within St Gallen's tradition of textile production. As such, the nexus of the exhibition is a series of collections that were produced during the worldwide lockdowns, when Kriemler found himself drawing inspiration from closer to home – in particular, the A/W 2021 collection 'A Woman on a Walk', which was inspired by Robert Walser's 'Der Spaziergang' ('The Walk', 1917).
Using this collection as a starting point, the exhibition is based on 'the leitmotif of taking a walk' – particularly around a new city – and the moments of discovery the activity encapsulates. Kriemler's thematic fascinations appear throughout, including nature, architecture, and art, here primarily explored through Akris' own embroidered garments and motifs. Some of these include delicate honeycomb-shaped needlework on lightweight guipure parkas or Giorgio Morandi-inspired motifs on tulle. Other elements capture Kriemler's more avant-garde approach: like LED embroidery designed to evoke stars in the sky, or fabrics developed to look like the asphalt of road paving.
The exhibition is completed with an unprecedented look inside Akris's embroidery archives, which date back to 1940 and are yet to have been on display to the public. Through these pieces, 'Akris: St Gallen, selbstverständlich' traces a link between past and present: how such motifs and patterns – whether 'surprising colours, fragile materials [or the] infinite variety of three-dimensional patterns', as the house describes – have been transformed by Kriemler into the infinitely contemporary garments of Akris today.
'Akris: St Gallen, selbstverständlich' runs from 6 October 2023 to 10 March 2024 at Textile Museum St Gallen, Vadianstrasse 2, 9000 St Gallen, Switzerland.
Receive our daily digest of inspiration, escapism and design stories from around the world direct to your inbox
Jack Moss is the Fashion Features Editor at Wallpaper*. Having previously held roles at 10, 10 Men and AnOther magazines, he joined the team in 2022. His work has a particular focus on the moments where fashion and style intersect with other creative disciplines – among them art and design – as well as championing a new generation of international talent and profiling the industry's leading figures and brands.