Sweats and sequins: the duality of dressing at Milan Fashion Week S/S 2021
Brands from Dolce & Gabbana to Valentino considered post pandemic dressing, with escapist and pragmatic silhouettes presented with aplomb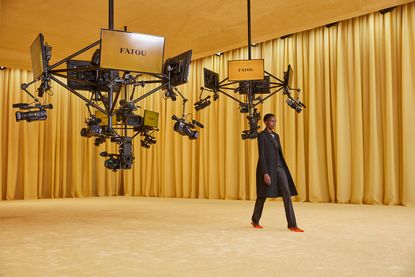 (Image credit: press)
Designers in Milan – with a substantial reduction of international visitors – held a fashion week of sorts, with a mix of real shows and virtual presentations, all of which were streamed on their websites and via their social media platforms, in a bid to connect with their international clients. For those actually attending (I counted just two editors from France, a handful from Germany, six from the UK, and no one from the US or Asia) it was all about masks, hand sanitiser, temperature checks, self-declaration Covid-19 forms, very last minute changes to shows from real to digital or from digital to real and location changes. As for the clothes, as a rule Italian designers are collectively wishful that S/S 2021 is nothing like the summer before it.
Fendi kicked off the week's proceedings with a significantly sized down runway show, which marked Silvia Venturini's final solo outing, before KimJones joins the creative helm of the brand next season. The mood spoke of sophisticated comfort, with models including Penelope Tree and Cecilia Chancellor wearing floaty shirts printed with shadows of windowpanes, snuggly duvet coats and buttoned dresses in quilted upholstery satins.

The N°21 show, held in the brand's own Garage Ventuno showspace, was a marker of how fashion shows operate during Covid-19. In place of the usual benches chosen to get as many bums on seats as possible (until now, there was always room for another guest) were stacking chairs spaced around two metres apart in a diagonal format. If clothes are being designed for our new less social lives, founder Alessandro Dell'Acqua created good looking knits and sweats amongst the looks, but matched with marabou incase you get the urge or chance to dress up.
Dolce & Gabbana's purpose built Metropole show space can seat more than a thousand, but its S/S 2021 show was reconfigured to seat 300 on rich brocade cushions. Unlike a show with a 1000 guests, it was effortless to get in, with temperature checks and hand sanitising stations plus guidance on how to leave after, similar to new disembarkation rules on aeroplanes, sector by sector. A little like the famous Ford Model T motto 'any customer can have a car painted any colour that he wants, so long as it is black,' the message here was you can have anything you like as long as it's patchwork. This meant macro or micro silhouettes from mini dresses to caftans, signature sartorial tailoring through to highwaist jeans and sneakers imagined in brocade, lace, carré silks and denim. The brand covered all options for a summer of going out or staying in, depending which way the pandemic plays out.
Max Mara chose to show in the cloisters of the courtyard of the Accademia di Brera, and guests sat spaced apart on cubes, the preferred seating choice of the week. Protective Cloisters – of which Milan has many fine ones to offer – were to become the venue of choice seen also at Boss, Ports 1961, and Salvatore Ferragamo. Amongst the tailoring and coats that Max Mara is famous for, creative director Ian Griffiths interwove appropriate pieces for our changed lifestyle, like strong knits, raglan sleeve sweats, parkas, and sporty silhouettes made from thermo bonded lightweight technical jersey. After long periods spent at home the message was a clear: clients now expect comfort as well as style.
For his digital Emporio Armani presentation, Giorgio Armani hired directors Leandro Manuel Emede and Nicolò Cerioni to film 'Building Dialogues', a seven minute film shot over three days outside the company's offices adjacent to Armani/Silos and across the road at the Tadao Ando show space. Its architecture – which is almost entirely pale grey – formed an appropriately background for the collection.

Back in February, on the last day of Milan Fashion Week, Giorgio Armani, alone, decided to hold his fashion show behind closed doors and asked everyone already invited, even his VIP clients who had flown in to Milan expressly for him to watch it from their homes or hotel rooms. This season he streamed Giorgio Armani's show online and on Prime time Italian TV (adding around a million extra viewers). And with a larger audience in mind (who may find the average 12 minute show length somewhat short), it was preceded by a 20 minute 'house made' documentary called 'Pensieri Senza Tempo' or 'Timeless Thoughts', with archive footage of Armani fashion from 1985 onwards.
I watched 'Building Dialogues' from the Armani/Hotel which reopened in July. Some luxury hotels, such as the Park Hyatt, have been shuttered for almost six months. It was also in my room where I watched the Prada show. It was odd to be in Milan and watch a show broadcast from three kilometres away and not actually be present. This was the highly anticipated debut collection of dual creative directors Miuccia Prada and Raf Simons. Shot in a yellow carpeted and curtained room designed by OMA/AMO, models walked followed not by the eyes of guests but only the articulated robotic cameras. The show was followed by a Q&A session where Prada and Simons answered questions submitted from the public via social media, discussing topics around the importance of novelty, collaboration and what defines Prada-ness. The session was a much more comfortable and civilised way of learning about the collection than popping backstage for a bun fight to speak to the designers.
RELATED STORY
For his second season at Tod's, creative director Walter Chiapponi opted to stream 'The Song', a film directed by Antoine Asseraf shot at Casa Villa Necchi, where the protagonists including Karen Elson and singer Okay Kaya dressed up in suede, denim and frilled dresses and connected with each other over imaginary Zoom calls or face time links.

Sunnei – who just announced a new investment from Vanguards – celebrated Milan's summer spaces, inviting guests to the Lido of Milan in the north of the city. There, guests stood on designated circular markers inside an empty swimming pool (sheltering from rain with umbrellas) watching models wearing relaxed tailoring, caftans and loose dresses in the brand's signature bold hues.
Amidst Covid-19's new reality, designers are all looking for appropriate methods to show their collections. Francesco Risso, creative director of Marni, pulled off an most extraordinary feat, casting 48 members of his creative community for 'Marnifesto', a film spanning locations from Tokyo to Dakar, with each model wearing one look from the collection that had been remotely fitted with the aid of video and local seamstresses. All 48 feeds were mixed live in New York, with each model setting out at the same time, filmed on a smart phone by their boyfriend, girlfriend or roommate at home, on the metro, in the supermarket or on the street. As I watched it at 4pm in a Milan cinema, Risso was sitting there too, seeing it for the first time. He'd gave up his creative control when he sent of his S/S 2021 pieces, passing the freedom of self-expression to the cast.

Moschino's Jeremy Scott worked with The Muppets creator Jim Henson to create 'No Strings Attached', a fun and perfectly executed 40 look fashion show modelled by puppets, set in a tiny filmic couture salon set to schmaltzy classical music by Michel Gaubert.
For Salvatore Ferragamo, creative Director Paul Andrew turned to film director Luca Guadagnino to produce a short film set in Milan. Although the men's and women's ready-to wear-and accessories were the focus, it was equally a homage to the city and its architecture. 'Life in Technicolor', picked up the vibrant green, mauve, yellow and lobster in the collection and accessories, but also illustrated hidden colours found in the city. The 40 looks featured in the film were also shown on the runway in the rounded cloisters of La Rotonda della Besana, the Florentine houses usual venue, albeit with a substantially reduced number of guests.
At Versace, the label presented Versacepolis, a show streamed live with everything aside from the usual audience (the brand decided a week before to run the show with no physical guests). Everyone participating from set builders to producers, models to hair and make-up artists, plus Versace staffers, had all been tested by the company as negative for Covid 19. The show, featuring both men and women was full of joyous colour and print. Stand outs were the pleated looks, plain or printed, with some sculptural ruffling nodding to Roberto Capucci. This was a very confident message. The brand is hoping their clients have reason to dress up next summer, those décolleté bra topped dresses are a little too saucy for Zoom.

The Ports 1961 show, held in the warm autumn sun of the cloisters of the Museo Nazionale Scienza e Tecnologia was intimate for very few but filmed for a larger audience. Karl Templer wanted this collection to be tactilem 'as touch is forbidden now and everything is on screen', and with its classical references, spring was all about embrace and touch. Templer is optimistic about people still finding pleasure in dressing up.
Valentino is based in Rome and traditionally shows its men's and women's ready to wear and couture collections in Paris. Exceptionally this season it came up to Milan to show in a metal foundry in the north of the city. This show was inside, with a small crowd in a enormous space, but safety was key so all guests (who all turned up in masks) were given a new FFP2 mask and asked to wear it for its duration. We were treated to a sound track performed live by Labrinth, while creative director Pierpaolo Piccioli offered plenty to like for real life including exclusive Valentino 517 boot cut jeans made in collaboration with Levi's, which will surely get everyone wearing the styles again come spring, whether we have to stay at home or not. Piccioli paired the jeans with oversized mannish shirts in chiffon, taffeta and lace and accessorised with the new macro Rock Stud bags and shoes. There were of course some more dressy pieces including fluid long dresses and a chocolate brown slinky sequinned cape-shouldered and ribbon-sleeved dress. Even you don't have anywhere to go or anyone to see sometimes its great to dress up just for you.