Rick Owens S/S 2019 Paris Fashion Week Women's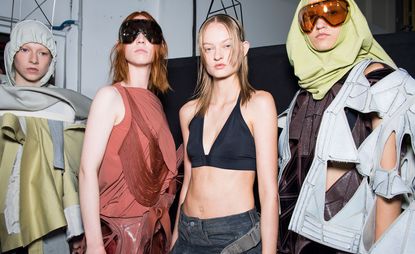 (Image credit: Jason Lloyd-Evans)
Scene setting: In the Biblical story of the Tower of Babel, a united mankind attempts to build a vast structure tall enough to reach heaven. God, in response confounds their speech, splitting them across the world in settlements speaking many conflicting languages. Aspiration, and collapse, human desire and identity, fractured hope and belief: Rick Owens' collections leave us questioning. Their architectural and avant-garde silhouettes act as an allegory for modern times. For Owens' Tower of Babel-inspired open-air show set (one he also explored for his S/S 2019 men's collection) he erected a pyre in the centre of his Palais de Tokyo location, which burst into flames in the middle of the show. A burning pyre, flames in the foreground of a modern art museum, its façade lined with classical sculptures. Food for socio-political thought on a Thursday evening.

Mood board: The torch-carrying women on Owen's catwalk evoked unsettling fire goddesses, or worshippers of a flame-wielding deity. They wore spiky sculptural outerwear, kimonos with caped arms like wings, draped fringed dresses, and were swathed in dusty bleached denim and jersey. There were coats laser-cut from leather that looked like armour or ceremonial robes, and mini skirts with soft bumbag pockets. Owens' silhouettes are always strong and striking. Just like the Tower of Babel, his protective and architectural silhouettes provide protection against a world in which we constantly seem to be falling.

Finishing touches: That architectural élan was translated into metal jewellery, which was part sculpture part accessory. Like the pyre that burst into flames mid show, models wore scaffolding-like cuffs, headdresses and bracelets, which encased their limbs inside graphic metal structures. The collection also showcased Owen's second collaboration with Birkenstock, which culminates in Rotterhiker metal buckle boots and Rotterdam velco strap sandals. The huge Space age sunglasses, which models wore on the catwalk, will protect them from whatever fire the future brings.