Dolce & Gabbana unveils monthly fashion show concept
The Milan label has revealed a digital presentation concept, featuring a monthly digital fashion show and see-now-buy-now retail model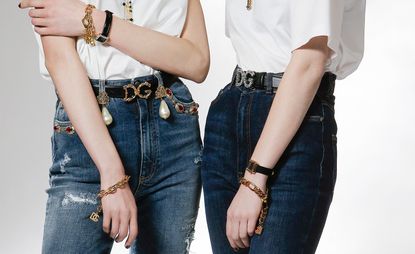 (Image credit: Dolce & Gabbana)
The last A/W 2020 fashion show which journalists attended before Milan shut down in February was that of Dolce & Gabbana. Pre Covid-19, the Italian label presented its collections inside its own glamorous Metropol Theatre, where guests lined tiered seats and milled on red velvet carpet, and took in the splendour of the brand's Sicily-inspired, baroque-drenched collections.

Now, as the pandemic surges on, and with it, social distancing and travel restrictions, the label has announced an innovative alternative to its physical fashion show format. Each month, Dolce & Gabbana will stage a see-now-buy-now catwalk show on its website and social media channels. The first – titled 'Walking in the Street' – features an idiosyncratically embellished take on daywear, featuring bedazzled tailoring in tweed and pinstripe, distressed denim and swathes of gold jewellery. 'We wanted to create something special for our audience,' say Stefano Gabbana and Domenico Dolce of the impressive online approach. 'At a fashion show, a garment has emotion, it lives and walks.' In celebration of the launch, here the duo dive further into their contemporary creative vision.
Wallpaper*: What inspired your monthly micro fashion show concept?

Stefano Gabbana: We always want to be very close to the market and to our clients all over the world. This is a completely new path for Dolce & Gabbana. Now you can watch the show, see the looks and the accessories and then buy them directly online through our website, or in our boutiques. In this way you don't have to wait 6 months to have them. Soon, we will do a men's fashion show. Stay tuned!

W*: Staging a fashion show once a month is an enormous commitment. How has this decision affected your design process?

Domenico Dolce: A fashion show is always exciting, and we wanted to create something that was more than a catalogue with static images. Model casting and staging brings a uniqueness to a show. In this way it becomes a journey, a much more animated and lively project.

W*: What inspired your first 'Walking in the Street' collection?
DD: We've always loved seeing people in the streets, what they wear and how they are accessorised. Locked in our houses for the second time, we thought back to the Nineties, when we used to go to New York and people watch. So, we imagined the life of a girl nowadays in the streets of New York, London, Los Angeles, Hong Kong, Beijing and also Rome and Milan.
SG: We imagined a woman, who although obliged to wear a mask, can walk around the city in a carefree way. This collection is relaxed, with a lot of sneakers, bags, blazers and denim. We wanted to have something that could mirror current times, but with a strong Dolce & Gabbana touch.

RELATED STORY
W*: Where will your monthly fashion shows be held?

SG: They are still staged at the Metropol Theatre in Milan, the location of our usual ready-to-wear shows. But this time without an audience, just us and the models.

W*: What are the biggest challenges you have faced in the wake of Covid-19?

DD: Like everyone, we have had to adapt to this new reality. Closing boutiques around the world is of course something very tough for a fashion brand. However, we are evolving online. In this moment, when are all obliged to stay home, we hope that our fashion shows will bring some liveliness and joy to those watching them.
INFORMATION
dolcegabbana.com (opens in new tab)