IRL to URL: S/S 2021's most innovative show presentations
Brands – from Louis Vuitton to Loewe, Salvatore Ferragamo to Christian Louboutin – harnessed the power of VR, AR, gaming and the printed form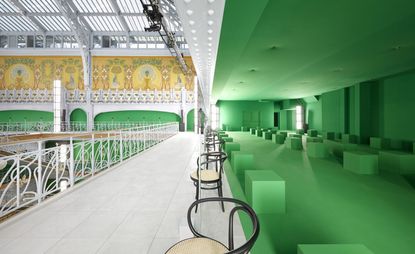 (Image credit: Louis Vuitton )
For editors, stylists and journalists, fashion week pre Covid-19 involved schlepping across countries and cities, taking in a multitude of physical fashion shows for almost a month each show season. Planes were boarded, petrol pumped and miles of road and pavement pounded in order to attend the hundreds of events held in celebration of the coming season. But the pandemic has bought a near halt to this accepted method of fashion presentation, already labeled as antiquated and budget breaking.

2020 has seen a more democratic interpretation of luxury, with labels gaining new momentum in the rapidly evolving digital realm. JW Anderson achieved viral TikTok fame, after a new breed of fans began crocheting iterations of the label's crafty colour-blocked A/W 2020 cardigan, while Gucci gained glory on the democratic video-sharing channel, after users began dressing up as sunglasses and head scarf-clad models in the #GucciModelChallenge. Nintendo's Animal Crossing: New Horizons has also become fashion's favourite gaming medium, where users can clothe themselves in custom creations, inspired by Prada, Louis Vuitton and Chanel's latest catwalk collections, and even attend virtual fashion shows. Brands have also utilised different streaming channels, with Burberry becoming the first luxury brand to stream its S/S 2021 show live on gaming network Twitch. Through it's Stream Squad functionality, users were able to view the British label's outdoors showcase from multiple perspectives and interact with each other using Twitch's chat function.

Here, we zoom in on the brands which flexed their innovative creative muscle during the S/S 2021 show cycle – where the URL has become as relevant as IRL – experimenting with VR, AR, gaming and the printed form.
Khaite
Catherine Holstein embraced a range of presentation methods for S/S 2021. The Khaite founder sent out presentation boxes to editors worldwide, complete with a hard cover lookbook, a Régime des Fleurs candle, a cream record and soft fabric swatches. Blending the physical with the digital, readers noted small hand drawn play icons on the pages of the lookbook, which were also tiled with eerie images of models including Alex Wek and Irina Shayk, clad in puff sleeve dresses and polka dot shirts. After scanning a QR code on the lookbook's inside cover – bringing viewers to the brand's website – these scannable play buttons revealed Augmented Reality elements, in the form of 360 degree floating 3D accessories. These included the quilted Patras sandle and the sculptural Celaya slingback, so tactile you could almost touch them.
Christian Louboutin
For S/S 2021, the footwear aficionado dove into the digital world with both feet. The brand teamed up with the Korea-based gaming application Zepeto – which features 170 million avatar-making users worldwide – on Loubi World, a virtual take on the label's most loved city, Paris. Here, accessory inclined-avatars were not just able to select raffia sandals and fringed boots from the brand's S/S 2021 collection, they were able to dine in a virtual French bistro, cavort on a carousel, peruse Galerie Véro-Dodat where Louboutin opened its first store back in 1991 and shop in its latest flagship. Fans were also able to flaunt their favourite dancing shoes, getting down with Louboutin's suited and booted digital avatar on the light up dancefloor of the aptly titled Loubi Disco.
Loewe
At Loewe, where Jonathan Anderson is creative director, and at his eponymous label, the designer was intent on creating an immersive at-home experience using tactile ephemera. For Loewe's men's show in July, Anderson devised a 'show in the box' concept inspired by Duchamp's 'Boîte-en-valise', a box the artist carried in a suitcase with miniature monographs of his own work. He created a grey canvas index card box – conceived in collaboration with M/M (Paris) – packed with fabric swatches, a record, and a pop-up show set. For the label's S/S 2021 show Anderson broke out of the boundaries of the box, creating a 'Show-on-the-wall', an artist's portfolio featuring S/S 2021 looks, accompanied by an interactive selection of objects, encouraging its receiver to immerse themselves in the collection's elements. This included a roll of wallpaper designed by Anthea Hamilton, plus a border roll depicting spring's voluminous and architectural shapes, sent with Loewe monogrammed scissors, a canvas tool bag, paintbrush and glue.
The brand pulled off a 'phytigal' show with a forward thinking flourish. Not only presenting a live runway show in Milan, in the open air at the historic Rotonda della Besana - with elegant silhouettes inspired by Hitchcock's heroines - creative director Paul Andrew also sent out an Oculus headset to journalists unable to attend. Through this they were able to take in Milan in all its architectural finest, through 'Life in Technicolor', a short film directed by Luca Guadagnino. The film celebrated not only the bold hues in the brand's S/S 2021 offering, but also the splendour of Italian city, which for the first time, many Ferragamo fans were not able to enjoy. Digital innovation is of utmost importance to the brand. This week it also announced a new collaboration with Microsoft and its technological partner Hevolus to enhance its retail experience online. Now, shoppers using Ferragamo's Tramezza Made-to-Order service are able to view a 3D digital twin of their desired shoe design online, and can use a configurator to create their custom silhouette.
RELATED STORY
Developed by the Institute of Digital Fashion and Cattytay, Tinnitus is a series with characters and narrative, seen here in progress
Louis Vuitton
A host of brands experimented with the 'phytigal' show – one physically staged with an in-person audience, but also streamed live online around the globe. At Louis Vuitton, creative director Nicolas Ghesquière held the maison's socially-distanced show on the top floor of La Samaritane, the LVMH-owned department store which has been shuttered for refurbishment since 2005. Non-attending journalists were also provided with a digitised seat allocation, allowing them to view the show online, seated next to members of the IRL audience, from their screen. At-home viewers viewing the show via live stream took in not only the show venue's historic Art Deco architecture and Art Nouveau frescoes, but thanks to green screen elements in the space, models also appeared sporting S/S 2021's 'in-between garments' against video snippets of Wim Wenders 1987 romantic fantasy 'Wings of Desire'.
Rag & Bone
'Metamorphosis', the film teasing Rag & Bone's S/S 2021 collection, extended the New York-based brand's partnership with Microsoft. For the brand's S/S 2020 runway show – after a three year hiatus - the brand harnessed Microsoft's Azure Kinect DK technology, transforming physical models on the catwalk into 3D pointillist models of cloud-point data. S/S 2021's – created remotely on the Cloud and supported by Azure Virtual Machines – sees a chic avatar sporting intricately digitised Breton tees, combat trousers and fluid outerwear – on a virtual Manhattan stairwell. The avatar is viewed from a multitude of views using a variety of camera movements, with the belt of her jacket even blowingly gently in a digitised breeze.
Kiko Kostadinov
'Being at home during the lockdown began to feel like a simulation,' say Laura and Deanna Fanning of the digital inspiration behind Kiko Kostadinov women's S/S 2021 presentation. When fans logged onto the brand's website, they were virtually plunged like online gamers into the scene of a starry abyss, with a triptych of screens at its centre. On these screens, models strode as is suspended in white space on stark red platforms and reclined in red chairs. 'The void-like nature referenced the bar scene with Ursula Andress as the Killer Robot in Elio Petri's film The 10th Victim,' the sisters explain. The duo were also inspired by Hito Steyerl's The Tower (2015), an installation featuring two red chairs from which to view the making of video game Skyscraper: Stairway to Chaos, inspired by Saddam Hussein's plans to rebuild the Tower of Babel. The brand worked with web developer Malte Mueller to realise their interactive vision. When viewing the films, fans were able to navigate the videos – which were played in rewind, real time and double time – using the arrow keys on their keyboard.
GCDS

'Even if just for a brief window, we could all use a virtual getaway right now,' creative director Giulio Calza says of the inspiration behind the expansive digitised universe he created in celebration of GCDS's S/S 2021 collection. This online world – developed in collaboration with Emblematic Group, artist-turned-hacker Thomas Webb and director Jeron Braxton – played host to the brand's runway show, and also became an online arcade. To bring the clothing on the runway to life – which included marijuana leaf string bikinis and crochet trousers – paper patterns were cut from Calza's sketches, which were then digitised using advanced mesh constructions, allowing the collection's fabrics, textures and folds to be emphasised. The show was attended by a host of VIP avatars, whose lifelike forms were created in collaboration with Rogue Initiative. They even boasted custom nail art.