Jil Sander on the purist principles of her Uniqlo collaboration
In celebration of +J, Wallpaper's quality maniac-at-large Nick Vinson speaks to Jil Sander about her upcoming A/W 2020 collaboration with Uniqlo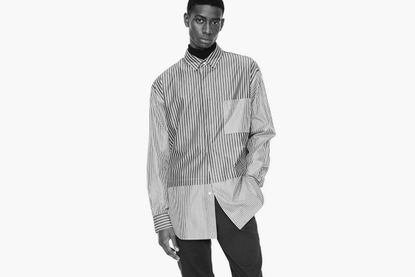 (Image credit: press)
In 2011, minimalist fans with an eye for attention to detail mourned the hiatus of Jil Sander and Uniqlo's two-year +J collaboration. Unsurprisingly, Wallpaper*s quality maniac-at-large Nick Vinson is a fan of +J, having invested in the collection's mother of pearl button-detail shirts 11 years ago. In celebration of the new men's and women's offering, which launches on 12 November and features timeless tailoring, shirting and sportswear silhouettes, Vinson discusses the tenets of contemporary design with Sander, covering sustainability, fabric research and the perfection of something well proportioned.

Nick Vinson: Why did you choose to return to Uniqlo after 10 or so years?

Jil Sander: I still feel the need to design and Uniqlo was happy to have me back.

NV: How long has this new +J project been in development?

JS: Once we had clarified the vision and the conditions, the project got on its way at the beginning of 2020. Uniqlo's original idea was a limited number of 'best pieces'. But I convinced them to do a collection for women and men, albeit reduced, since the pandemic leads to especially careful calculations. Ironically, the development of the collection took relatively long, because I had to achieve quality and concentration without losing the message.

NV: Ten years on, your aesthetic is as relevant as ever, but design challenges today are decidedly different now. How have you incorporated sustainability into the design and development process.

JS: Sustainability is a foremost concern for me and my Japanese partners. Uniqlo only uses ECI cotton for example and RDS standard down. You find everything about Uniqlo's wide-spread initiatives on its homepage.
NV: Developing this new collection in 2020, how has Covid-19 and our changing lifestyles affected the collection?

JS: Since the collection took shape in 2020, it reflects the overall mood. The volumes are generous yet fitted to define the body, the colours are understated, broken by energetic colour blocking. Fabrics range from doubleface, cashmere and wool to high-tech blends with standing power, responding to our intensified need to value, protect and celebrate life.

NV: Partnering with Uniqlo, how do you get to use quality materials and achieve perfection in detailing at democratic prices?

JS: Uniqlo's buying power, know-how and global distribution network made it possible to lower the production price. +J is a kind of shop window for Uniqlo to show what level of luxury the company can achieve. And I guess, it needed a quality maniac like me to translate that democratic vision piece by piece into a convincing collection.

NV: You have always developed your own fabrics and said the shape and overall look of a piece of clothing is, to a great extent, a function of the fabric. Tell me about one fabric in particular in this new collection that excites you the most.

JS: Yes, my creative process always starts with fabric development. It helps me in finding a sculptural form. This part of the process is always exciting to me. To give an example, we worked for months on blends of techno gabardine or cashmere wool to assure their standing power and smooth plasticity.

NV: Why is texture a key part of the new product offer?

JS: Distinctive textures have a three-dimensional presence. They are great for a sculptured silhouette. I have always preferred fabrics which unfold and move in space. But today, in a time where digital renderings have almost substituted analog fashion, underlining the spacial quality of design seems more important than ever.

NV: And why is proportion so essential?

JS: Fashion is always about new proportions, especially if they unfold in 3D space. They help to focus and define a person in a slightly idealized way. Distinct proportions convey a sculptural lightness, and yet, they ground the person.
NV: I bought your +J white shirts 11 years ago and I still wear them, they were built to last, and not a single one of the mother of pearl buttons has come off. What is about your shirts that make them so covetable and why are they such an object of obsession?

JS: Maybe, because I am obsessed with them myself, and very much with buttons. I try to reduce the shirt to its essentials. But there is always room for new fabrics and proportions, according to the moment in time. The eye is curious for cuts and details with a new freshness.

NV: A garment's longevity is not just about high quality materials and good construction. How does your vision of purism give garments their enduring appeal?

JS: I think that's for you to say. But there may be one thing I can add. Sometimes the so-called classic design is praised against transient fashion. I wonder whether there can be classicism outside of the zeitgeist. That's why I prefer to speak of purism. I try to capture the aesthetics of the moment, reduced to its essence.
RELATED STORY
Information
uniqlo.com/plusj/20fw (opens in new tab)