Geometric bags are the shape of style to come
Geometric bags were a hit on the S/S21 catwalks. Step out in precise style now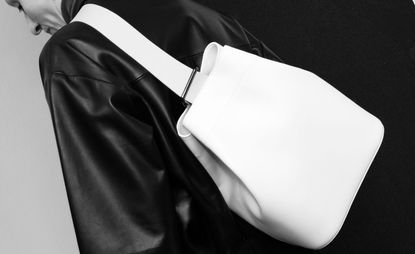 (Image credit: press)
The most envy-inducing geometric bags look good from all angles. We favour exacting aesthetics, as demonstrated in our guide to classic handbag brands, so for the upcoming season think pared-back shapes, clean lines and concise curves. Here we present the brands for mastering mathematical precision
S.Joon
Although UK-based S Joon founder Sahar Asvandi never intentionally aimed for unusual shapes, this is more often than not where she ends up. The bag brand's playful references to everyday objects have resulted in styles that aren't merely unconventional but innovative. 'The Tulip came to life because I had been gifted flowers for my engagement and they happened to be on my kitchen table as I was sketching', she says. 'I take inspiration from so many things — the arts, sculpture, architecture, people... My designs are often born from moments of playing around with forms or from real-life experiences.' Our personal favourite is pared-back Shopper, a reductionist blend of circular and rectangular forms, which will elevate any morning run for milk and the weekend papers. Writer: Josefin Forsberg
Little Liffner
There's an undulating ease behind Little Liffner's minimalist creations. The Scandinavian label, founded by former fashion PR Paulina Liffner von Sydow in 2012, suscribes to a sleek logo-subverting aesthetic that nods to architectural forms. Its sizeable 'Open Tulip' tote bag draws on flowing organic shapes and fits into the curvature of the arm. Also look out for irregular cross-body bags, inspired by the shapes of pebbles and clutches bags which clasp with metal hardware, inspired by the structure of an oyster shell. Little Lifner's pieces are crafted in a small family-fun factory in the Florence region of Italy.
littleliffner.com (opens in new tab)
Neous
There's a sculptural sensibility inherent to the accessories label Neous, which has an equal affinity towards linear forms and curves. The Italy-made brand's sophomore bags collection celebrates elliptical forms and the power of circular space, and also references Barbara Hepworth's monolithic bronze sculpture Squares with Two Circles (1963). After months of barely using a bag, we're angling towards the brand's oversized Saturn Tote, a style formed from two pieces of two-tone or monochromatic leather that has XL credentials. There's a craft-centric, luxurious finish to the bag's knotted top handle, which can be slung over the shoulder for ease.
neous.co.uk (opens in new tab)
Studio Nicholson
After launching a shoulder bag in 2017 in collaboration with Ally Capellino, versatile British brand Studio Nicholson has released its own range of bags and small leather goods. 'Nobody wants to have to change their bag throughout the day, and so our bags have been designed with clean lines, practical dimensions and luxurious branded hardware to allow just that,' says the label's founder Nick Wakeman. The collection features a duffle bag and a roomy two-handled tote, available in organically toned weatherproof Italian cotton and smooth leather. The tote nods to the pared-back nature of Japanese design, a long-standing influence for Wakeman. 'I am a minimalist at heart and a lot of my designs are inspired by post-modern Japanese architecture,' she says. 'My favourite architect is Tadao Ando.'
RELATED STORY
Chylak
Founder Zofia Chylak cut her teeth at Proenza Schouler before launching her Poland-based eponymous bag label in 2014. There's a mathematical mindset behind her aesthetic, and Chylak's collections are ordered chronologically according to number. Think classic, pared-back shapes with a vintage appeal, from the curving croissant shaped 'Saddle' bag, to handbags with screen siren-worthy metal clasps. Each piece is stamped in gold with its serial number, and for those keen to buckle into the brand, it has also launched a range of crocodile-pattern belts, inspired by vintage styles from the 1970s and 1980s.
Venczel
Unusual angularity defines the Copenhagen-based accessories brand, which creates sculptural asymmetric bag shapes, accented with bold metal hardware and jangling chain straps. There's a rebellion to the rigid and boldly hued styles, imagined in vivid neon green and buttery caramel, crafted from vegetal tanned leather, and bought into sharp focus when paired with feisty workwear. Founder Matilda Venczel also has a sustainability-focused outlook. She works with leather that is a byproduct from the meat industry.
Aesther Ekme
There's a strict sensibility behind the bag designs of Copenhagen and Paris-based brand Aesther Ekme, founded by Brazil-born Stephane Park in 2016. The label aligns with the concept of 'functional beauty' and supple calfskin bag shapes are imagined in reduced forms. Aesther Ekme subverts fashion's current penchant for branding, and its logo is rendered simply as three embossed dots. Its 'Demi-Lune' bag is a sleek interpretation of the bucket-bag silhouette, with an asymmetric strap that curves around the shoulder, while its 'Hobo' shoulder bag has a softly curving U-shape.
Khaore
Redrawing the lines between art and the ordinary has been the goal of the New York accessory label Khaore, since it started out in 2017. (It owes its refined logo to Natasha Jen and her team at Pentagram.) Founded by designers Wei Hung Chen and Raiheth Rawla, Khaore offers a collection of architectural handbags that elevates the mundane act of carrying your daily essentials around to the level of portable structures. Whether it's the 'Athaarah' – a geometric top-handled beauty available in a variety of materials and finishes, or the 'Kutchra' – a clutch-tote hybrid that comes with elongated handles, each Khaore design embodies a versatile and multi-use sensibility. The bags are designed in New York and produced in India, Italy and the USA.