Arthur Arbesser debuts his A/W 2014 collection in architect Luca Cipelletti's Milan apartment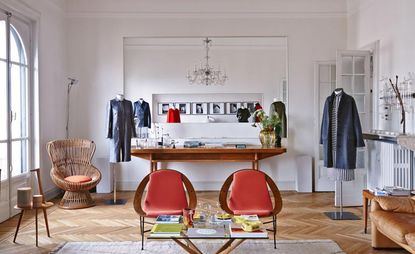 (Image credit: press)
It took fashion designer Arthur Arbesser (opens in new tab) exactly three seasons to figure out what most Milan-based designers haven't realised in an entire lifetime: the coolest slice of the city is veiled behind the closed doors of its private homes. For the staging of his A/W 2014 womenswear presentation, the 30-year-old Vienna-born designer lassoed a beautifully designed 1920s apartment over dinner one night in Milan.

'I kept asking everyone at the table, "Does anyone have a grandmother or an aunt with a great home?'" recalls Arbesser, who worked at Giorgio Armani for seven years before launching his own label in 2013. His dinner companion, the architect Luca Cipelletti (opens in new tab), offered up his stately sixth floor apartment where mid-century furniture by Gio Ponti, Ico Parisi and Guglielmo Ulrich contrasts with more radical pieces by Ettore Sottsass and Norman Foster.

Already, Cipelletti's apartment looks like an exhibition space thanks to the series of wall cutouts, visually linking the rooms. Giving the illusion of an almost reflective effect, the cutouts provided the perfect foil for Arbesser's structured, menswear-tinged fashion collection.

'We tried to make a connection and a conversation between the furniture and fashion in each room,' explains Cipelletti, who specialises in museum design. In the dining room for example, vintage Joy Division vinyls from Cipelletti's personal collection serve as place mats on the Norman Foster clear glass table, setting the tone for a transparent theme that continues with a collection of Murano glass ashtrays and a sheer ballskirt and pants in the opposite corner.

In the living room, an artwork in grease and graphite that was just recently hand-painted on the wall by British artist David Tremlett creates a striking backdrop for Arbesser's tomboy pantsuit. A bold black and white dress, meanwhile, finds a home next to the radiator and tall chemical glasses and a printed Alcantara suit pops off the sea foam green bath tiles.

'Since the clothes are kind of androgynous, it's kind of great to have it in a man's apartment,' says Arbesser with a grin. 'Hopefully people will enjoy coming to a new space and seeing some Milan interiors.' And take it from us, they will.
In the living room, an artwork hand-painted on the wall by artist David Tremlett in grease and graphite, 'Trapeziums', creates a striking backdrop for Arbesser's tomboy pantsuit. A pair of Eames chairs, meanwhile, sandwich the 'Y-Tong' block table, designed by Luca Cipelletti and Bernard Dubois
A chair by Marcel Breuer (right) and Uglo Mulas' series of 'Waiting' photographs (showing Lucio Fontana at work) are the ideal accompaniment to the pared-down simplicity of Arbesser's structured pieces. 'Compass' by Olafur Eliasson drops down from the ceiling above