Milan Fashion Week Men's S/S 2023: Fendi to Prada
From Prada's exploration of archetypal menswear garments to JW Anderson's much-anticipated debut in the city, the best of Milan Fashion Week Men's S/S 2023, as it happens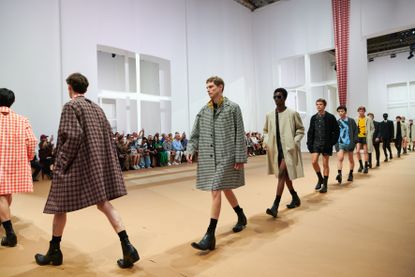 (Image credit: press)
The menswear edition of Milan Fashion Week returns with aplomb this season, after a muted January outing due to the arrival of the Omicron variant. Under a hot Milanese sun, the city's brands have come to life with offerings for S/S 2023 that channel an escapist mood and propose a multiplicity of ways of dressing for the season ahead. Among them, a juxtaposition of archetypal menswear garments at Prada, Dolce & Gabbana's noughties re-editions, and JW Anderson's much-anticipated debut in Milan. Here, in an ongoing report, the best of Milan Fashion Week Men's S/S 2023, as it happens.
The best of Milan Fashion Week Men's S/S 2023
DSquared2
Dean and Dan Caten looked towards the surfer for inspiration for their latest collection, mashing up the archetype with their own brand of glamour and flash. Eclectic layering – as if the various items of clothing were picked up on travels around the world – was the collection's hallmark, whether a colourful sarong tied over a studded jean, a Honda-branded biker jacket with shorts and flip flops, or a colourful array of jumpers tied around the waist (prints were equally eclectic, from block-printed turtles to various New Age motifs). Elsewhere, the duo paid ode to musician Bob Marley, uniting with the late artist's foundation, his face used as a motif across outerwear, shoulder bags and T-shirts – the latter worn by the duo to take their bare-footed bow.
1017 Alyx 9SM
The derelict Franco Sciarino swimming pool provided the backdrop for Matthew Williams' latest collection for 1017 Alyx 9SM. In the late afternoon heat, it was a location which felt fitting for a collection where skin-baring looks and abbreviated silhouettes suggested a high-summer mood. The hallmarks of Williams' work at the label remained in this second Milan Fashion Week outing: sharply-cut blazers and gilets in optic white, sliced-away tops and dresses, and visor-like sunglasses encapsulated the designer's clean-lined, industrial approach to cut and form. A series of more diaphanous looks – asymmetric-hem gowns, mini dresses which twisted around the body or could be adjusted by waves of toggle fastenings – lent a sensual contrast. Williams also chose the occasion to introduce his latest collaboration with Nike, the MMW Zoom 5, a perforated ergonomic slide with flashes of silver in the sole – no doubt coming to a poolside near you soon.
Emporio Armani
Giorgio Armani noted that this season he was thinking about the idea of lightness, not simply in the collection's texture, but also in the conception of a wardrobe which encapsulated the freedom of dressing for the summer months – 'the sheer joy of dressing for the season: choosing clothes and accessories to thrown on without too much thought'. Ease, therefore, defined the season's offering, communicated through riffs on the shirt, the garment which Armani said was the nexus of the season (often both shirts and trousers were cut from the same fabrics). The desire was to create pieces which barely touched the skin – loose-fit tunics, unstructured tailoring, details which included ties, slits, openings and cuts – allowing the body to breathe. Around the showspace at Armani/Teatro was a woven motif reminiscent of a basket; Armani noted that he sees Emporio as 'a container of possibilities', here providing a gamut of carefree looks for the year's warmest months. Or, 'a basketful of summer,' as the house described.
Dolce & Gabbana
A journey into the Dolce & Gabbana archive provided the starting point of a collection which saw items of clothing from the brand's history – reworked from the years 1990-2000 – return to the runway, alongside contemporary looks designed in the same spirit (the collection was titled 'Re-Edition'). As such, the collection had the undone feel reminiscent of the eras referenced: cargo pants sliced away at the knee and worn with skimpy ribbed white vests, a T-shirt printed with the Virgin Mary and dotted with holes, denim washed, bleached and patchworked, or left raw around its edges. Tailoring provided a sleek contrast – whether a variety of riffs on the tuxedo jacket or blazers cut from lace or jacquard – while D&G waistband-branded underwear had a particularly 1990s flavour, completing a vision for the season where past and present intertwined.
Fendi
An exploration of freedom was also on the agenda at Fendi, 'an ageless sense of freedom to play, as we rediscover the luxury of free time,' as Silvia Venturini Fendi described. The house's double-F logo spun above the showspace; its 'upside down and inside out' design used a metaphor here for the collection's looks, which were defined by a feeling of contrast, juxtaposition and play ('a boundless exploration of style at the fulcrum between nostalgia and innovation'). In particular, the 'reality and fantasy' of denim felt definitive of the season, whether cut into roomy, workwear-inspired silhouettes, a frayed-edge denim version of the Fendi Baguette, or appearing as a trompe l'oeil print throughout. Elsewhere, there was an exploration of the quotidian men's wardrobe – the familiar, reimagined – interspersed with the moments of play which have become Venturini Fendi's calling card, from cow-print shoppers to bucket hats, sliced away across their tops.
Versace
High-octane fashion has always been Donatella Versace's MO; for her S/S 2023 collection, which marked her return to menswear week, she riffed on house hallmarks in a collection which promised 'classicism energised'. As such, an archival print which depicted the death masks of Pompeii provided the collection's starting point, while models – which included the sons of a pantheon of legendary Versace supers, from Helena Christensen to Angela Lindvall – grasped urns in their hands, as if wandering away with classical treasures (others had miniature Versace plates hanging from their belts). 'Contrast is everything to me, it makes you think and feel,' said the designer of the collection, communicated through juxtaposed silhouettes: easy, oversized tailoring and airy silk shirts versus skimpy, flush-to-the-body vests, cut away across the back.
Etro
Etro's S/S 2023 menswear collection marked the final outing for Kean Etro after the announcement that Italian designer Marco de Vincenzo would take over as creative director this September (for now, De Vincenzo watched on from the front row). Before the show, each attendee was read a poem over the phone in lieu of a physical invitation; here, the collection riffed on what the notes described as poetry's power to evoke the 'utopian'. In practice, this meant a collection both poetical and sensual: billowing feather-light kaftans in the house's signature prints and languid tailoring met skimpy swimwear and abbreviated mini shorts. It was a convincing offering for the season – particularly desirable in the weekend's high-30s heat – and a fitting send-off for a designer who has defined Etro menswear for over two decades.
Prada
A paper-white set, evocative of the walls of a house, replete with giant windows and crisply folded gingham curtains, provided the backdrop for Miuccia Prada and Raf Simons' latest collection (in keeping with the theme, guests, including current campaign star Jeff Goldblum, sat on stools crafted from cardboard). The collection itself, titled 'Prada Choices', was centred on the act of curating one's own style – 'the juxtaposition of elements and garments, fashioning an impression, creating style'.

As such, the designers looked towards archetypal menswear garments – among them the suit and mackintosh jacket – and fabrics, like denim and leather. They noted that the collection's energy came from shifts and juxtapositions; the classic suit sat next to a mini leather short and matching vest, for example, and discrete four-button overcoats next to stone-washed double-denim. 'The garments are classic, but their mix contradicts, making them exciting and new,' said Simons in a pre-prepared quote. Miuccia Prada added: 'So much that is the base is really a conceptual choice – a coat, jeans, a suit. They appear simple but are the result of a process… It is a combination of a long process of design and decision, and then of instinct. It is a matter of style.'
JW Anderson
An anticipated addition to the Milan schedule was British designer Jonathan Anderson, who brought his eponymous label to a warehouse in the city's north-east. It is part of a plan to transport JW Anderson to various locations in coming seasons; here, this demonstrated the freedom such an approach can allow a designer, with Anderson positing a conceptual offering that began outside, models lounging on white plinths in the space's entryway (their various, mostly-knit clothing was emblazoned with slogans like 'see here at last is love'). Inside, garments had a playful flourish: bicycle handlebars and broken skateboards were strapped across the chest, T-shirts inset with the opened lids of tin cans, and barcodes peeked out from beneath torn-away denim jackets and trousers. Accessories were also joyfully idiosyncratic: bouncing slides covered in shimmering crystals, slip-on sneakers decorated with a self-portrait by Rembrandt – a print that also adorned boldly hued sweaters. The collection notes called the meeting of these disparate elements a 'crash' – 'it is all very subjective, and rather puzzling, or defiant, or insolent'.
Giorgio Armani
Giorgio Armani finished on Monday morning with a rousing standing ovation, a fitting reminder of the incomparable status the Italian designer holds in his home city of Milan. For the occasion, guests had been invited into Armani's inner sanctum – the house's Via Borgonuovo headquarters in the historic 17th-century Palazzo Orsini – for an intimate outing in a specially constructed space in the building's basement. Like at Emporio Armani earlier in the week, garments were suffused with a feeling of ease and lightness – featherweight unstructured tailoring, diaphanous collarless shirts, silk scarves twisted and tied around the next – though here Armani said he was interested in the way clothing is combined, with various pieces often layered into a singular look. Alongside a multitude of blue, shades of beige, white, gold and ecru were found throughout the collection, an echo of the room's backdrop – a photograph of desert sands, caught in waves by the wind.
Tod's
Milan's Villa Necchi – best known as the setting of Luca Guadagnino's 2009 film I Am Love – provided the backdrop for Tod's S/S 2023 menswear presentation, which highlighted the historic footwear brand's styles for the season ahead. Titled 'Shapes of Italy', creative director Walter Chiapponi drew inspiration from the colours of the Italian countryside across ready-to-wear and shoes – a 'palette of natural colours, taken from the summer landscape' – while textured fabrics referenced 'the browns of the earth scorched by the sun, the beige of stones polished by time'. Key pieces included anoraks and parkas inlayed with leather, rubberised raincoats and a new field jacket, while the T-shirt was reimagined in quilted cotton with an embossed logo. In terms of footwear, new styles numbered the Gommino Bubble (the iconic Gommino reimagined with oversized rubber studs), the Double Stripe (a version of hand-crafted rope shoes) and the Tod's IT sneakers, arriving this season in new combinations of colour and fabric, in matching or contrasting shades.
Stay tuned for more Wallpaper* coverage from Milan Fashion Week Men's S/S 2023
Jack Moss is the Fashion Features Editor at Wallpaper*. Having previously held roles at 10, 10 Men and AnOther magazines, he joined the team in 2022. His work has a particular focus on the moments where fashion and style intersect with other creative disciplines – among them art and design – as well as championing a new generation of international talent and profiling the industry's leading figures and brands.