Hat trick: the magic of Japanese milliner Kijima Takayuki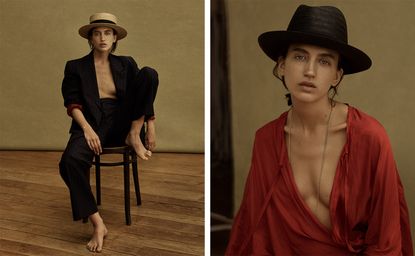 (Image credit: press)
While the tradition of wearing beautifully crafted hats has faded in favour of more modern accessories such as beanies and caps, a Japanese milliner is keeping brimmed hats very much afloat. Far from festival bucket hats and wedding fascinators, 54 year old Japanese milliner Kijima Takayuki shows that hat design is the contemporary craft to be associated just as much with haute couture than with streetstyle fashion.

Even though his first interest was in designing clothes, Takayuki decided to study hatmaking in Tokyo in the 1990s and quickly became the protégé of Akio Hirata, one of the most esteemed milliners in the world. He learned everything there is to know about hats by assisting the master for five years in his atelier which produced creative yet classic pieces for Japan's high society. It was also the time when labels such as Yohji Yamamoto, Comme des Garçons and Issey Miyake flourished in Europe and brought Hirata's 'haute mode' creations with them, introducing Japanese culture to an international audience.

In 1996, the young milliner started his own brand, but it wasn't until 2013 that the label took the name of its founder and expanded into men's and women's lines. This brought Takayuki's vision of hatmaking to life, emulating old-fashioned headpieces, and stepping closer to contemporary fashion and streetwear. By collaborating with the new generation of Japanese designers – like Undercover, Facetasm and Toga – Takayuki has been able to blend traditional techniques of hatmaking and the luxurious feel of handmade products with forward-thinking fashion lines.
The brand now includes a high-end line made entirely by hand in its Daikanyama Tokyo atelier for the winter season. This collection features artisanal finishing and rare raw materials distinctive to Japanese crafts. 'European haute couture and my technique are, in principle, the same,' says Takayuki. 'But I don't make party hats, and rather work on more realistic designs that are elegant yet stay casual.'

On the other hand, hats from the 'lower' line are produced in a clothing factory to be closer to the fashion market and fit in with the season's popular trends. By looking at what people are wearing in the streets and on the catwalk, Takayuki manages to keep his label relevant and in line with the style of today's cool kids.

The milliner is keeping hatmaking very much alive by teaming up with brands that are adapting to the current tastes while still boasting a rich history. For S/S 2019, Kijima worked with British heritage brand Sunspel on a capsule collection of light fedora hats made from 100 per cent upcycled paper fibre, which resonates with the designer's DNA. 'For this collaboration we used materials unique to Japan and put it into a style using our ideas and techniques, and finished it in colours that are very Sunspel,' he explains. Staying true to his personal practice, the hatmaker applied innovative textiles and techniques to a classic shape, once again bridging the brim between a modern aesthetic and traditional craftsmanship.
INFORMATION
kijimatakayuki.com (opens in new tab)
sunspel.com (opens in new tab)