Minä Perhonen's Tokyo show explores the emotive power of material
A new solo exhibition by Japanese fashion and textile brand Minä Perhonen at the Museum of Contemporary Art Tokyo (MOT), explores the meaning of craftsmanship and the role of design in society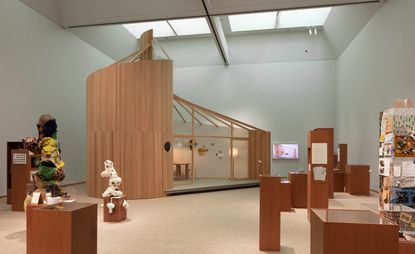 (Image credit: Fuminari Yoshitsugu)
Small and simple, the circle is made up of 25 embroidered dots, takes nine minutes and 37 seconds to make and uses 9.3 metres of thread. This circle, called 'Tambourine', is one of the most recognisable textile motifs created by Akira Minagawa, the ever-intuitive Japanese designer behind the Tokyo-based fashion and textile brand Minä Perhonen.

The circular motif's deconstruction is among a raft of innovative installations on display at 'minä perhonen / minagawa akira TSUZUKU', a new exhibition at the Museum of Contemporary Art Tokyo (MOT).

Showcasing the colourful scope of Minagawa's creativity, the exhibition goes far beyond conventional fashion, with exhibits ranging from interior textiles and architectural spaces right down to button collections and letter writing. The biggest – and most ambitious – showcase of his expansive creative workings to date, the exhibition opens a month after the publication of Ripples, the first large format book devoted to the brand, complete with poetic musings by Minagawa and an essay by Issey Miyake.

The exhibition, which runs until next February, also marks the brand's 25th anniversary in 2020. While the label regularly shows its collections in Paris, it will stage its first ever fashion show in Japan on November 25 at MOT.

Highlighting 'tsuzuku' as key to the exhibition concept, Minagawa tells Wallpaper*: 'This word has three meanings. One is continuing; the other is layering; and the third is creating. I want to express the beauty behind creating these three different concepts here.'

Spanning the third floor of MOT, the entrance is marked by a bright curved wall of 200 cushions in nature-inspired motifs of birds and butterflies, forests and flowers. Nearby, the iconic tambourine circle motif, first released in 2000 (and since used in 483 different fabrics), is deconstructed, with original sketches and factory footage.
There is also the timeless curation of 400 outfits – from archives to present collections – which appear to hover from floor to ceiling in a curved white space, creating a visual catalogue of crafted textiles, natural motifs and singular tones apparently immune from fashion trends.

'In this current age, when it's become common to use things and throw them away, I want to emphasise the importance of using things consciously and having an emotional attachment to them,' explains Minagawa.
A video installation, created by Japanese artist Hikaru Fujii, also taps into Minagawa's enduring interest in design for every day life, documenting the daily lives of four minä perhonen customers in Paris, Yamagata, Okinawa and Tokyo.

Nearby, there are dozens of framed images of exquisite original drawings of textile designs – by Minagawa and in-house designer Keiko Tanaka – charting the creative process from initial sketch to completion.

Another big scene-stealer is Shell House: a full-scale spiraling structure of light wood created by Minagawa alongside architect Yoshifumi Nakamura, complete with a clean-lined kitchen and living space.

But Minagawa's personal favourite? Memory of Clothes: a dimly-lit space where minä perhonen clothing, lent by customers, are displayed in glass, alongside messages from owners.

One navy dress with white tulip-like flowers was worn by its owner for 14 years – including the moment she said goodbye to her dying mother and en route to hospital to give birth to her child.

Another dress, with tambourine circles, has a poignant message from the late owner's husband, who describes how the dress always made her happy, before thanking the designer.

Minagawa smiles: 'I love this room because it shows how a material can become a joy, a memory – and be transformed into something emotional.'
INFORMATION
minä perhonen / minagawa akira TSUZUKU is on view until 16 Feburary, 2020
mina-tsuzuku.jp (opens in new tab)
at-ta.fr
ADDRESS
4 Chome-1-1 Miyoshi
Koto City, Tokyo
135-0022, Japan