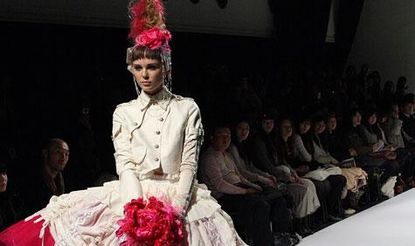 (Image credit: press)
Nihilism, rage and rebellion are not normally key words associated with Japan Fashion Week – the changing of the fashion seasons are usually celebrated with colour and kooky designs in Tokyo, but few of the designers who showed at the 8th JFW were in the mood to party in these funereal economic times. Black is back – and it's accessorized with a sneer.
A few of our favourites from Japan Fashion Week (opens in new tab)
Hemlines at many of the shows stayed defiantly high, hoods were up, zippers exposed; warrior and rebel themes were popular; inky black was teamed with grey, purple, simple geometric prints or a hint of gold; satin and naturalistic artificial fibres predominated, and the silhouette was ultranarrow.
Thirty-seven brands showed at sites including Tokyo Midtown, Hotel Claska and La Foret Harajuku, and the crowds were out in big numbers. Japanese A-listers dotted the front rows and a larger than usual contingent of international press were in force. Sure, the shows were less ostentatious and the clothes more wearable, but JFW lived up to its billing as one of the key global fashion weeks.