Pablo Coppola on Bally's 100-year archive exhibition at its new Ginza flagship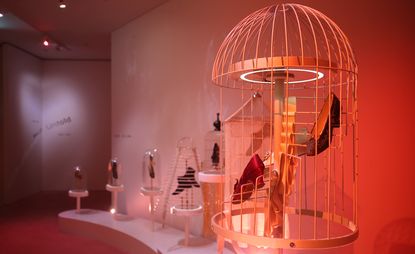 (Image credit: TBC)
In celebration of the opening of Bally's new David Chipperfield-designed Tokyu Plaza store, the Swiss house has chosen a selection of shoes from its archive to star in a new travelling exhibition, 'Bally Untold, Part One: 1851–1951'.

Spanning a hundred years of the house's shoe-making history, and on view until 8 May in Tokyo, the exhibition traces major design movements in its heels, from the Belle Époque to the art nouveau and art deco periods.

Divided into five themed spaces – the first, 'Cocoon', dating from 1851–1900; 'Bloom 1900–1920'; 'Freedom 1920–1930'; 'Decadence 1930–1940'; and 'Defiance 1940–1951' – the exhibition also explores changing materials over the decades, from exotic skins, silk and leather in the pre-war period, to cork, rope and wood during the war, through to new plastics in the later mid-century.

We spoke to design director Pablo Coppola about the house and its history...

W*: Tell us about the 165 year-old brand's policy of archiving shoes from every year since founding?
PC: The Bally family were big shoe lovers. They started collecting shoes in the 1850s and their private collection grew and became a museum in 1942, which is housed in the original home of Carl Franz Bally, in Switzerland. Today the museum has 1,000 shoes and there are 35,000 more in our private archive.

How did you get down to just 100? What was the criteria?
It was a hard task. We had to draw a line somewhere so we decided to focus on the first 100 years of Bally. So this is part one of the archive exhibition – leaving it open to further shows in the future.

What was your main aim with curating this show?
Bally has the most important archive in the industry but no one knows about it – and we wanted to change this. We thought it would make sense to take the archive out of Switzerland and bring it first to Tokyo; the Japanese culture has a true appreciation for heritage and craftsmanship.

We were surprised at how contemporary many of the designs are, especially those from the 1920s and 1930s. Do you visit the archive often?
I was surprised too. Before I joined Bally I always thought of it as a men's brand. Then I visited the archive and I couldn't believe the amount of beautiful women's shoes – all these golden shoes for women in the 1920s and 1930s you mention. I was amazed at the sophistication and size of the women's range. I love our archive and go back whenever I can.

What time period appeals most to you?
I'm going through a 1960s period. I was looking at girl bands – Martha and the Vandellas, The Shirelles, The Shangri-Las – and they ended up inspiring the Bally woman in our A/W 2016 collection, but as a whole I really like the 1930s. I guess back then Bally was the king of shoes! No doubt about that.

You can trace design movements through the shoes, and some directly reference particular artists. Do you have any favourite styles?
I like to use and especially mix references. For example, in this collection we were into booties and I specially like the gold python with pink accents – on one hand it looks really crazy, but on the other it is almost a replica from our archive (circa 1964) so in my mind it all makes sense.

To coincide with the travelling exhibition's first stop, Bally has reissued four shoe styles – based on archive pieces dating from 1934 to 1936. The limited edition shoes in the D'Orsay style, fashioned with a Louis XV heel, come in red and blue silk, and are adorned with gold and silver leather.
INFORMATION
'Bally Untold, Part One: 1851–1951' is on view until 8 May. For more information, visit Bally's website
ADDRESS
Bally Ginza
5-2-1 Ginza Chuo-Ku
Tokyo 104-0061