New exhibition celebrates ten years of Tsatsas' innovative leather accessories
On the tenth anniversary of the label, 'Tsatsas. Past, Present, Future' at Deutsches Ledermuseum in Offenbach, Germany tells the story behind Esther and Dimitrios Tsatsas' multidisciplinary approach to leather goods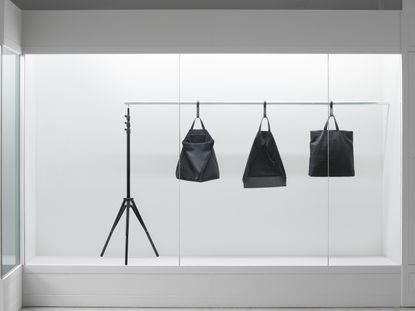 (Image credit: ledermuseum.de)
Founded in 1917 in Offenbach, Germany, Deutsches Ledermuseum – the German Leather Museum – has since collected close to 30,000 artefacts, tracing the history of leathercraft for over six millennia (the oldest is an Egyptian receptacle dating from the fourth millennium BC). Starting this month, though, a new exhibition explores an altogether more contemporary take on the ubiquitous material, celebrating the work of young German accessories label Tsatsas on its tenth anniversary.
Titled 'Tsatsas. Past, Present, Future', the exhibition promises a 'retrospective view of the past which merges fluidly into the now', collating pieces that define Esther and Dimitrios Tsatsas' progressive approach to design (the husband-and-wife duo have also curated the exhibition). Having founded their label in 2012, the past decade has seen the designers hone a vision at once unconventional and timeless, informed by near-architectural precision. Indeed, Tsatsas has collaborated with David Chipperfield Architects on a travel suitcase (reportedly the only one Chipperfield himself uses to travel) and industrial designer Dieter Rams on the brand's '931' handbag, which won a Wallpaper* Design Award for Best Belated Bag. The designers themselves call Tsatsas 'the perfect balance between functions, aesthetics and execution'.
Inside 'Tsatsas. Past, Present, Future' at Deutsches Ledermuseum
The exhibition takes a personal approach, tracing the foundations of Tsatsas through ephemera that tells the story of the brand, from leather-making tools, in-process samples and handbags deconstructed to their composite parts, to behind-the-scenes photographs and personal mementoes (one handwritten Post-It note in the exhibition reads 'context over dogma'). 'Handcrafted', 'Question Everything' and 'Down to the Smallest Detail' are the names of some of the various organising sections, the latter exploring Tsatsas' engagement with sustainability, a principle deep-rooted within its philosophy. Here, this is celebrated in a demonstration of the brand's various recycled materials – from brass hardware to cardboard packaging – as well as highlighting the high-quality natural resources which make up each of its accessories, designed to last for decades to come (visitors are encouraged to reach out and touch a hide of Scandinavian calfskin).
At the centre of the exhibition is a kinetic installation titled 'Objects in the Mirror are Closer Than They Appear', a clear glass box in which various Tsatsas accessories circulate around a looping track. Designed to highlight the designers' open-ended approach – they insist the exhibition has no beginning nor end – the various objects, created between 2012 and 2022, are not arranged chronologically, nor with any particular hierarchy. 'Staged purely intuitively, the 32 different objects melt through their monochromatic presentation into a symbol of the Tsatsas' visual conciseness,' the exhibition's notes describe.
Elsewhere, visitors can view a film created for the exhibition that provides a look inside the local family-owned leather workshop where Tsatsas produces some of its accessories – in operation for over 40 years – while another section titled '1 + 1 = 3' explores some of its many collaborations, including the aforementioned projects with Chipperfield and Rams, as well as Munich-based jewellery designer Saskia Diez (these collaborations allow the designers to 'think outside the box and leave their own comfort zone', as the notes describe). An accompanying book, published with bilingual German and English text, features essays by Chipperfield and Rams, alongside text by Wallpaper* China editor Yoko Choy, design theorist Markus Frenzl, and Esther and Dimitrios Tsatsas themselves – a collaborative tome that encapsulates Tsatsas' multidisciplinary approach.
INFORMATION
'Tsatsas. Past, Present, Future' runs at Deutsches Ledermuseum, Offenbach, Germany until 30 October 2022.
Jack Moss is the Fashion Features Editor at Wallpaper*. Having previously held roles at 10, 10 Men and AnOther magazines, he joined the team in 2022. His work has a particular focus on the moments where fashion and style intersect with other creative disciplines – among them art and design – as well as championing a new generation of international talent and profiling the industry's leading figures and brands.