Jewellery designers share their most precious personal pieces
A host of jewellers have given us a peek at the jewellery which has brought them solace this year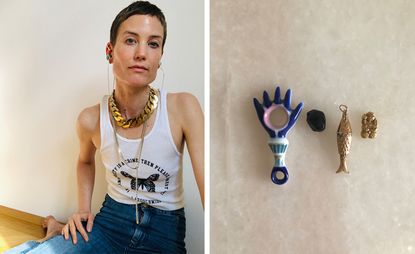 (Image credit: press)
The transformative and evocative power of jewellery is more significant now than ever, a feeling especially resonant for jewellers for whom their creations - from alternative engagement rings to showstoppers - have always been inextricable with meaning. Below, we speak to established and new jewellers around the world who value both sustainability and strong design, asking them to snap a picture at home and share with us their most treasured pieces.
Sidney Neuhaus, Kimai
For obvious reasons, my engagement ring is one of my jewellery pieces that I cherish the most. We designed the ring with my husband, and I love the wavy shape, and the fact that it's not a traditional solitaire ring. I am a big fan of asymmetrical and organic shaped jewelry, and adore that the lab-grown pear shaped diamond sits on the side - it's unexpected.
Catherine Sarr, Almasika
One of my most cherished jewelry pieces is my Ibeji Ring, which means twins. My twin girls and the sacred nature of twins were the inspiration behind the design. This ring is also meaningful because it's an extension of the first collection I designed, Le Cauri Endiamanté. I love to wear it as a part of an everyday, sculptural ring stack as an adornment and memento of my twins and family. I can't wait to see my girls wearing their own Ibeji Rings when they grow up.
Liv Luttrell
I love my paravent earrings: they make me feel confident and bold. I don't think they are particularly showy but they do get noticed. I think that the domed shape makes them look quite chunky but they are in fact extremely light to wear. The Florentine hand engraving on the surface gives them a beautiful lustre and a texture that is quite unique. I have different pieces of jewellery that I wear for different occasions but these I can wear at any time
Anissa Kermiche
I love the geometry and lightness about this earring, the morganite that floats in the middle of the circular arch has this elegant yet simple look that I can wear day or night time and makes me feel festive whatever the mood is.
Hannah Martin
I can't leave the house without my full stack of ear gold! My right ear has grown its collection over the years and I love that it tells the stories of my jewellery lines. I have to keep adding piercings to accommodate new pieces as I design them and fall in love with them. These earrings act as both armour and an expression of self. The combination of the quite hard punk look, made from rich, sensual yellow gold and pearls - for me this is everything about what I make and who I am. And that is what the essence of jewellery is! The way you, as an individual, choose the pieces for your collection and then the way you put them together is a very personal, intimate form of expressing a part of yourself. It's one of the things I love most about being a jewellery designer - giving this process to people.
Anita Ko
The Palm Leaf ring is so meaningful to me. It was extended from and inspired by my original Leaf Collection, which was one of the first collections I designed. I wear it all the time, it's perfect for everyday, as well as being a statement piece and I get asked about it every time I wear it.
Bea Bongiasca
The most prized jewels are the ones that have a intrinsic meaning to you. My mother paid the first instalment for the little baguette diamond ring with her first ever pay check when she was 19 years old. So she gave it to me as a good luck present when I started my company. The Lavender enamel and diamond ring took a lot of attempts and a lot of patience to perfect technically so I decided to keep it as a 'never give up' token!
Vanda Jacintho
I have always liked vintage jewellery, especially from the Seventies, whether it comes from family or is found in antique shops. The most meaningful piece of jewellery I own is the luck fig in ivory and turquoise which belonged to my mother. She used to have a chunky long pendant with loads of charms, from horns to figs and medals. I started to use them at age 18 and lost most of them during my twenties - the only two left I love and wear every day. There are so many memories from my childhood and pictures of my mum in her twenties wearing them: only now do I realise how precious they were.
George Root, Milamore
'One of the most meaningful pieces of jewellery I own is the Milamore puzzle piece charm because it's inscribed with the letter 'M' in honour of my grandmother Mila, and it also signifies my mom. My mother wears a matching puzzle piece inscribed with 'G' for George. This is a tribute to our family and where we come from. The back of my puzzle charm is engraved with a meaningful quote With suffering comes greatness which reminds me to stay true to myself. I wear the puzzle piece everyday, and it encourages me to honour and appreciate my lineage.'
Suzanne Kalan
Suzanne's husband Paul knew how much she loved her classic white diamond tennis bracelet, developing it into a tennis necklace to mark their wedding anniversary two years ago. The couple work together to produce the jewellery for Suzanne's eponymous brand, swathing every piece in signifiance.
Valery Demure
'I could have sent you a picture of my engagement ring, or my pendants by Francesca Villa, but I am sending you this one-of-a-kind rock crystal carved ring. It has an 18ct gold pendant with enameled flowers and tiny diamonds and is by Alice Cicolini. It was instant love when I saw it at the studio of Assat Kumar (Alice's enamel artist) in Jaipur. I had never ever seen anything like this in jewellery, and I had never expected to fall in love so madly with India. I really felt moved and bedazzled by this ring; at the time it was just a carved rock crystal dome with a plaque of gold metal on which were drawn small flowers and I asked Alice if I could have it set as a ring. I grew obsessed with it for months, I could only think of this ring, there were no other jewels in my wishlist. This ring whilst confined takes me back to wondrous India.'
Shaun Leane
'I recently crafted this rose gold, black diamond and onyx seal ring for myself as a symbol of a very important turning point in my life. The ring holds personal inscriptions and symbolism for the future. The beauty of jewellery is that it can hold memories and remind us of our strengths – to wear jewellery and feel it is a constant comfort in these times.'
Sophie Bille Brahe
'I often work with pearls and diamonds that graduate from small to big. The first piece I created in this style was the Croissant De Lune single earring which consists of a row of graduating diamonds that climb up the curve of the earlobe. I have since developed this style within other designs including the diamond Tennis bracelet and Grand Ocean Ensemble ring and pearl Peggy necklace and Sienna earrings.'
Patcharavipa Bodiratnangkura
'These rings remind me of my time with family and loved ones and their stories, from teaching to preaching. Home is where your heart is.'
Rosh Mahtani, Alighieri
'Instead of a box, I like to keep my jewellery in little gilded shells and resting on copies of old books. I think this has come after many years of experience, untangling necklaces that somehow seem to intertwine in the privacy of a traditional jewellery box! My most sentimental piece was given to my mother by her mother, and passed down to me. It's a little knife and an enamel tooth, supposed to ward off evil spirits. I love the talismanic nature of it: it makes me feel so connected to my family.'
Melanie Georgacopoulos
'The pink nacre ring is an important piece because it sits at the intersection between jewellery and sculpture. It reminds me of the power of creativity as a powerful positive force. In times like this it's vital to remember that we must accept and adapt to the new normal and most importantly think forward not backwards.'
Saskia Diez
'I love wearing a lot of pieces together. The large golden one (pictured, top of page) was the first piece in the Grand collection, years ago, that led to a whole series of curbed chain pieces in various styles and dimensions. This particular necklace was inspired by an Indian way of manufacturing where the metal is used very thinly but very large, giving more surface but also material saving. I keep my jewellery everywhere – hanging on lamps and knobs or stuffed in corners – but some is stored in proper jewellery boxes. Pictured here is one manufactured in porcelain, part of a project with the Japanese porcelain industry.'
Lucrezia and Maria Cristina Buccellati
Maria Cristina, left: 'The Macri Collection was one of my favorite pieces, it was the first important present my father gave me and I wear it almost every day, even now at home, it is something that connects me with my father.'
Lucrezia, right: 'The Blossom Gardenia jewels are my favorite. I used to wear them out all the time and even now I wear them at home daily. I have a personal connection to Blossom Gardenia as it was the first collection I created almost 10 year ago.'
Annika Inez
'My favourite pieces are two sterling silver bangles that my dad gave my mum. They were designed and made by Elon Arenhill, a beloved Modernist Swedish metalsmith (and jazz musician) whose studio is based not far from where I grew up. He gave her four of them, all different widths. Some years later, she gave one each to me and my two sisters and kept one for herself. She has since gifted me hers and I like to wear one of each arm. They are a bit scuffed now from years of wear and I could polish them up, but I love them the way they are.'
Bibi van der Velden
'I love to work with materials that have a true connection to nature. My Alligator earring has been crafted from 60,000 year old mammoth tusk and repurposed gold, valuing sustainability and the history of evolution in nature. The tail moves in motion with the wearer too. My eye for design is drawn to fine details and a sense of humour.'
Nina Runsdorf
'I start my day grounded by putting on my "roots" ring, which is very sentimental as it was given to me by my mother. The ring was made for her by her dear friend and sculptor, Robert Kipness. The only jewellery he has ever made was a set of four rings that he gave to my mother, and this is the only round one. It is an heirloom ring which brings me a lot of comfort in these times. Unfortunately, I am not able to physically be with my mother at this time, but I feel very close to her and constantly reminded of her when I look at this ring (and the daily FaceTime sessions we have). The ring also reminds me of my childhood growing up on a farm in a very safe environment. It evokes a feeling of calmness and peace which is so needed in these times.'
Carolina Bucci
'I don't really have one jewellery box – I have my jewellery spread around in different cases and pouches as I travel so much with it. In the box here, though, are 4 special pieces: My family necklace that always travels with me, with pendants of my husband, two boys, dog and two fish. My super lucky necklace with all the charms for every lucky bracelet that I ever designed. My life pendant – in reality based on a diamond gauge, with stones to fill the holes to mark special occasions. And finally, one of my Recharmed necklaces which I designed just before my 40th birthday to keep together all my pendants and charms from my first 39 years.'
Ana Khouri
'Jewellery is my medum and to make it, by nature, is to be mindful of its techniques and the value of such fine materials. But this is secondary. The feeling I want to impart is one of radiance, in every sense: that of light, of emotion, of energy and of course, that of beauty.'
Valerie Messika
'I wear my Move Romane and Move Noa bangles every day and never take them off. I stack them with a 'Skinny' bracelet. The idea behind my Move designs is that they represent my idea of love with three diamonds - the love of yesterday, today and tomorrow. The Romane and Noa pieces within the Move collections, pay tribute to my daughters Romane and Noa. Wearing these bangles on my wrist feels like I always have my girls with me. It is a way of expressing my love for them.'
Ezgi Turksoy, one half of Apples & Figs
'My jewellery cabinet resembles a cabinet of curiosities; full of jewels from all around the world, childhood memories and Turkish gold coins alongside flamboyant old cigar boxes and delicate silk Japanese fabrics, each telling a different story. Pictured is a golden bracelet, gifted to me by my grandmother. It was given to her in her wedding, and she gave it to me – it signified a very meaningful moment, and I would like to pass it to my daughter one day.'
Eugenie Niarchos, Venyx Jewellery
'I very rarely remove my gold Venyx anklets. They have travelled the world as much as I have and dress me up when I'm dressed down. I feel naked without them. The Myrina Necklace is a relatively new design that I made. Since I received it from the workshop, I have been wearing it nonstop. I love how it's a mix of fine jewellery and tribal; the type of necklace which gives personality to a look and you can also wear it day and night. The little elephant pendant is old and was handed down to me from my mom. It's my good luck charm. I added an Evil eye to it as I'm Greek and superstitious!'
Hannah Silver joined Wallpaper* in 2019 to work on watches and jewellery. Now, as well as her role as watches and jewellery editor, she writes widely across all areas including on art, architecture, fashion and design. As well as offbeat design trends and in-depth profiles, Hannah is interested in the quirks of what makes for a digital success story.