The aesthetic intimacy of Jil Sander's S/S 2021 collection
Creative directors Lucie and Luke Meier on the 'purity of image' behind the brand's pared-back spring film, directed by Stephen Kidd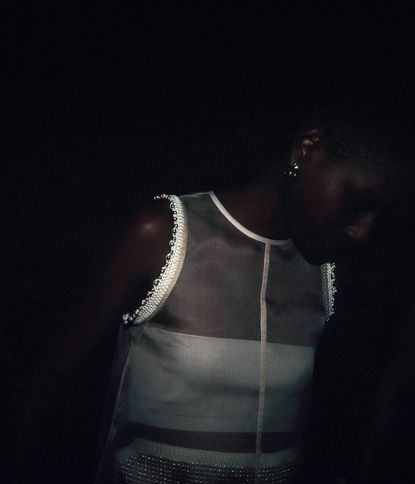 (Image credit: Olivier Kervern)
For S/S 2021, Jil Sander creative directors Lucie and Luke Meier swapped a physical show for a streamlined fashion film, which showcased the artisanal, fabric-focused and fluid silhouettes in the brand's spring offering. 'No distractions' is how they describe the visual framework which showcased the collection, which also nodded to the crushed automobile sculptures of American artist John Chamberlain and celebrated the endurance of daytime silhouettes. Here, the husband-and-wife design duo reflect further on the influences behind Sander's spring collection, created during a time of unparalleed creative instability.

Wallpaper*: There's always been a sense of ceremony to your show set choices - from a Florentine church to the huge thermo electric station you showed in for A/W 2020 in Milan. What inspired the stark set up in your S/S 2021 show video, and where was the collection video filmed?

Lucie & Luke Meier: The video was filmed at a soundstage in Milan. We wanted to create an intimacy between the viewer and the subjects. We also wanted it to be bare and raw, with a focus on the light and the darkness. A purity of image.
W*: The influence of John Chamberlain was evident in the colour injections in your S/S 2021 collection, including a dress with red, white and blue colour blocked panels. What do you find so inspiring about Chamberlain's work?

LLM: His work is so bold, yet simple at the same time. We like the movement, the gestures of contorsion. The works feel full of energy, and in a certain aspect you can feel the human hand morphing and changing the form. This is what we are always after in our own work.
W*: Your work at Jil Sander has always focused on the ideal of timeless luxury, with attention placed on fabrics and hand-crafted details. This is a design approach the industry has drawn attention to in the wake of the pandemic. What effect has Covid-19 had on your creative attitude?

LLM: It's more important to be creative than ever, in every way. Designers need to be more creative, but so do all parts of the supply chain. Humanity in general needs to get more creative to solve our immediate problems. Quality and creativity are paramount; being wasteful is no longer possible.
RELATED STORY
W*: How have you been working during this uncertain period? When did you return to the Jil Sander studio and have you encountered any design or production difficulties during this time?

LLM: We returned to the studios in May. All our makers and suppliers were quite keen on opening and working again, however some suppliers unfortunately have closed. We have seen a lot of support from the makers, and fortunately we work quite far in advance so the collections were all quite well developed when the pandemic happened.

W*: Are there any artisanal techniques which you developed for S/S 2021?

LLM: There is a lot of hand-crochet, pleating, and twisting. Visual textures were important.

W*: There was a sense of ease behind your S/S 2021 silhouettes, seen in pleated shirt dresses and layered tailoring, presented alongside elements with more ostentation, like gold boots and hardware detail bags. Do you think this idea of relaxed luxury is essential for our new lives?

LLM: Yes, we think it is important to translate what we are feeling, and we thought of daywear in particular. Evening events don't seem to be as possible at the moment, so the emphasis on garments and accessories to get you through the day felt right.
INFORMATION
ilsander.com (opens in new tab)