Paris Fashion Week A/W 2021: discotheque chic to apres-ski sleek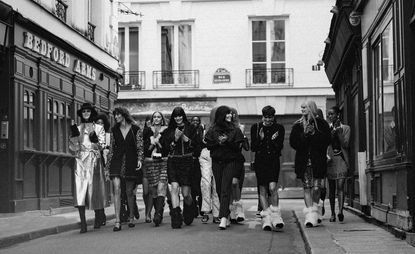 (Image credit: TBC)
It's no secret that a largely digital-only fashion week is a tricky event to master. Fashion shows function on suspense and anticipation, the expectation of an audience, the first foot on a runway, the inaugural beat of a show soundtrack, the force of the catwalk finale. It's difficult to recreate this suspense through a computer screen. But for Paris Fashion Week A/W 2021, designers living in a city operating through a lockdown and strict curfew pushed on.

They even took advantage of the French capital's deserted streets, presenting collections and trends for 2021, that celebrated the spirit of the City of Light and the spectacle of the fashion show, with both pared-back, reserved dressing and exuberant, out-out style.
Like many of us, Chanel's Virginie Viard was feeling the urge to hit the tiles and dance all night with abandon. For the Parisian maison's A/W 2021 offering, the brand's merry troupe of models strode through the deserted streets of Paris, before arriving at legendary Saint-Germain-des-Prés nightclub Castel, which opened in 1961, and was beloved by Pierre Bergé, Serge Gainsbourg and Salvador Dalí. Here, the models shed glittering bouclé coats and puffer jackets at the cloakroom and strutted through salons, sporting glittering mini dresses, transparent skirts and androgynous tweed suits.

There was also an après-ski sensibility, seen in padded camelia-motif jumpsuits, Chanel 'CC' logo dungarees and fluffy moonboots. Instagram users were strongly inclined towards the label's evening-meets-off-piste chic, and Chanel's collection reached more than 246 million users, the widest audience of Paris Fashion Week, according to visual marketing software company Dash Hudson.

Miu Miu was also keen for a ski trip, holding its A/W 2021 show on the snow-topped mountains of Italy's Cortina d'Ampezzo, instead of its usual AMO-designed show space at Paris' Palais d'Iena. Models braved the elements in colourful crochet knits and balaclavas, glossy padded jumpsuits, fluffy ski boots and bejewelled dresses. Ski, but with a side of subversive sleek.

For her debut at Chloé, Uruguay-born New York-based designer Gabriela Hearst celebrated Paris, home city of the brand. Inspired by the location of Chloé founder Gabrielle Aghion's first salon shows, the brand's A/W 2021 film featured models softly striding from Brasserie Lipp (still a firm fashion week favourite) into softly lit cobbled streets. There was a 1960s fluidity to the collection, reflecting the easy elegance of Hearst's own label. Think striped knitted dresses, patchwork coats in scalloped leather, fluid outdoorsy ponchos and a new eco-aware take on the brand's signature 'Edith' bag. Hearst is committed to sustainability, and her debut featured recycled fabrics, from cashmere to silks, alongside 50 secondhand 'Edith' bags sourced on Ebay and customised with scraps of fabric.
AMI's Alexandre Mattiussi wanted not only to celebrate the spirit of Paris, but also the joy of a physical fashion show. His A/W 2021 film, Le Défilé, shot by Spanish filmmaker Alvaro Colom, traced excited models travelling to appear on the catwalk, before strolling in a 1990s-inspired spectacle. 'I wanted to pay tribute to the shows I used to watch from that era on Fashion TV,' Mattiussi explained. 'Shows with an amazing mood and energy, people screaming!' The brand's collection also paid tribute to 1990s minimalism, with its elevated offering of camel coats, shearling jackets, fringed dresses and and optic tailoring. 'Pieces that are elegant, sexy and chic,' Mattiussi said. 'Good clothes for real people.'

Coperni also deemed it essential for the show to go on, and the label's founders Sébastien Meyer and Arnaud Vaillant presented an IRL drive-thru event at the Great Hall of the Accord Arena in Bercy, reached by 70 guests in a fleet of electric cars. Here too was a sense of 1990s decadence, with a collection that featured nighttime looks including pastel-hued transparent dresses, slouchy suiting, knee-high boots and scuba leggings
The beauty of a digital-first fashion week is its democratic nature. People from all over the world can view a brand's show through a screen, at the same time as an industry insider. However, this apparent unity can mask isolation, with viewers tending to access the experience in solitude. For Hermès' A/W 2021 show, Nadège Vanhee-Cybulski stated: 'Let us attempt to be creative together – albeit from a distance.' This translated into a film directed by Sébastien Lifshitz, encompassing a trio of shows across continents and time zones. It featured an opening performance in New York, choreographed by Madeline Hollander, a catwalk show in Paris, and wrapped up with a final dance performance in Shanghai, choreographed by Gu Jiani.

For Vanhee-Cybulski, movement was key, and her collection was focused on a joyful emergence into post-pandemic existence. 'It is urgent now to live again, to venture forth into the unknown, to gain a new lease of life,' she said. Pieces acted as high-luxury hybrids, with smart denim suiting, suits cut like parkas, and ponchos with inbuilt scarves. 'Classifications disappear into the play of fabrics and pleats,' she added.
For the New York element of Hermès' film, Vanhee-Cybulski was inspired by the physicality of women walking in New York. The notion of walking was integral to a number of designers for A/W 2021, who found solace, inspiration and vigour in exploring on foot. 'I have the best ideas when I jog or walk,' said Akris' Albert Kriemler. The creative director is famous for collaborating with artists and architects, from Imi Knoebel to Geta Brătescu, but for A/W 2021 the brand's Swiss home town of St Gallen was his muse. In a film directed by Anton Corbijn, with whom Akris also teamed up last season, models strode the town's snow-topped outer streets in grayscale, before gathering inside its medieval Abbey Library in Technicolour.

Reinterpreting the idea of the Akris logo, Kriemler devised topographical map prints that pinpointed the location of the brand's atelier. 'My grandmother bought the space in 1944,' he said. He also celebrated the material heritage of the town, which was once responsible for 50 per cent of the world's embroidery. Delicate, punch-cut embroideries detailed comfort-focused, contemporary pieces, including neoprene dresses with laser-cut details, double-face cashmere coats and gauzy map-print tops created using stretch tulle.

During London's several lockdowns, Laura and Deanna Fanning, the sister creative directors behind Kiko Kostadinov's womenswear collection, took their daily walk around London's Crouch End, Muswell Hill and Highgate. With the streets largely deserted, they felt a sense of reclaiming the city and its historic sites, but also noted the lack of inspiration felt when people aren't around. 'In big cities people become part of the landscape, it's one of the reasons you live in them,' they explained. Their strolls led them to Lauren Elkin's book Flâneuse, which looks at the walking habits of women writers including Virginia Woolf and Jean Rhys, and covers Elkin's own on-foot adventures, from Venice to Tokyo.
The Fannings were inspired by the idea of 'presenting yourself to other people', taking inspiration from the bright hues found in the street style photography of Japanese magazine Street, from the 1990s and 2000s. Bright colours sported by passers-by on Portabello Road in London inspired bold hues, while darker greys and blacks nodded to the weather of Paris. Draped, tailored and layered silhouettes featured chunky striped knitwear, trousers and jackets with panels of colourful faux fur, futuristic stud-detail trainers, and ruffled skirts. Fluid dresses and shirts with voluminous sleeves featured a retro-futuristic 'radius-dot' print inspired by the Polish Op artist Wojciech Fangor. 'The print references an idea in Flâneuse, of a cartographer drawing a circle on a map and walking around the area within it,' they explained. 'The clothes are about showing yourself off, not to please men, but for your own pleasure.'

Showing off is not something that's resonated in recent months, but it's clear that as normalcy beckons, so does our desire to dress up. 'For me it's about having a positive, joyful approach to luxury,' said Schiaparelli creative director Daniel Rosenberry, who in just two years has brought a contemporary humour, playfulness and sense of luxury to the Parisian couture house. 'It's about heightening the fantasy.' And what a fantasy A/W 2021 was: think classic silhouettes like poplin shirts, trench coats and denim jumpsuits peppered with hammered gold bijoux buttons evoking the 'eye' and 'lock' surrealist motifs of the house, alongside bags and tweed jackets with 3D 'booby' details and second-skin boots with huge flatform heels. 'We're taking under-designed silhouettes and embellishing them in an intellectual way,' Rosenberry said. 'I love the perversity of it all'.
RELATED STORY
Elsewhere, Paco Rabanne's Julien Dossena referred to his A/W 2021 offering as an 'affirmation of decadence'. In an uplifting film, smiling women soared through the air to Bryan Ferry's Slave to Love, in souped-up 1970s and 1940s shapes, from frill-necked dresses to wide-legged suiting, embellished in swathes of chainmail, rhinestones and tulle. 'Looks layered with ornamentation transmit resilience to ravishing effect,' read the brand's press release.

'This collection is an ode to individuality, freedom and change,' said Lucie and Luke Meier of Jil Sander's A/W 2021 offering. The collection amped up ostentation, featuring silk dresses with retro interiors prints, slips with delicate lingerie details, shirts with bold floral embroidery, soft capes with fringed sleeves, and necklaces formed from oversized strings of pearls.

Acne Studios' Jonny Johansson was also inspired by voluminous shapes and bold prints, creating pieces for emerging from isolation that are subtly different from the clothing worn before it. Black and white hues nodded to bridal and funeral ceremonies, missed out on in the last year. Fluid dresses had striking floral prints, coats cocooned the body like dressing gowns, and accessories felt protective, including chunky ponyskin boots, XL chain necklaces and warped handbags
Elsewhere, Issey Miyake's A/W 2021 offering was exuberantly innovative. The label looked to the tones of nature, from shadows to sea shells, debuting futuristic clothing in a film directed by Mikiya Takimoto. Its 'Cliff' pieces featured garments that appeared to ripple across the body in a series of pleated and non-pleated yarns, including long skirts and unlined trenchcoats. 'Silk Shade' designs featured abstract prints of flowers glowing in moonlight, created using a traditional hogushigasuri dyeing technique and swathed across fluid side-tie dresses. Concentric pleated 'Monochrome Planet' designs had circular cut-out forms that bought new dimensions to the body.

A/W 2021 also allowed brands the opportunity to refine their output and drill down into their signatures. For Paul Smith, this meant revisting the subcultural silhouettes that have been synonymous with his five-decade creative tenure. As with the brand's menswear offering, shown in January, the designer looked to mod and grunge shapes, with Madness-inspired ankle-skimming suiting in two-tone fabrics, colourful striped knitwear and mackintoshes in blown-up floral prints from the label's archive. There was a relaxed elegance to the offering, which featured blazers paired with knitted trousers, fit-and-flare dresses in stretchy paisely print jersey and silk pyjamas layered with pea coats. 'I think when winter comes, people will want to put a cool suit on, or a shearling jacket,' Smith explained. 'After the start of the year in sweats and then flopping into summer, people will need de-flopping!'

Marine Serre also focused on the essence of her label, one synonymous with half-crescent motifs, upcycled fabrics and a fiercely apocalyptic vision of the future. She presented her 'Core' collection through a series of video vignettes online, featuring Serre fans carrying out mundane tasks from their homes in the city or the country, sporting spliced denim and leather, skirts formed from patches of picnic blanket and scarf swatches, and tattoo-print dresses.

Copenhagen-based Cecilie Bahnsen took time to hone her ethereal and intricately crafted pieces. Designs had a whole-wardrobe aspect, incorporating knitwear, cardigans and quilted trenchcoats, alongside her signature cloud-like dresses, imagined with bow details, voluminous sleeves and cut-outs and in overtly tactile fabrics. 'The collection is so focused on touch,' Bahnsen explained. 'Giving people a sense of tactility even when there is distance. The feeling you get putting clothing on is really luxury for us.'
Designers were also keen to reflect the reality of life, which in the past 12 months has called for an existence we never thought possible. For Dior's Maria Grazia Chiuri, this meant delving into the disturbing narratives of fairytales, and journeying to the Palace of Versailles, with a film of sinister and uncanny connotations (think nude bodysuit-clad dancers cavorting around spikes and writhing in the woods under moonlight). On the runway in the Hall of Mirrors, models took on changing feminine identities, in body-cinching hooded Bar jackets and mini skirts à la Red Riding Hood, laser-cut leather pinafore dresses and shirts, and pleated evening gowns. Leopard print and plaids allowed models to move between seductive and conservative, playing with their identities, with angular sunglasses and Oblique-print foulard headscarves.

Rick Owens riffed between rage and resplendence, his women's collection an evolution of January's 'Gethsemane' menswear offering. The show, presented on Venice Lido, where Owens has spent much of the last year (his factory is a two-hour drive away, in Concordia), featured power-shouldered silhouettes that nodded to both sportswear and haute couture. Puffer jackets trailed like capes, body-hugging sequin gowns had voluminous asymmetric sleeves, trailing ribbed knitwear wrapped around the body, and thong swimsuits functioned as 'self-contained and sealed body coverings'. Owens saw his powerful shapes as a response to fear and anxiety, and a parody of physical male aggression, transforming female forms into 'architectural bulldozers'.
At Loewe and his own eponymous label, Jonathan Anderson has led the creative charge in terms of finding imaginative alternatives to the runway show. His 'Show in the News' collection was an evolution of his 'Show in a Box' and 'Show on the Wall' concepts. The invitation featured a time capsule-inspired metal tin and, inside it, a newspaper emblazoned with the headline 'The Loewe Show Has Been Cancelled'. 'I thought it was nice to put a literary backdrop to the collection,' said Anderson in an accompanying video about the design of the show invitation, which also featured a letter opener and an excerpt of Danielle Steele's new novel The Affair. The collection was similarly layered, rifffing on tailoring and soft boyish shapes, voluminous draped dresses and intarsia knitwear, in bold tones and with sequin, tassel, buckle and fringe details. Think suede jackets with soft shoulders, heeled boots with XL debossed clasps, gowns with graphic paillettes and oversized blazers in painterly silks.
After a month-long series of shows – spanning New York to London, and showcasing narrative films and lookbooks, printed matter and the dense reach of digital – Louis Vuitton closed Paris Fashion Week with a celebration of the runway show in its purest form. The brand's A/W 2021 offering, presented in the Denon wing of The Louvre, was resplendent with voluminous and futuristic shapes, which drew on ancient garments and 1980s silhouettes. On a global live stream, models walked to Daft Punk track 'Around the World', sporting architectural capes and puffball ruffled skirts, statue-and-cameo-print jackets marking a collaboration with Fornasetti, and richly embroidered A-line dresses. Boots had chunky sculptural heels, and flats resemembled bow-detail gladiator sandals. Presented in a historic setting, the show spanned both the past and present, showcasing fashion for the future – one which viewers around the world are waiting on with wide-eyed anticipation.