Peter Do's Helmut Lang debut recalled the freedom of the open road
Peter Do introduced his vision for Helmut Lang at New York Fashion Week with a collection that began from memories of teenage road trips. Here, he describes the collection in his own words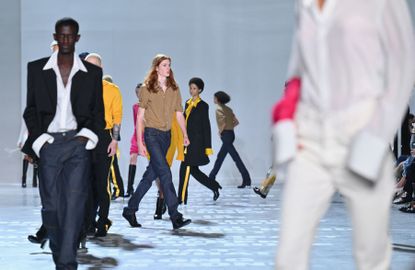 (Image credit: Photo by Angela Weiss/AFP via Getty Images)
Wallpaper* Newsletter
Receive our daily digest of inspiration, escapism and design stories from around the world direct to your inbox
Thank you for signing up to Wallpaper. You will receive a verification email shortly.
There was a problem. Please refresh the page and try again.
'When I got this job, I was thinking back to the first luxurious experience I had,' says Peter Do backstage after his debut as creative director of Helmut Lang (yesterday afternoon, 8 September 2023), amid throngs of fans, family and friends (including Ocean Vuong – poet, friend and collaborator, who wrote the script that scored the collection) at New York Fashion Week S/S 2024.
'Growing up on a farm in Vietnam and going to Philadelphia with my mom owning a car… the luxury to be able to get in the car and have the freedom to go where you want was something that everyone was taking for granted, something that I felt was truly luxurious. I want Helmut Lang to be that vehicle of freedom for people, in the same way I discovered with cars,' he says nostalgically of joyful teenage road trips.
Inside Peter Do's debut for Helmut Lang
Do is talking about a democratic luxury rooted in emotional stability and personal autonomy. It's something that feels out of reach for many, or is taken for granted by others. Vuong describes the joy of a road trip where the car is 'a room but also a portal allowing us to escape this world into another without leaving our bodies'.
A diagonal panel cut into suit jackets felt partially like it had been driven over, while also recalling a beauty pageant sash. Sourced vintage seat belts were turned into luminous trims. A crisp shirt worn backwards, as if in reverse, was printed with Vuong's words. Elsewhere, there was a denim workwear overall, a knit dress embellished with pearl polka dots and slashed elbows, while slinky, slippery silk jersey kick flare pants pooled over heavy-soled boots.
In the way that Helmut Lang's clothes of the 1990s were responding to the excess of the 1980s, Do says his own collection is responding to a present-day cacophony. 'I feel there is a lot of noise right now, the industry is a bit complicated. I want Helmut to just make sense. I want the pricing to make sense. I want to speak to more than just fashion people. I want people like my mom to be able to go to the store and buy a beautiful dress that lasts a lifetime, a suit that doesn't cost a mortgage.'
Is there a shared commonality between the original Lang loyalist and the new brand? 'Absolutely, for sure,' he says. There is no doubt a parallel between the audience Lang was designing for in the late 1990s – creative youth looking for clothes that made sense to them as they matured into the world – and the Gen Zs that turned out in support of Do today. He thinks in practical terms: 'There's a system of dressing that we worked on, and every season we evolve it. Not starting from scratch every season but building upon what came before.'
Creating this 'system of dressing' surpassed in importance a deep exploration of the Lang archives. While there is unquestionably synonymy between Do's own line and what he just showed for Lang, it was less referential of the Austrian designer than you might anticipate. 'The archive is massive, it would take me days to dig through it,' he says.
He is concurrently working on his own Peter Do label, too. 'I haven't slept for a while,' he laughs. He's recently moved 'P.D.' from the New York Fashion Week schedule to show in Paris, and he plans to keep the label 'intentional, sensitive, and a reflection of where I am now with my life. I started my brand six years ago when I was 26. I'm now 32, I have a different way of living, I've found my voice, you will see the two brands will be very different.'
The show culminated in a flurry of activity as the multiplicity of models emerged for an encore, walking at speed in all directions. Do had even brought back some of the original Lang models from the 1990s, some that have since drifted out of the industry, to walk again for him.
'With the new Helmut Lang, I really just want to dress New York,' he says. 'And not just Manhattan – Queens, Brooklyn. I want to showcase the versatile, energetic, chaotic way that people live in New York City. I want to introduce the brand to a new generation of people.'
Receive our daily digest of inspiration, escapism and design stories from around the world direct to your inbox
Tilly is a British writer, editor and digital consultant based in New York, covering luxury fashion, jewellery, design, culture, art, travel, wellness and more. An alumna of Central Saint Martins, she is Contributing Editor for Wallpaper* and has interviewed a cross section of design legends including Sir David Adjaye, Samuel Ross, Pamela Shamshiri and Piet Oudolf for the magazine.