Helmut Lang creates sculptures from surplus Saint Laurent
A stacked series of pillars, formed from unfinished jewellery designs and clothing prototypes are on display at the Paris maison's Rive Droite concept store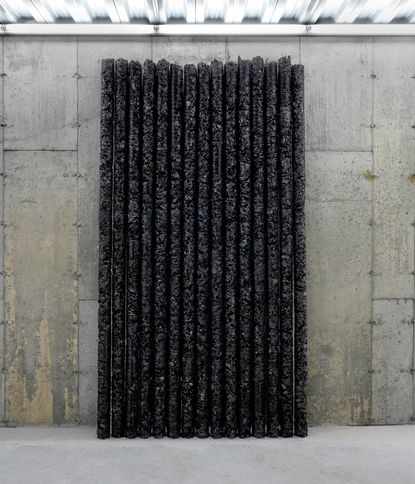 (Image credit: www.ysl.com)
In 2005, minimalist pioneer Helmut Lang quit fashion. Evolving his creative practice, he began – from his bases in New York and Long Island – to make experimental 2D and 3D artworks. Five years later, when a fire at Lang's Manhattan studio destroyed nearly 9000 archive pieces, he began incorporating shredded elements of his own work into totemic and figurative sculptures smothered in sticky resin, tar, gold leaf or glossy white paint. Lang's decision to regenerate pieces of his own fashion history into raw materials for a new body of work, raised questions regarding the relevance of heritage, longevity and creative evolution. In today's fashion industry, his approach chimes with questions around how to reuse deadstock materials, rendered unfashionable at a season's end.

Saint Laurent's Anthony Vaccarello has long found inspiration in Lang's approach to design, from his pared-back aesthetics to his then-pioneering decision to unite the art and fashion worlds, resulting in collaborations with Louise Bourgeois and Jenny Holzer. As part of Vaccarello's consideration of reuse and regeneration, the creative director has invited Lang to create a series of pillar-like sculptures constructed from compacted Saint Laurent items, including clothing prototypes and unfinished items of jewellery.
The result is a stack of totemic structures, formed from shredded Saint Laurent items which have been mixed with a pigmented resin and molded in aluminium. The artworks will be displayed at the maison's Rive Droite store in Paris, an imaginative outpost which opened last autumn as a concept space, housing a curation of collaborative products and artworks, including Everlast boxing gear and African sculptures from Galerie Lucas Ratton.
RELATED STORY
The artworks are a symbol of transformation and regeneration, with Vaccarello not only relinquishing elements of his own archive, but also putting their visual power in the hands of another artist. Vaccarello found fascination with Lang's early artistic collaborations, and here he has pioneered another.
INFORMATION
www.ysl.com