Primal urge: a NYC-based architect and developer gets back to basics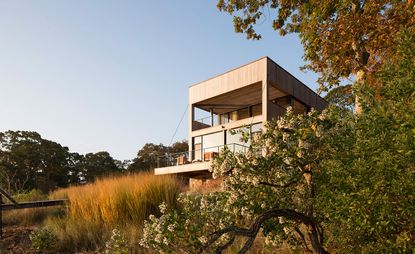 (Image credit: Bart Michiels)
New York architect/developer Cary Tamarkin designs all the condos and townhouses he sells with high-sheen, luxury details. But on the rare occasion a house commission comes along, he goes primitive.

Island Creek, a family home in Southampton, couldn't feel further than New York City. One simple timber box perched atop a local-stone base interacts at every level with the surrounding wetland and the natural arc of the sun – overlooked by nobody but osprey.
Take an interactive tour of Island Creek

Tamarkin lists his four chosen materials like essential food groups: wood, stone, concrete, steel. The old-growth cypress siding 'turns a beautiful silver-grey over time,' he says, 'but more importantly it's hard to get.' His sources in Florida and Georgia harvest logs from deep water, where they've been immersed for a century. 'They're fully saturated, and the fact they don't rot makes them great for waterfront houses.'

He restricts his steel to thin cables around the suspended deck and a discreet balcony for the recessed second storey. It also frames the panoramic windows that trace the perimeter, making the wood tiers appear to float. The effect is evocative of a Donald Judd installation – unsurprising for a man who considers his residential work to be 'an artistic rather than business move'. Those windows, with their pull-open panels, circulate light and breeze so the blown-air systems are seldom deployed.
To keep the interior open and loft-like, a mechanical core at the centre contains all the plumbing and wiring. Natural sunlight streams down from the rooftop deck through the treads of the floating concrete staircase, into airy spaces packaged in new-growth cypress. Tamarkin chose the wood, like the siding, for its potential to weather. 'This is a vacation home and I want it to be treated without fear,' he says.

'All the materials lend themselves to changing over time – even scratches in the stainless-steel sink. The patina becomes part of its identity, like a kid growing up.'
INFORMATION
For more information, visit the Tamarkin Co website (opens in new tab)