New York exhibition celebrates the history of African American cuisine
'African/American: Making the Nation's Table' is a new exhibition in New York City that examines the traditions and innovations of African American cooking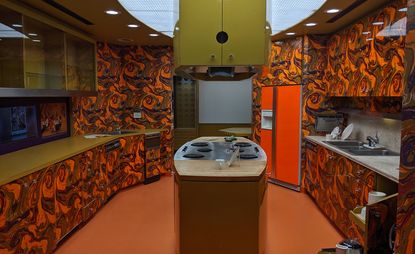 (Image credit: press)
The Museum of Food and Drink (MOFAD) is partnering with The Africa Center to present 'African/American: Making the Nation's Table' at The Africa Center, Aliko Dangote Hall in New York City. The landmark New York exhibition explores the foundational role that African American food and drink producers, from chefs to farmers, have played in American food culture, emphasising that 'African American food is American food'.
The show is curated by celebrated author and culinary historian Jessica B Harris, alongside an advisory board of 30 visionaries currently working within the African American culinary landscape, including the musician and author Questlove; former Ebony food editors Charlotte Lyons and Charla Draper; author of The Up South Cookbook Nicole Taylor; and Garrett Oliver, the brewmaster at Brooklyn Brewery.
'African American food is American food'
'I have spent more than four decades writing about African American food culture,' says Harris. 'Why? Because our history is on the plate. For this reason, we need to tell our story and tell it well. The exhibition "African/American: Making the Nation's Table" is the first of its kind to reveal the depth and breadth of the contributions of African Americans to our nation's food culture. Now is the time to celebrate, savour, and remember that African American food is American food.'
The Legacy Quilt
The centrepiece of the exhibition is The Legacy Quilt, an astounding 14ft tall by nearly 28ft wide work that stitches together hundreds of portraits of African American culinary figures, such as James Hemings (1765 – 1801), the first American trained as a French chef, who introduced the US to copper cookware, European-style macaroni and cheese, and French fries; Nearest Green (c.1820 – unknown), the first African American master distiller on record, who taught Jack Daniel how to make whisky and, in 1856, as an enslaved man, refined Tennessee's signature charcoal filtration method; and many other remarkable innovators who have been overlooked or under-acknowledged by history.
The Legacy Quilt features illustrations by artist Adrian Franks, blurbs by writer Osayi Endolyn, and is sewn together by the quilting collective Harlem Needle Arts. It also includes a virtual companion piece that allows visitors to submit stories of their own African American culinary heroes, emphasising that documenting history should be a collaborative and ever-expanding effort.
Alongside The Legacy Quilt, visitors will also be able to immerse themselves in the Ebony magazine test kitchen where Ebony editors developed the iconic 'Date With A Dish' column. Accessible to the public for the first time, the test kitchen serves as the stage for video interviews with former Ebony food editors and a soundtrack curated by musician, farmer, and chef Kelis. Visitors will also be able to interact with a dinner table replica that reveals stories of migration, touch points of culinary culture, and memories of sharing meals with loved ones.
Visitors to the 'African/American: Making the Nation's Table' exhibition can also purchase 'shoebox lunches' inspired by the meals that African American train travellers packed in shoeboxes during the Great Migration.
Says MOFAD president Nazli Parviz: 'MOFAD produces exhibitions and other public programmes that help people to better access their own history and the histories of the people around them as manifested through food and drink. We are committed to collaborating with fellow New York City cultural institutions to give exposure to stories that may have been under-appreciated, untold, or erased in the sweep of history and the narrow narratives that dominate it – and to sharing these vital legacies in new and profound ways.
'This large-scale, first-of-its-kind exhibition delves into the many ways African Americans have shaped the American culinary experience. So much of what we grow and how we grow it, and what we eat and how we eat it, derives from these invaluable contributions.'
INFORMATION
mofad.org (opens in new tab); theafricacenter.org (opens in new tab)
0
Beauty & Grooming Editor
Mary Cleary is the Beauty & Grooming Editor of Wallpaper*. Having been with the brand since 2017, she became an editor in February 2020 with the launch of the brand's new beauty & grooming channel. Her work seeks to offer a new perspective on beauty, focusing on the pioneering personalities, product designs, and transformative trends within the industry.