Chef Daniel Humm gets honest about turning Eleven Madison Park vegan
Eleven Madison Park chef Daniel Humm on his new book 'Eat More Plants', revealing why he turned one of the world's most famous restaurants plant-based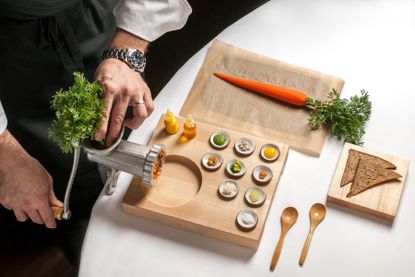 (Image credit: Fecks Wagtouicz)
Daniel Humm is not the person you would expect to be making pastel paintings of tofu and radishes. He has a stressful job as the head chef and owner of Eleven Madison Park, New York, named the best restaurant in the world in 2017, which has become even more stressful in the past few years. In 2019, Humm bought out his long-time business partner, the restaurateur Will Guidara, with whom he had turned Eleven Madison Park into a fine-dining dream world: the kind of place where you might mention, over your two-week-air-dried duck, that your child had never seen snow, and a limo with sledges would be waiting outside to take you to Central Park.
The absence of Guidara marked a new chapter for the restaurant, but Covid hit before it could begin. For all of 2020, Humm was forced to navigate a particularly complex and costly institution through a pandemic that devastated so many restaurants. By 2021, with the restaurant on the brink of bankruptcy, Humm made his most surprising announcement yet: Eleven Madison Park would go vegan. It seemed either a genius or ludicrous move, and the confusion around it made Humm the subject of everything from New York Times think pieces to New York Post tabloid reports.
Daniel Humm's Eat More Plants. A Chef's Journal
Eat More Plants. A Chef's Journal is a reprint of the journal Humm kept during this period, filled with the drawings and notes he made to streamline his thoughts during the chaos of the Covid years. The idea for a book originated when the acclaimed German publisher Gerhard Steidl saw the notebooks during a visit to Humm's office. His exceptional printing elevates the collection, which contains colour field paintings of the four seasons, pastel drawings of broccoli, radishes and other vegetables, and rough notes made in crayon. Humm scoffs at the suggestion he's an artist, but ultimately, the unstudied expressiveness of the work in Eat More Plants is the key to their charm.
Yet the tenderness of the images belies the stress behind their making. 'During the pandemic, we almost went bankrupt,' Humm says. 'It was a really scary process, and I don't wish something like that on anyone, and I hope I don't have to go through it again.'
But it was also one of the most valuable lessons Humm ever received. 'The experience was gold. I felt like it gave me superpowers because I had to become OK with having nothing. From a starting point of zero, the decision [to make the restaurant plant-based] didn't feel that scary. Outside the pandemic, the restaurant is in motion, we have 300 people working here, and we have a responsibility to our team and our vendors. So from that place, it would have never, ever, ever been possible to go plant-based. I would have never had the courage to do it. It would have been way too much at risk, but at that moment, I felt like I didn't have much to lose.'
Once the decision was made, the process of creating a vegan fayre that met fine-dining standards began. 'In the beginning, our restaurant was famous for duck, lobster, and caviar,' says Humm. 'So reopening a restaurant without any of those things seemed like a challenge.' 'The good thing is we had time. We had over a year from when we made the decision until we reopened. So we started to think about our pantry. Asking what are our butters, our milks, the fish sauce, the yogurt, the cheese, these things that we used to use over and over and over. So we started fermenting almond milk, making different types of yogurts, making sunflower butter, and making fish sauce-esque things. We had to create a new language.'
Humm is telling me all this as we sit in the Eleven Madison Park bar, a snug alcove off of the main dining room. I arrive right before service begins and watch a huddle of staff in matching uniforms stand by the cathedral-like windows and chant in unison, revving themselves up for the evening's performance. It's not a metaphorical stretch to say Eleven Madison Park is a temple for a certain culinary sect (the kind that worships multi-course small plates with peculiar ingredients and high price tags). And as with any creed, change is difficult for its followers to accept.
Many of the initial reviews of the plant-based menu Eleven Madison Park were scathing. Critics couldn't swallow the fact that a restaurant once famed for its lavender-honey glazed duck was now serving radish tart and sunflower salad. 'It was brutal,' Humm says of those reactions. 'It was brutal because we care so much. We almost went out of business, and we reopened with a new idea, clearly [asking] something that needs answers and is not going to go away.
'We need to eat more plant-based foods. I'm not saying that everyone, every day needs to eat plant-based but we need to reduce [meat consumption]. We're just running out of resources. Americans eat an average of 285 pounds of meat every year – that's almost a pound of meat a day. It's impossible to have quality meat at that rate of consumption. It's scary to me that the people defining tastes and flavours, the chefs, are completely ignoring what is happening and are continuing to put their efforts behind meat products.'
Humm believes that the job of any creative person is to listen to what is happening around them and respond to those voices with a solution. He heard people's growing interest in veganism and their rallying cries for more sustainable kitchens, but he also must have heard the death rattle of fine dining as we know it. The industry has struggled to find its feet since the pandemic and incurred more scrutiny than ever for its astronomical prices, low wages, and toxic work environments. The announcement earlier this year that Noma will be closing its doors in 2024 seemed to definitively confirm the end of an era for fine dining.
So, a plant-based menu is Humm's bold and risky way to bring Eleven Madison Park into the future. Of course, a restaurant that charges $335 for a meal (without alcohol) has a limited audience. But Humm hopes that the impact of his decision is channelled through influence rather than accessibility. Top-tier restaurants have set trends (Noma and fermentation, The French Laundry and California cuisine). If Eleven Madison Park proves that a vegan menu can succeed in a fine dining context, then the trickle-down effect means we might see many more restaurants experimenting in the same way. Either way, there's no harm in us eating more plants.
Daniel Humm's Eat More Plants. A Chef's Journal, published by Steidl, $75, elevenmadisonhome.com, steidl.de
Also available from Amazon
Receive our daily digest of inspiration, escapism and design stories from around the world direct to your inbox
Writer and Wallpaper* Contributing Editor
Mary Cleary is a writer based in London and New York. Previously beauty & grooming editor at Wallpaper*, she is now a contributing editor, alongside writing for various publications on all aspects of culture.