Publisher Gerhard Steidl on what he's looking for in a book subject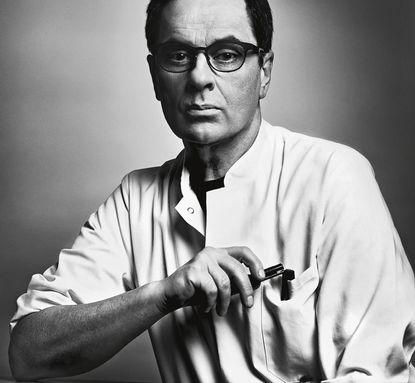 (Image credit: Markus Jans)
Wallpaper* Newsletter
Receive our daily digest of inspiration, escapism and design stories from around the world direct to your inbox
Thank you for signing up to Wallpaper. You will receive a verification email shortly.
There was a problem. Please refresh the page and try again.
In 1972 Gerhard Steidl founded what would become one of the world's most respected independent art, fashion and literature publishing and printing companies. The impetus came from a teenage Steidl's frustration with the printing process, fused with a natural gift for selecting papers and layouts. Suffice to say, to this day the 65-year-old is still involved in every step of each book's production, they themselves printed on site within his four-storey headquarters in Göttingen, Germany.
We caught up with the bibliophile at the Hyères International Festival of Fashion and Photography, where he was in search of his next subject. Here we discuss analogue photography's second wind, what he's most excited about going forward and his own personal library…

Wallpaper*: Firstly, what is your connection to the Hyères Festival and more specifically its base camp at villa Noailles?
Gerhard Steidl: 1995 was my first time, 20 years ago when we were shooting a Karl Lagerfeld fashion campaign together with Nadja Auermann at the villa. In those days the building was not restored, it was more or less a ruin. Water was leaking all through the roofs and it was a disastrous situation for the building, but it had an amazing atmosphere. We did a book with his photos and we actually found the model for doing fashion catalogues up to this day. It was a book, but at the same time a fashion catalogue. People have to decide for themselves what it is more...?

What are you looking for when it comes to publishing a book?
If I'm publishing a book then for me it is most important that it is something new that I haven't seen before. I always say that it is my personal education. At first I'm doing the book just for me and the artist, and I don't care about the rest of the world. The moment I start working with the artist, this person is my private professor - my education and I want to learn as much as possible. And then once the book is ready it goes into the world, we both hope that there are others that can learn something aesthetically or visually.

How do you sieve through all the ideas that you no doubt receive?
It is very hard. We receive at Steidl approximately 2,000 submissions every year from all around the world. I really look through all of them, but 80 percent are really stereotype the same - so somebody is photographing the flowers of the garden, or another person is photographing the husband, the wife or the kids and dreaming to make a book out of it. Of course, those things you have seen a hundred thousand times and we send them respectfully back with a letter saying we have too much work and it is not possible. But there are always 20-30, out of this 2,000 that are really worth a look at and I invite the artist to start working on the book project.

What's currently exciting you?
After the digital revolution in photography it is very exciting to me that young people 20 or 24-years-old are coming back to analogue photography. That is really a surprise. I discovered within the last twelve months that young people are interested in the analogue chemical process. They want to learn all about it and they don't believe that digital is everything. This was a surprise I had not been aware of before. I'm not nostalgic at all. I'm not saying that digital is the devil and analogue was heaven, those are two technologies and every artist has to find out which is the best to express their ideas. What I can say now is that analogue photograph is not dead. It is rather inexpensive. You can buy a second hand camera, aged film and photo paper and chemicals for just about nothing... rather than the cost of all the digital upgrades and equipment. And believe me it is from all over the world. Young people from Korea, Japan, Brazil, Canada: they are writing saying, 'I have an analogue project, do you think it is worth that I continue?'

What's your ultimate goal when it comes to the material you publish?
To develop a photographer's lifetime work. To follow not just with one book, to follow for 2, 3, 4, 5, 10, 15 years. For the moment most of my time is given to develop the complete works of William Egglesto, Robert Frank or Ed Ruscha. Ok those are the giants of photography and well known, but they are getting older and it is the last moment to work with them on their project's face to face.

Karl Lagerfeld has said that he has a personal book collection of some 300,000 tomes. Where does yours stand?
My library is less than that because I don't have so much space. I am not a book collector as he. I am producing books and selling books, but I have no private collection for art and not for books. But just the literature archive published is approx 7, 000 books and the photo books that I have done in the last 45 years is also approx 5,000. So with the other books I've read and bought I'm coming up to maybe 20 - 30,000 books. But I have some years to live and maybe I can make it up to 300,000.

Is there any one book that is still unpublished? An idea that remains in the vault?
I'm every day waiting for the one book that I have not yet published. The next book for me is always the best book, because of all the experience I have together with the artist. I don't know what the next one will be, but believe me it will be an exciting one.
Receive our daily digest of inspiration, escapism and design stories from around the world direct to your inbox