Karl Lagerfeld headlines the 30th anniversary of the Hyères International Festival of Fashion and Photography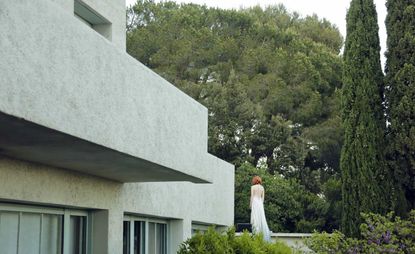 (Image credit: Courtesy of Chanel)
The sleepy town of Hyères in the South of France underwent a high fashion take over this past weekend for the 30th edition of its namesake style and image fair.

With Karl Lagerfeld charged as the event's creative director and a fashion and photography jury helmed by Chanel's creative studio director Virginie Viard, and image director Eric Pfrunder, the somewhat bohemian affair which champions new creative talent, became a charged design think-tank. 'It's very sympathetic,' explains architect, designer and fashion juror India Mahdavi who first visited the event two years ago when she was asked to curate an exhibition space, 'There's a family of people who come back every year.'

'I wanted to create a platform that would foster good relations between professionals and young designers,' explains founder Jean-Pierre Blanc, adding that this year's festival received 400 fashion and 770 photography applications, which were whittled down to 10 by the organisers and each jury at various stages. And while Chanel may have set the tone for this year's high profile celebration, the luxury house did not interfere with the cult festival's indie charm, naïveté or authenticity.

In fact, Lagerfeld's ties to the event relate directly to the festival's spiritual and physical heart - Villa Noailles. In 1995, the photographer captured the raw beauty of the then dilapidated building, which was designed by Rob Mallet-Stevens in 1923 and inspired by the Bauhaus and De Stijl movements. Originally owned by Viscount Charles de Noailles and his wife Marie-Laure, the couple were serious supporters of the creative disciplines, inviting Man Ray to shoot his 1929 film 'Les Mystères du Château de Dé' on site, while also being patrons of Salvador Dalí and Jean Cocteau.

'When the building was finished,' continues Blanc of its 1997 restoration, 'we felt that we had lost something with its new perfection after so many years in the destroyed building.'

This year the villa and its grounds (Noailles was president of the French Horticultural Society) hosts a wide range of activities from Lagerfeld's 'Three Worlds' exhibition that includes his 1995 portfolio of the villa, to works by French artist Arnold Goron who has collaborated with Isabel Marant on her shop windows for many years. Also on the programme: a roundtable discussion on Instagram, a talk by designer Simon Porte Jacquemus, an exhibition of last year's photography winner Lorenzo Vitturi, and this year's 10 photography finalists' work.

'The criteria was to give the award to the person who was doing something new, seeing into the future,' explains publisher Gerhard Steidl who sat on the photography jury. 'The idea here at Hyères is to give some food, physically with award money, to one of these young people to build up the artistic sculpture as I see it - to build a lifetime's creative model.'

Tellingly, this year's finalists, nominated by a jury that also included Anne Cartier-Bresson, André Saraiva and Sølve Sundsbø, were all art photographers. Netherlandic winner Sjoerd Knibbeler took home the euro 15,000 prize for his multi-medium proposal that included a book and film and explored the conceptual notion of shapes that cannot be seen - like the wind.

Also of interest was the realism of Brit Polly Tootal's urban English landscapes of 'in-between' spaces, and Evangelia Kranioti who was awarded a 'special prize' from the jury for her nine-year, cinematographic series that told tales of her native Greece and the solitude of its sailors.

Pfrunder summed up the quality of talent on offer: 'Gerhard Steidl is going to make a book with somebody, Jean-Luc Monterosso is making an exhibition… everybody will do something on the side, because it was difficult to say that one is a winner.'

The fashion award, helmed by a jury that included Carine Roitfeld, HRH The Princess of Hanover, designer Anthony Vaccarello and producer Caroline de Maigret, was given to 28-year-old German designer Annelie Schubert. Schubert's tactile, sculptural shapes boldly combined traditional and techno fabrics like tweed and Neoprene. And in addition to the prize money she will also receive tutelage within Chanel's Métiers d'Art.

Dutch designer Wieke Sinnige got the fashion jury's 'special award', while Anna Bornhold won the Chloé Prize for her ombré jumpsuit that was entirely handcrafted. Also of note: menswear designer Sophie Harand's gender neutrality theme, which was on trend with the A/W 2015 runways. 'What I could see with these kids is that it's a lot about texture,' continues Mahdavi. 'In my discipline I really feel that textures are becoming more important as a reaction to this world that we are living in that's so digital. Everything that has to do with your senses is exaggerated. Because of these screens we can work from anywhere in the world and so spaces are becoming hybrid. This hybrid thing is becoming more and more important - seasons are hybrid, even genders are becoming hybrid - we could see it in the collections.'

Not only did the event showcase a new breed of talent, it also continued to lure a pilgrimage of creatives from around the world, enticed by its casual interactions with both the jury members and finalists. 'I spent these last few days chasing the people I was most interested in,' says French-American photographer David Luraschi. 'The festival is an opportunity for many to gather in a more relaxed environment than a metropolis.'

Luraschi has turned his back on fashion's street style epidemic quite literally… or rather his subjects have on him: 'I enjoy collecting people and their silhouettes,' he explains of his photographs of subjects walking away. 'This is something I practice in Paris where I live. Photographing environments and architecture there is something that has been done a hundred times and hundred years ago by the likes of Eugène Atget. I've always been interested in characters and realised that they are an element, which remains original and inexhaustible.'

However, without doubt, the festival's main event was Karl Lagerfeld's masterclass that touched on everything from his 300,000 strong book collection to his favourite architects of today: 'Tadao Ando and Zaha Hadid,' began the polymath, 'there is nothing more opposite. I wanted to built a house by Tadao Ando and I never got it done because they always thought it looked too much like a temple of a sect. Three times I bought locations and three times they turned it down. My only frustration in life is that I could not build a modern building in France.' Adding, 'It is easier to live in a geometric compilation, it's where my brain works better.'

On the subject of his design process he continues: 'I don't want to be pretentious, but every decision is a refusal. I see something… and electric flash… and then I'm lucky that I can put it on paper and people can immediately see it and make the dress without asking too many questions. I don't change my mind because before I present an idea I throw 20 into the garbage bin.'

His advice to the festival's young designers having won a similar Woolmark contest in 1954 that spearheaded his own career: 'I believe only in careers built on no rules.' Adding, 'I hate that idea of "young designers". You are a good or bad designer.' Although he says that they better be able to draw: 'When people present me their books with computer sketches I throw them in their face. I don't even look at them. It all looks the same.'

The fashion designer picked up photography in 'nineteen hundred and eighty seven' as he likes to term years, when 'Eric tried three times, and each time I said "arrgh" and so we rented a camera and I started. Our first picture was Ines de la Fressange. Six months later I was doing editorial. I was always very interested in photography. I collected it but never thought that I could do it.'

And on why photography is important to him he explains (after a swig of Diet Coke), 'It's the only thing that reflects what we did.' Adding, 'My fortune teller told me something very strange, "for you, it really starts when it stops for the others".' And with that the icon is off to the next event socialising into the wee hours with the festival's creatives both 'young' and old.
ADDRESS
Villa Noailles
Montée Noailles
83400 Hyères
Receive our daily digest of inspiration, escapism and design stories from around the world direct to your inbox