Rencontres d'Arles 2022: five photography exhibitions not to miss
We took a trip to Les Rencontres d'Arles, the world's premier photography festival, to scout out the best photography exhibitions under the sun this year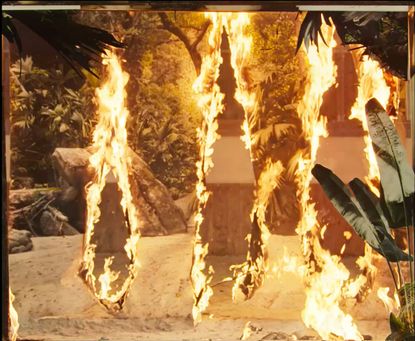 (Image credit: Courtesy of Les Filles du Calvaire gallery and the artist)
Wallpaper* Newsletter
Receive our daily digest of inspiration, escapism and design stories from around the world direct to your inbox
Thank you for signing up to Wallpaper. You will receive a verification email shortly.
There was a problem. Please refresh the page and try again.
Performing, experimenting, emerging, revisiting, exploring and testifying; this is how the Rencontres d'Arles has categorised this year's impressive curation of 40 exhibitions presenting 165 artists. Sprawled throughout the city's charming streets (bar a few satellite shows), works are exhibited in unexpected contexts, from 12th-century chapels and cloisters to the floor above a Monoprix supermarket. Just like the heat of summer in the south of France, photography has woven its way into the life of the city, from 4 July – 25 September. Also not to be missed in the city is Arthur Jafa's powerful exhibition 'Live Evil' on show at Luma Arles.
5 must-see photography exhibitions for Rencontres d'Arles 2022
Katrien De Blauwer 'The Pictures She Doesn't Show to Anyone' Croisière, Arles
While already alluringly ambiguous in print or on screen, seeing Katrien De Blauwer's compositions in person takes her assembled narratives to another level. Working with images from her archive of magazines, De Blauwer explains, 'I'm a photographer without a camera. For me, cutting is comparable to clicking on the shutter release.' While her montages anonymise – a disembodied foot peers out from underneath a skirt, paired with a murmuration – their scale offers intimacy, inviting viewers to examine up close each thoughtful snip, glue and colour. For Wallpaper's September 2018 Style Issue, De Blauwer collaborated with us on a special series for an A/W 2018 fashion story and also created a limited-edition cover.
Lukas Hoffmann 'Evergreen' Monoprix Arles
When walking around Lukas Hoffman's exhibition, you imagine what it's like to walk as Hoffman himself. His work is hard to pin down, at least partially in the presentation's two temporal approaches. In one, a series of large-format polyptychs is distilled and offers continual views along the side of a scrapped container, branded as 'EVERGREEN'. The year's worth of peeling paint on each letter is documented uniformly. In the distinct other, large format is used freehand, often without looking in the viewfinder. Fleeting compositions are created as a pedestrian walks ahead of Hoffmann, and the viewer follows.
Noémie Goudal 'Phoenix' Église Des Trinitaires, Arles
Exploring spatiotemporal vastness and post-anthropocentric modalities of being, Noémie Goudal's Rencontres d'Arles showcase is awe-inducing. In Below the Deep South, segmented images of tropical fauna combust across the screen, revealing more and more photographic layers shifting the landscapes on screen as an interrogation of fire's potential to renew and destroy. While in Inhale Exhale, a swamp breathes in and out 3m-high images of banana trees and other flora, as an expression of Goudal's philosophy that the Earth is an organism, following a distinct temporality from humanity's brief yet destructive existence. In the series Phoenix, illusionary palm groves position the environment in a continual flux. Altogether, Goudal's deconstructive and performative strategies create deep reflections on our world.
Sam Contis 'Transit' Carré d'Art, Nîmes
With Sam Contis' expressive documentation, Rencontres d'Arles viewers are brought into her protagonist's worlds; a powerful effect when we consider photography's complex role in the construction of place and self. In 'Transit', intimately scaled gelatin prints combine with large-scale colour photographs across the three series on show at Carré d'Art. In one, historically referenced images of a high school girls' cross-country team nod to the passage of time, while political and personal tensions lurk in the background. The next gallery travels to the English countryside, recording stiles within the context of boundaries and freedom. Deep Springs is where the show completes, as Contis explores Midwestern and masculine mythologies through enigmatic images of one of the last all-male colleges in the United States.
Mary McCartney 'Moment of Affection' Château La Coste, Le Puy-Sainte-Réparade
Love, desire and grief come together in a heartfelt collection of visual memories in Mary McCartney's 'Moment of Affection' at Rencontres d'Arles. She describes how the exhibition began to take form during the pause of the pandemic: 'I have taken my time, looking through every contact sheet and photograph in my archive… Finding simple moments, rich in feelings. And here they are.' Situated within the impressive 'bastide' of Château La Coste, moving through the gallery is an intimate reflection on the full spectrum of affection, throughout both McCartney's and our own lives as viewers.
INFORMATION
Les Rencontres d'Arles runs until 25 September 2022. rencontres-arles.com
Receive our daily digest of inspiration, escapism and design stories from around the world direct to your inbox
As Photography Editor at Wallpaper*, Sophie Gladstone commissions across fashion, interiors, architecture, travel, art, entertaining, beauty & grooming, watches & jewellery, transport and technology. Gladstone also writes about and researches contemporary photography. Alongside her creative commissioning process, she continues her art practice as a photographer, for which she was recently nominated for the Foam Paul Huf Award. And in recognition of her work to date, listed by the British Journal of Photography as 'One to Watch'.