Thom Browne on his 20th-anniversary book, curated by Andrew Bolton
'Thom Browne' the book, a collaboration with partner Andrew Bolton, charts the American designer's career. Here, Browne tells Wallpaper* the story behind his first monograph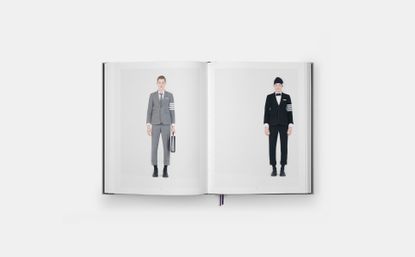 (Image credit: Courtesy of Thom Browne/Phaidon)
'Everything always starts with the grey suit,' says American designer Thom Browne, who began his eponymous label with his take on the garment – shrunken in the body, hemmed high at the ankle – back in 2003.
This year marks the label's 20th anniversary, a two-decade span that has seen Browne become one of the USA's most prominent and lauded designers, best known for theatrical runway shows that have taken place in both Paris and New York. Earlier this year, he was named part of the Wallpaper* USA 300 in the 'Legends and Trailblazers' category, a recognition of his role in shaping America's cultural and fashion landscape. 2023 also saw him become the chairman of the Council of Fashion Designers of America, succeeding Tom Ford.
A number of moments have been orchestrated by the designer to mark the milestone; in July, Browne showed his first haute couture collection in Paris amid the dramatic surroundings of the city's gilded Palais Garnier (a fittingly dramatic backdrop for the designer's fantastical works), while this month he releases a capsule collection of his signature pieces emblazoned with '2003' as a nod to the brand's founding year.
Thom Browne on his first-ever monograph, celebrating 20 years
But perhaps the nexus of the anniversary is the release of a new Phaidon-published tome, Thom Browne, which was curated by the designer's partner Andrew Bolton (and joins our library of favourite fashion books). Bolton, who began his career at London's V&A Museum, is best known for his work as Wendy Yu curator in charge of the Anna Wintour Costume Centre at the Met in New York, responsible for the annual blockbuster fashion exhibitions which are inaugurated by the star-filled Met Gala (Bolton was also named as part of the Wallpaper* USA 300 in the 'Keepers of Culture' category).
For the book – which is designed by Irma Boom to recall Browne's famous suit in its all-grey palette – Bolton selected a number of past looks by the designer to be photographed by British photographer Johnny Dufort, alongside a selection of archival imagery. Bolton also provides the book's foreword. 'Everything comes from Andrew's point of view,' Browne says.
Here, following a celebration at the V&A to mark the book's launch on Monday evening (9 October), Browne tells Wallpaper* the story behind his first-ever monograph.
Wallpaper*: Tell us a little bit about how the book came about. Why did it feel a fitting way to celebrate 20 years?
Thom Browne: The book was really a mutual collaboration between Phaidon, Andrew and myself. We've talked about this for a while and now felt like the perfect time. To be able to work with Andrew was such a privilege – seeing how he interrupts my work through his eyes as someone who has elevated fashion to the highest level was so invaluable.
W*: A lot of the book is original photography of archival pieces by Johnny Dufort. Why did you want to shoot these new images, rather than using archival imagery?
TB: I think it's important to show your work through different eyes. Andrew told me that designers are the worst at curating their own books, everything comes from his point of view...
W*: Why did you choose to work with Johnny on the project? What do you like about his work?
TB: Johnny is not only an incredible fashion photographer but someone whose work transcends fashion. Andrew [had previously] worked with Johnny and invited him to work on this project.
W*: How were the various looks chosen?
TB: Everything you see in the book is Andrew. I find myself to be more instinctual when it comes to design, so, there's no way I could have chosen the looks that were featured. Andrew really looks at things from an intellectual point of view and I think you see that evolution across my work because of him.
W*: Why was it important that the book was a design object in itself? What was it like working with Irma Boom on the project?
TB: I always say that I don't really work in fashion. I do because it's the world we find ourselves in, but I try to create work that transcends fashion. For me, the most important thing is to tell stories and make people think in new ways. This was no different when approaching the monograph. Irma is the best at what she does, it was a privilege to work with her on this book.
W*: Did anything strike you looking back at your past work? Do you enjoy the process of looking back?
TB: Seeing the collections through Andrew's eyes was the most inspiring thing when looking back. I feel like he showcased how I've evolved as a designer and pushed myself to be better and better each season.

W*: At the centre of the book is the suit. Why do you think it is a garment that has resonated with you so much?
TB: Everything always starts with the grey suit. It was something I wanted for myself 20 years ago, and something that looks just as good today.
W*: What do you think has changed in your approach over the last 20 years? What has stayed the same?
TB: I always approach my collections in the same way. I want to share new stories and new ideas and make people think when they leave – the kiss of death is when someone thinks that my work was just OK. But for me, making something of the highest quality that is so personal to me will never change.
W*: What's the biggest lesson that you've learnt?
TB: To just be yourself and do work that makes people think. You have to really commit to the work and love it so much that you can't imagine doing anything else.
'Thom Browne' is published by Phaidon and released on 25 October 2023.
Receive our daily digest of inspiration, escapism and design stories from around the world direct to your inbox
Jack Moss is the Fashion Features Editor at Wallpaper*. Having previously held roles at 10, 10 Men and AnOther magazines, he joined the team in 2022. His work has a particular focus on the moments where fashion and style intersect with other creative disciplines – among them art and design – as well as championing a new generation of international talent and profiling the industry's leading figures and brands.