Rethinking drink: three entrepreneurs taking the edge off alcohol
These three American brands are creating beverage options that take the edge off – without the hangover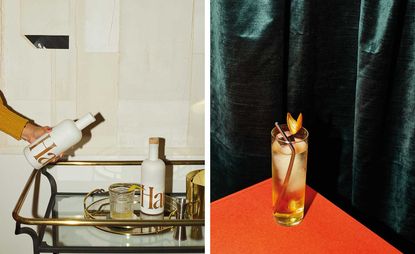 (Image credit: press)
A mindful shift is happening in our Western drinking culture. Instead of turning to alcohol uncritically to lubricate time spent socialising or networking, people are increasingly unwilling to sacrifice their mornings-after for a night of hazy memories. Switched-on entrepreneurs have taken note.
Haus
On their 3rd generation, 200-acre ranch in Sonoma County, California, Helena and Woody Hambrecht are busy pulling out grapevines to make room for more fruit trees and botanicals for the natural aperitif brand they blend and bottle on site.
The couple sensed a need for change in how people drink after witnessing both the 'work hard, play hard' culture in New York and the more satisfying social ritual of the European aperitif. 'People today are motivated by health and transparency, and there's an interesting shift away from bars to private events,' says Helena. 'With Haus we saw an opportunity to solve a bigger problem.'
Haus offers two flavours, Citrus Flower and Bitter Clove, and is the first direct-to-consumer alcohol brand with 15 per cent alcohol by volume and an all-natural ingredient list – two elements that circumvent a hangover after a hangout.
Kin Euphorics
For those who like the conviviality a tasty tipple brings, but are wary of the effects of alcohol on health, Kin Euphorics offers a better way to get a buzz. 'I started questioning the detox-retox cycle', says founder Jen Batchelor, after looking at how people were running to Soul Cycle after a night of vodka, only to run for mimosas after class. The former hospitality consultant felt "that the world was ready for a more elevated way to revel.'
Kin Euphorics contain nootropics, adaptogens and botanics – which are cognitive enhancers, physiological balancers and nourishing herbal ingredients, respectively. Meant to lift the mind and relax the body, the herbaceous concoction – either bottled or pre-mixed as a spritz – encourages conscious connection by fostering a calm and clear mind.
Artizn
If you're not looking for anything mind-altering, but still prefer sipping on something more adventurous than water, yet less sugary than your average Kombucha, Artizn will give you that kick.
Founder Frederic Naayem, a French transplant based in Brooklyn, was introduced to the 3000-year old South Korean ritual of drinking vinegars during a holiday. 'I fell in love with the vinegars there, but once back home, I was disappointed by what was available locally – apple cider vinegars don't taste good at all in my opinion!' tells Naayem.
He came up with an idea for a non-effervescent, smooth-tasting tonic that takes aged vinegar as its base, and pairs it with the finest fruit, herbs and spices. A 35-generation old family farm of South Korean master brewers on Gangwha Island, whose artisanal fermentation process takes three years, provides the base. Artizn contains enzymes, antioxidants and organic acids – so even with a little gin or vodka mixed in, this is a no-regrets drink.
INFORMATION
kineuphorics.com (opens in new tab)
drink.haus (opens in new tab)