Lavender and Truffles: plant-based ice cream with Asian-inspired flavours
Fashion industry veteran Alicia Liu launches an ice cream brand like no other, with passion and grit as the main ingredients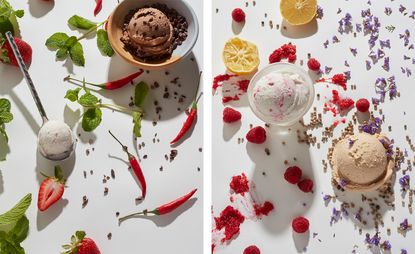 (Image credit: John Von Pamer)
Entrepreneur Alicia Liu started her career in fashion, working at the likes of Prada Group and Dolce & Gabbana, and eventually spending seven years as vice president of fashion and e-commerce at New York City retail institution Century 21. But in 2019, she decided to chase her lifelong dream, relocating to Los Angeles in pursuit of a career in the culinary industry.
The Covid-19 lockdown came shortly after her move, giving her plenty of time to figure out her passion play. She would go on to revolutionise organic plant-based ice cream with a collection of Asian-inspired flavours that surprise and delight, all hand-packed into exquisite packaging that she designed herself. 'First, I had to learn how to make ice cream, then the science behind it. Where I landed was a product closer to gelato, with about half the fat of ice cream, and even less when I turned to plant-based ingredients,' said Liu.
There were some interesting experiments along the way, from Beet Cayenne to White Pepper – a culinary staple in her ancestral home of Taiwan – to Garam Masala, derived from a family spice recipe given to her by a friend. Liu clearly covered a lot of ground before landing on the eight flavours available at launch: Black Tahini; Dalgona Coffee; Ginger Turmeric; Lychee Rose; Matcha Stracciatella; Mint Strawberry; Salted Chocolate; and Vanilla Classic.
It's an elegant and innovative collection of products that Liu makes by hand in her own commercial kitchen, a labour of love that has quickly become difficult to keep up with. Her ice cream is flying off the shelves at her first retail outlet, Erewhon Market – Southern California's chain of upscale vegan grocery stores – where Black Tahini is the top seller. The ground sesame gives it a rich, nutty flavour and an earthy balance to the sweetness. The second most popular ice cream, Dolgana Coffee, uses freeze dried coffee whipped into a creamy consistency together with cacao nibs, which have a stronger, more solid presence than chocolate chips, creating a delicious, contrasting mouth feel that adds to the experience.
These flavours also lead in on-line sales, shipping in dry-ice directly to customers across the continental United States. With ambitious plans to expand in both retail and online channels, Liu is already looking to increase production, but remains committed to handmade product with only all-organic, plant-based ingredients.
But even with her early success and limited personal bandwidth, Liu can't stop experimenting. This February she collaborated with Opening Ceremony founder Humberto Leon on an exclusive flavour for his Los Angeles restaurant Chifa, an Almond Jelly ice cream to celebrate Lunar New Year. There are more collabs to come, and no doubt more good things for the Lavender and Truffles brand and Alicia Liu – an inspiring story and a reminder to pursue one's dreams. §
INFORMATION
Lavender and Truffles plant-based non-dairy ice cream, $15 for 16oz, lavenderandtruffles.com