Cocktails and canapés: recipes and tablescapes fizzing with style
Our showstopping cocktails and canapés for festive occasions will bring effervescence to any event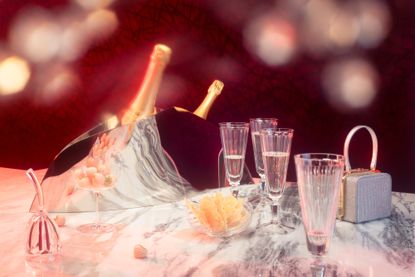 (Image credit: Photography: Thomas Albdorf)
Add effervescence to any event with our showstopping cocktails and canapés. Take inspiration from our exquisite tablescapes and elegant glassware, and simple but sophisticated recipes, courtesy of Wallpaper* Entertaining Director Melina Keays and Interiors Editor Olly Mason. The art of entertaining starts here.
Cocktails and canapés: hosting in style
---
The gallery reception, with a Gibson cocktail
Gibson cocktail recipe
Serves 1
70 ml gin
15ml dry Vermouth
ice cubes
2 cocktail onions
Measure the gin and vermouth into a mixing glass. Add ice cubes and stir for 30 seconds. Strain into a chilled cocktail glass. Serve with 2 cocktail onions threaded onto a cocktail stick.
Interval pick-me-ups, with an Amaretto Sour
Amaretto Sour recipe
Serves 1
60ml amaretto liqueur
30ml fresh lemon juice
dash of Angostura bitters
15ml egg white
ice cubes
maraschino cherries
Put all the ingredients apart from the ice and cherries into a cocktail shaker and shake sharply for 30 seconds. Open the shaker and add ice cubes. Replace the lid and shake again for a further 30 seconds. Strain into a cocktail glass and serve garnished with a maraschino cherry.
Candlelit concert
Tea and symphony, with coconut macaroons and madeleines
Coconut macaroons recipe
Makes 12
2 egg whites
100g caster sugar
200g desiccated coconut
1/4 tsp salt
1tsp vanilla paste
6 glacé cherries, halved
90g dark chocolate
Whisk together the egg whites and caster sugar in a large bowl for 2-3 mins until light and frothy, and the sugar has dissolved. Add the coconut, a pinch of salt and the vanilla, and stir until combined. Leave to stand for 10 mins. Preheat the oven to 170°C/fan 160°C/gas 4 and line a baking sheet with baking parchment. Scoop up generous teaspoonfuls of the mixture and roll into balls with your hands. Shape them into 12 mounds and arrange on the prepared baking sheet. Top each with half a glacé cherry. Bake for 10-12 mins until golden, then leave to cool completely on the baking sheet.
Melt the chocolate in a bowl over a pan of simmering water, making sure the bowl doesn't touch the water. Dip the bottom of each cooled macaroon into the chocolate and place on a sheet of baking parchment, chocolate-side up. Place in the fridge for 20 mins, or until set.
Madeleines recipe
Makes 12-16
2 eggs
100g caster sugar
100g plain flour, plus extra for dusting
1 lemon, juice and zest
3/4 tsp baking powder
pinch of salt
100g butter, melted and cooled slightly, plus extra for greasing
Brush the madeleine tray with melted butter then shake in a little flour to coat, tapping out the excess. Whisk the eggs and sugar together in a bowl until pale and frothy. Add the remaining ingredients and whisk them in lightly, then place the batter in the fridge to chill for at least 30 minutes.
Preheat the oven to 200°C. Spoon the batter into the prepared madeleine tray, place in the hot oven and bake for 10-12 minutes until they are golden and well risen in the centre. Place on a wire rack to cool.
Front row show
Cassata ice cream bombe recipe
Serves 6- 8
500ml chocolate ice cream
300ml pistachio ice cream
250ml vanilla ice cream
30g chopped dried apricots
35g chopped glace cherries
30g chopped candied orange peel
25g chopped pistachio nuts
cocoa powder to dust
1 litre pudding bowl
Take the chocolate ice cream out of the freezer to soften. Line the pudding bowl with a double layer of cling film. Spoon the chocolate ice cream into the lined bowl and spread it up the sides in a thick and even layer. Place it back in the freezer to firm for 15 minutes, then repeat the process with the pistachio ice cream. Take the vanilla ice cream out of the freezer to soften, then spoon it into a bowl and fold in the chopped fruit and nuts. Spoon this mixture into the centre of the ice cream bombe , smooth the top and replace in the freezer to firm for several hours. Dust the bombe with cocoa powder before serving.
Private view
Box office hits, with lobster rolls
Lobster rolls recipe
Serves 6
500g cooked lobster meat
5 tbs mayonnaise
1 tbs lemon juice
1 stick of celery, diced into small pieces
1 tbs chopped fresh chives
salt and black pepper
6 brioche rolls
3 tbs butter
Chop the lobster meat into large chunks and set aside. Put the mayonnaise, lemon juice, celery and chives Ito a bowl. Add 1/4 teaspoon of salt and a good grind of black pepper and mix well. Add the lobster and fold all together until well combined. Check the seasoning. Slice the rolls lengthways halfway without cutting them completely in two. Open them up to reveal the cut sides. Melt the butter in a large frying pan and place the opened rolls cut side down to warm and toast slightly in the hot butter. Remove from the pan, spoon in the lobster mixture and serve immediately.
Grand finale
Gildas recipe
Makes 12
I jar of pitted olives
12 salted anchovies
12 pickled Guindilla chillies
cocktail sticks
Drain the olives and chillies. Take a cocktail skewer and thread a chilli first, followed by one end of an anchovy. Add an olive and then thread the other end of the anchovy onto the skewer. Serve with drinks and other appetisers.
Set build: London Art Makers. Photography assistant: Louise Oates. Interiors assistant: Archie Thomson. Fashion assistant: Kris Bergfeldt
The December 2023 Entertaining Issue of Wallpaper* is available in print from 9 November, on the Wallpaper* app on Apple iOS, and to subscribers of Apple News +. Subscribe to Wallpaper* today!
Receive our daily digest of inspiration, escapism and design stories from around the world direct to your inbox