Raise a glass to the Wallpaper* December 2023 Entertaining Issue
A cocktail of culture and chic: the Wallpaper* December 2023 celebrates the art of entertaining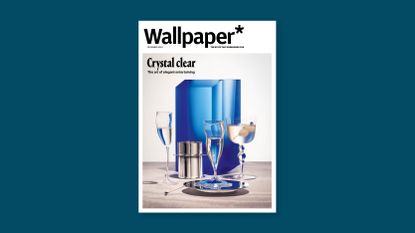 (Image credit: Thomas Albdorf)
Welcome to our Entertaining issue. It can feel frivolous and indulgent to talk of entertaining at a time such as this. However, the abiding message of bringing people together with love, warmth and generosity is something that we can hold on to, while still sharing our thoughts and wishes for a peaceful resolution to current events in the world.
I was reminded of this dichotomy on a recent trip to Rome, firstly with a magical dinner with friends at Villa d'Este, a Unesco World Heritage Site in Tivoli. The overwhelming outtake of the evening was of love and generosity, of bringing people together, of making time for each other, and creating unforgettable memories in the process.
The next morning I was privileged to be given an exclusive preview of the Don McCullin retrospective at Palazzo Esposizioni Roma, with the great man himself, as well as curator Simon Baker, and the Palazzo's president, Marco Delogu. Sir Don McCullin is one of the most important photographers of the 20th century, and the show covers key themes of his work: Early Work in London and Berlin; Documentary Practice in the UK; International Documentary and Travel; British Landscapes and Still Life; and the Roman Empire.
The still life shown above, Plants Table, and Mushrooms, seen in our article on the exhibition, resonate with human emotion – they are so rich, calm and exquisite that they took my breath away. McCullin hand-developed all the works in his darkroom – an old shed in the garden at his home in Somerset. He describes his practice as 'always searching for a new voice in my soul, new ways of expressing myself photographically' and that 'occasionally, I should be associated with peace'.
Elsewhere in the issue, we present four Design Miami previews – Vincent Van Duysen's new furniture collection for stone specialist ARCA; Fendi's fascinating collaboration with enigmatic duo Bless Studio, titled 'Backfrontal'; Samuel Ross' rethink of the bathroom tap for Kohler; and Lara Bohinc's pastel-coloured organic forms, titled Utopia, for the Miami Design District.
We showcase Dior's Joaillerie's 'Bois de Rose' jewellery collection, which pays homage to the classic flower, visit Casa Dragones' tequila bar in Mexico, and indulge in the world's most expensive chocolate, from Ecuador. Then we head over to San Francisco for Lindsay Gerber's sensitive refurbishment of Camino House, an extraordinary house designed in 1969 by Goodwin Steinberg, once a student of Mies van der Rohe, before finishing off with 12 pages of bountiful cocktails and canapés for every performance.
I hope you enjoy the issue and find time over the coming weeks to spend time with your loved ones.
Sarah Douglas
Editor-in-Chief
The December 2023 issue of Wallpaper* is available in print from 9 November, on the Wallpaper* app on Apple iOS, and to subscribers of Apple News +. Subscribe to Wallpaper* today
On the cover: From left, glasses, from £145, by Miranda Keyes. 'Sky' cocktail sticks, £48 for six, by Aurélien Barbry, for Georg Jensen. 'Abyss' vase, $13,810, by Jan Plecháč, for Moser 'Dinner Service' cup; plate, both price on request, by Donald Judd, for Puiforcat. 'Poppea' goblet, €125, by Sebastian Menschhorn, for Lobmeyr. 'Amoir Fou' fabric in 027, £158 per m, by Dedar. Paint in Carte Blanche: Au Lait, £93 for 5 litres, by Christopher John Rogers, for Farrow & Ball
Receive our daily digest of inspiration, escapism and design stories from around the world direct to your inbox
Sarah Douglas is Editor-in-Chief for Wallpaper*, where she is responsible for the content across the print magazine, digital platforms, in-house creative agency Bespoke, brand partnerships, and events. Joining Wallpaper* in 2007 as Art Editor, Sarah became Creative Director in 2012, before being named Editor-in-Chief in 2017. During this time she has commissioned an array of illustrious artists and designers including Jean Nouvel, Yayoi Kusama, Tom Sachs, Nendo, Virgil Abloh and Jenny Holzer; championed talents such as Formafantasma, Sabine Marcelis, Martino Gamper, Bethan Laura Wood, Philippe Malouin, and Craig Green; and overseen partnerships with leading brands including B&B Italia, Prada and Rolex. Sarah is also a member of the judging panel for the London Design Medal, and regularly judges for international design competitions.