First look at Samuel Ross' revolutionary faucet for Kohler
The Formation 01 design by Samuel Ross for Kohler is set to change how we engage with bathroom fixtures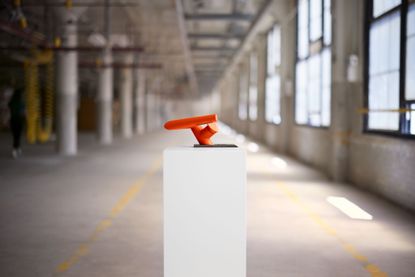 (Image credit: Courtesy Kohler)
Made famous by his A-Cold-Wall* streetwear label and illustrious collaborations with brands such as Apple, Samuel Ross approaches fashion and product design in an unparalleled way. Trained by polymath superstar Virgil Abloh, the multi-hyphenate in his own right approaches everything from garments and accessories to collectible design furniture with an equal measure of unrestrained experimentation and shrewd pop cultural attentiveness. Ross uses striking colours, captivating finishes, and easily recognisable forms to convey deeper social and philosophical messages.
Kohler presents the Formation 01 faucet by Samuel Ross
The conception of the new Formation 01 faucet for American bathroom giant Kohler is no different. Making its grand debut in a fully immersive display at Design Miami in December 2023, the bold design takes on an unconventional shape that is meant to change how we perceive and interact with this type of fixture. For Ross, a radical reconfiguration of an object we might otherwise take for granted can help us slow down and become more conscious of our daily routines.
Developed under the auspices of Ross' London-based industrial design studio SR_A, the new paradigm-shifting, limited-edition product stems from a close, multi-year collaboration with the Wisconsin-based manufacturer announced earlier in 2023. Much like the transdisciplinary designer, the brand prides itself on spearheading innovation. It has done so since its foundation 150 years ago. Working with promising talents throughout that history has long positioned Kohler as a versatile trailblazer.
'Throughout our history, we have operated on the leading-edge of innovation and creativity – attributes that align with the approach of Samuel and SR_A's focused endeavour, which we love,' says David Kohler, Kohler's chair and CEO. Tapping into the brand's latest state-of-the-art manufacturing technologies but also harnessing its long-preserved artisanal know-how, Ross set out to create a series of format-defying bathroom products that honour this tradition.
Defined by an angular, rocker-style shape and audacious Haptic Orange colourway, Formation 01 is the first result of this ongoing partnership. 'The breakthrough idea will help drive our industry leadership forward and challenge us to expand our perspectives of product and process,' David Kohler adds.
The design reflects back on Kohler's first yet seminal foray into bathroom fixtures. Back in the 1880s, the family-run business made the auspicious decision to redirect its expertise in casting iron for farming equipment to bathtubs. Formation 01 is moulded as a singular object in a similar process using new proprietary material Neolast. Water passes through three tubes interlocking at extreme angles before reaching an integrated spout with the inclusion of precision pressure controls ensuring that there's no disruption in its flow. The sculptural faucet sits on a cast iron escutcheon plate mount, imbuing it with even more distinction. In shoring up the feasibility of this revolutionary proposition, Ross and Kohler's design team paid close attention to proportion, especially when it came to the contouring of the equally expressive handle – the user's main point of contact with the fixture.
The choice of colour was also critical and served as a clear connection point, tangibly demonstrating the brand and designer's shared philosophy. Kohler and Ross opted for a bright Industrial Haptic Orange that harkens back to Kohler's wildly successful Tiger Lily hue – debuted in 1967 – while also perfectly evoking the designer's widely recognised aesthetic.
With daring colour and shape, the hyperbolic yet hyper-efficient Formation 01 stands out. Like any good work of art, its meaning remains open to interpretation. 'We engage with faucets daily. Developing a perspective on this act as a generational contribution to a form and function study closely relates to developing new expectations for water solutions for future generations,' Ross says. 'The faucet brings together the signatures of our industrial design studio SR_A: an intentionally abstract, reductive use of form and colour, at times minimal and arresting in application. The object's high visibility links back to the collective view we have within the design studio's philosophy of tying experimentation with hyper-visual communication.'
The Formation 01 faucet by Samuel Ross will be unveiled at Design Miami, 6-10 December 2023
Receive our daily digest of inspiration, escapism and design stories from around the world direct to your inbox