Samuel Ross at White Cube: Land, abstraction and the Black interior
'Land' by Samuel Ross at White Cube (until 14 May 2023), marks the Black British artist and designer's first solo foray into the world of fine art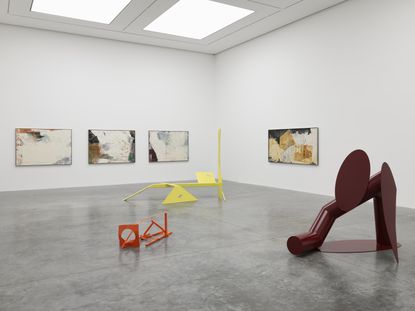 (Image credit: White Cube (Theo Christelis))
'Land', marks Black British artist and designer Samuel Ross' first solo foray into the world of fine art. Ross initially rose to prominence circa 2015 by way of his meticulously crafted fashion label A-Cold-Wall: a thesis on the British class system. For a near decade, he has created body-mapped garments that tackle race and socioeconomics in abstract and visceral manners whilst draping and flowing in beautiful symbiosis with the human form.
'Land' by Samuel Ross at White Cube, London
The artist's inaugural solo exhibition at White Cube Bermondsey (until 14 May 2023) is a multisensory experience. The collection consists of sculptures, scents, soundscapes and paintings geared towards the exploration of working-class Black British experiences. Here, a man, self-described as 'obsessed with the exoskeleton of society', provides us with an additional lens by which to peek into his conception of the world: what he knows to be true.
Ross has been quietly refining his artistic practice. The oldest of the artworks on display, a three-piece concrete sculpture, was made in 2016. Sitting in the furthest corner of the room, it props up a burning incense stick filling the space with an oaky scent that lingers, tantalising your senses as you manoeuvre through the exhibition.
To the artist, these paintings and sculptures are to be viewed as 'lucid and open, not rigid'. However, his stylistic and formal decisions hint at a desire to protect, to obscure. Layers of dark red, blue, black and butter-milk paint are heavily applied on soaked duck canvas, concealing and revealing each other to varying degrees. The carefully selected colours are oblique homages to his Caribbean heritage. In an untitled work, we see what appears to be metallic sheets layered on canvas, painted over in dark tones with tiny slivers of their veiled silver sheen occasionally peeking out of an otherwise nightmarish black and grey abyss.
In conversation, Ross cites American sociologist W.E.B Du Bois' theory of double consciousness − an inward 'twoness' experienced by members of the African diaspora, brought on by racialised oppression. He also expresses a desire to formulate a pictorial lexicon for what British Caribbean abstraction could look like in the 21st century.
Once Ross' vision for his work is embraced, these artistic interventions quickly reveal the clear and intelligible story of the internal struggles faced by Black people tasked with integrating into white paradigms. Through these images, we are invited to bear witness to what is likely an all too familiar experience for Ross: the act of sublimation required of Black men, like himself, to operate in not just the creative industries but the world at large. The dawning of harsh exteriors to hide and protect the sensitive and vulnerable man within. In his decision to eschew figuration, opting instead for multisensory emotive abstraction, a welcome deviation from the core-stream art world's post-covid fascination with Black figures, Ross finds compelling ways to create space for intriguing explorations of the Black interior.
'Land' by Samuel Ross is on view until 14 May 2023
White Cube Bermondsey
144-152, Bermondsey St
London SE1 3TQ
Elisha Tawe is a writer, audiovisual artist and one-half of the creative duo GRAY417C. He is based in London.