Perrier-Jouët and Analogia Project explore nature and colour in champagne
Analogia Project has unveiled Metamorphosis with Maison Perrier-Jouët – six champagne glasses that create a dialogue between design, champagne and nature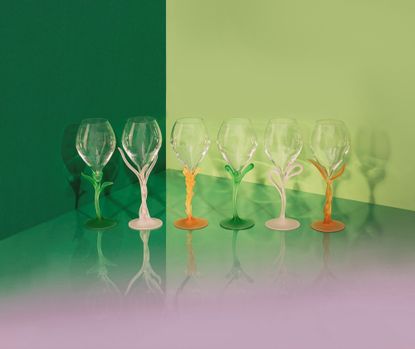 (Image credit: TBC)
There are unfurling green leaves, twisted stems of light amber and petal-like swirls of rose pink – above which sits the more familiar silhouette of the upper bowl of a champagne glass. This collection of six glasses, titled Metamorphosis, were designed as part of a creative collaboration between French champagne house Maison Perrier-Jouët and Andrea Mancuso of Analogia Project.

Each of the crystal glasses – all delicate in form, vibrant in colour and exquisitely crafted – were designed to reflect the essence of six different Perrier-Jouët cuvees, in a modern expression of the house's rich Art Nouveau heritage.

'This is a dialogue between nature, champagne and design,' explains Milan-based Mancuso. 'A glass can tell a story. I tried to create six glasses that would reflect the notes and elements associated with each cuvee.' He adds: 'green represents nature, I have used rose for the Rosé cuvees and amber evokes the colour of the champagne.'

Inspiration for the collection stemmed from hours of conversation between Mancuso and Hervé Deschamps, cellar master of Maison Perrier-Jouët, exploring various champagne qualities alongside tastings to discern the impact of glass shapes on flavour. The starting point was, according to Mancuso, a glass with two simple green leaves and a gently curved stem – its flowing form inspired by the 'elegance', 'delicacy' and 'harmony' of Perrier-Jouët Grand Brut.
Another glass base is made up of light-catching amber, with two sheaf-like strands playfully twisting to encase the base of the bowl – designed to embody the 'personality', 'charm', 'rarity' and 'allure' of Perrier-Jouët Belle-Epoque.

The sculptural intricacy of the glasses was the result of an innovative (and painstaking) process: Mancuso worked with glass artisans at Berengo Studio in Murano, with each glass taking a week to handcraft. Unusually, they were created using a technique known as lost-wax casting – an elaborate process normally reserved for bronze casting as opposed to glass making, which resulted in countless experimental breakages along the way, recalls Mancuso.

The Metamorphosis collection was previewed Galerie Perrotin in Tokyo last week, as part of the festival Designart Tokyo, with each of the six glasses standing on a minimal white plinth made using lost-wax casting techniques. 'Andrea Mancuso has been able to transform his drawings into delicate crystal pieces sculpted with extreme precision,' says Emmanuel Perrotin, the gallery owner.

For Mancuso, the most important element is how the glasses feel when they are actually being used to drink champagne – with their first outing taking place in Tokyo at a private 'Banquet of Nature' dinner held for 30 people at Pierre Gagnaire.
The event was the perfect prelude for Design Miami, where Mancuso will create an immersive installation at the Perrier-Jouët booth in December. An event called 'A Banquet of Nature by Perrier-Jouët' is also scheduled to take place in Miami, again enabling guests to enjoy the experience of drinking from the glasses.

Describing how his work embodies 'the purest expression of nature', Mancuso adds: 'my encounter with Maison Perrier-Jouët is an ongoing conversation. A wonderful, inspirational dialogue about wine, of course, but also a shared vision of re-enchanting the world with reinvented nature.'
INFORMATION
'A Banquet of Nature by Perrier-Jouët', 3-8 December, Design Miami. perrier-jouet.com