Designart Tokyo transforms the city into a living, multi-sensory museum
The third edition of the fair (18-27 October) showcases over 100 exhibitions across the Japanese capital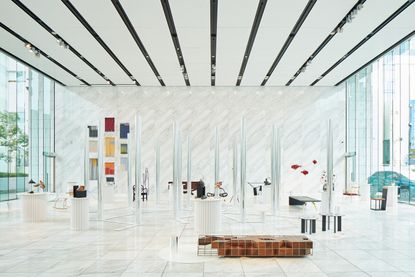 (Image credit: press)
It's a still life with a high-tech twist: beneath a linen wall hanging, there is a wabi sabi teacup, a potted plant – and, in unexpected harmony, the minimal white lines of a Google Nest Wifi. This is just one scene among 100-plus exhibitions that make up the third edition of Designart Tokyo, a fast-growing annual festival which – as the name suggests – celebrates all things design and art related across the Japanese capital.
The idea of transforming a city into one vast, living museum is no mean feat – particularly when the metropolis in question is an urban sprawl packed with over 13 million residents. Yet this is the goal of DesignArt, which opened across 11 different neighbourhoods in the capital, with the Ginza and Shinjuku areas included for the first time. This year – the biggest to date – around 300 designers, artists and brands are showcased for ten days in museums, galleries, design studios and stores.
'Comma at 21_21 Design' in Roppongi, is an installation inspired by the pauses in modern day life, curated by trends forecaster Lidewij Edelkoort, and produced by Google Hardware Design Studio. Minimal linen wall hangings with abstract motifs by Dutch interior architect studio INAMATT echo new Google products (including a pebble-like Nest Mini of recycled plastic), all subtly set among everyday items, from soapdishes to teapots. 'Yes, this is technology,' explains Ivy Ross, Google's VP of hardware design. 'But beautiful objects are not just about how they look, it's also about how they feel.'
World Kita-Aoyama Building is the setting for '1% for Art' exhibition – an initiative supporting one per cent of national construction budgets going towards public art projects. An eclectic array of pieces were on view, from Shigeki Yamamoto's hole-punched bamboo furniture to Apical Reform's hanging shoal of high-tech red piranha fish.

At the Nendo-designed Kashiyama Daikanyama complex, it's all about rocks. 'Earthscape,' a contemplative exhibition by Okurayama Studio and designer Teruhiro Yanagihara, showcases richly textured Daté Kan volcanic stones dating back 20 million years. Sourced from Mount Zao in northern Japan, they are displayed simply in large wooden boxes, alongside photography by Yuna Yagi and stone products (including the minimal, layered Kon Pac table).

Other highlights include Raison d'Etre, by Wakabayashi Butsugu, the 19th century Kyoto Buddhist altar makers, at GUM in Omotesando. Here, bold modern takes on traditional home altars were showcased, as imagined by six Japanese creatives – from Kohei Nawa, whose fantastical still-in-progress wooden phoenix will soon be covered in gold leaf; to Satoshi Itasaka's shiny, fluidly-curved altars in lipstick red laquerware (there's even one for dead pets).
Meanwhile, 'Swiss Design / Made in Japan', curated by David Glaettli, features a raft of collaborative creations – including the curved Japanese oak Polar Chair, designed by Moritz Schlatter and produced by Karimoku New Standard and exquisitely sprayed Arita ceramics by Kueng Caputo.

Other small-scale gems include Koichi Futatsumata's Kiulu Bench – inspired by wooden bathing buckets – in Artek's window, alongside landscape photography by Nao Tsuda. At Bunkitsu Roppongi, 'Nature as Metaphor,' by Chialing Chang featured a wood tower and delicately fanned mulberry tree fibres, meanwhile at Espace Louis Vuitton, Christian Boltanski's magical Animus films, one shot in Chile, the other on Japan's Teshima island, are also screened.

'It's a city-wide platform to showcase Japanese and international designers using the city as a stage,' explains Mark Dytham of Klein Dytham architecture – one of six Tokyo creatives behind Designart. 'What's most important is that it gives Japanese designers a voice both nationally and internationally, to be seen and discovered – something that has been lacking in Tokyo until now.'
INFORMATION
Designart Tokyo runs until October 27. designart.jp (opens in new tab)