Sweet spots: the coolest ice-cream parlours around the world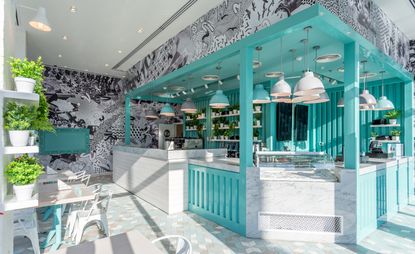 (Image credit: press)
Sweet Salvation, Dubai, UAE
Increasingly elaborate ice-cream concoctions are having their moment in the sun and we dare you not to reach for your phone to take a picture at the recently opened Sweet Salvation in Dubai. On the menu are large soft-serve cones, finished in extravagantly sprinkled toppings, with names like Cookies, Cookies, Cookies & Cream (wonder what's in these?). With its Canadian heritage, it was natural that Navigate Design – a Toronto-based architect and design firm – were put in charge of the first store outside Canada. They have consciously made the corner parlour in City Walk 2, easy on the Insta-eye. Signature blue accents appear throughout, while a repurposed shipping container acts as the serving station. Grey-veined white marble counters and muted rhombus floor tiles provide the backdrops for that requre #nofilter. If ice cream carnivals in a cone aren't quite your thing, they also do cold brew coffee.
From Wes Anderson-inspired pastel dream worlds to icy minimalist havens, the planet is sweet with ice-cream and gelato hot-spots (or cold-spots?). Here, we bring you the scoop on the most deliciously designed parlours and shops from London to Miami. We've died and cone to heaven...
Mister, Vancouver, Canada
Opened by Michael Lai and Tommy Choi, Mister is situated in the Yaletown district that uses liquid nitrogen to make its frozen delights. Having been inspired to action after experiencing the method in Asia, Lai and Choi have brought the modern culinary approach to Canada and claim that it results in a 'denser, creamier and smoother scoop'. Inhabiting the loading dock of a 1912 warehouse loft conversion, the interior comes courtesy of Vancouver-based architecture practice Scott & Scott. In order to give the interior an icy aesthetic, the architects stripped the shop entirely – leaving only the existing concrete ground and exposed brickwork. Through the reduction of the interior's embellishment and galvanised finish of the surfaces, Scott & Scott hopes to create the 'experience of sticking your tongue to the steel guard of a steel lift'.
Pasticceria Marchessi, Milan, Italy
A more grown-up affair, this historic Milanese pastry shop first opened its doors in 1824 and has since been at the fore of beautifully crafted Italian sweet treats, with unchanged passion for perfection. Still operating from its original location on via Santa Maria alla Porta, it now works from two further outposts, Via Monte Napoleone 9 (pictured) and Galleria Vittorio Emanuele II. An opulent, grass-green theme runs through each location, where delicious gelato is served, alongside a refined savoury menu, and of course, tray upon tray of pastries – you must try the crostata.
La Prossima Fermata, Milan, Italy
La Prossima Fermata (or The Last Stop) has served Milan for over a decade. Open late, it captures the passiagata crowd. This year it was given a new look courtesy of local interior architecture practise Studio Wok. Linoleum, stone and wood characterise the space, which has the feel of a modern laboratory – interesting gelato combinations is the invension. The fruit flavours are particularly good, with pile upon pile of fresh fruit on display in the industrial-sized fridges.
Lody Dudek, Mielec, Poland
Lody Dudek, a popular Polish chain of ice-cream parlours, works to recipes that have trickled down the generations. Founded in 1986 in Szczucin, a small town in southern Poland, the third generation of the Dudek family took over the company in 2015 and set upon nationwide expansion. Since recently moving to a new location in the south-eastern city of Mielec, Lody Dudek appointed the architectural studio Pigalopus to bring some design credentials to its new home. Pigalopus' chose a light pastel palette for the interior to marry the company's soft-hued menu of banana, apple, lemon, blueberry, tiramisu and Nutella. The creamy white and mint-green shades of the interior are teamed with wooden stools and plant pots; while the rustic application of holographic foil on the tiles creates the effect of ice cream sprinkles, offsetting the minimalist interior with just the right amount of playfulness.
Parlor, Prague, Czech Republic
Lukáš Prokop struck ice-cream gold while traveling across the USA in search of gastronomic inspiration, and he found it in San Francisco. After returning to his hometown of Prague, he teamed up with specialist cookie-maker Míša Odstrčilová, and together they founded Parlor cafe. In the heart of the fashionable business district of Karlín, Parlor further boosting the area's culinary credentials. 'Our menu has eight different flavours of cookies, 12 different kinds of ice-cream and eight types of toppings. That's more than 6,000 different flavour combinations, so there is always something to discover,' explain Odstrčilová and Prokop. Daytime indulgences can be accompanied by coffee, hot chocolate or smoothies, while wine and cocktails are the sideshow in the evenings. The fresh interior is the work of promising young architects Lenka Míková and Markéta Bromová. They envisioned the bar as a friendly space, furnished with vintage finds and greenery interjected throughout. They also commissioned furniture designer Klára Šumová to create a custom dot mural all over the walls, and bespoke lamps made of glass and copper.
Melina Keays is the entertaining director of Wallpaper*. She has been part of the brand since the magazine's launch in 1996, and is responsible for entertaining content across the print and digital platforms, and for Wallpaper's creative agency Bespoke. A native Londoner, Melina takes inspiration from the whole spectrum of art and design – including film, literature, and fashion. Her work for the brand involves curating content, writing, and creative direction – conceiving luxury interior landscapes with a focus on food, drinks, and entertaining in all its forms