New York photography show sees cultural icons – from David Hockney to Maya Angelou – in unguarded moments
'Face to Face' at New York's International Center of Photography (27 January – 1 May 2023) sees Maya Angelou, David Hockney, Michèle Lamy and more, photographed by Tacita Dean, Brigitte Lacombe and Catherine Opie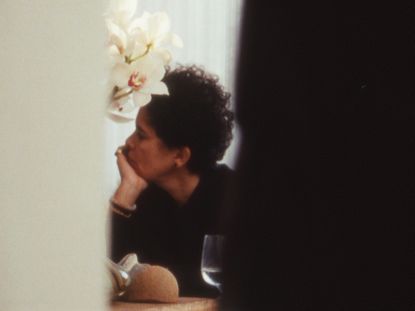 (Image credit:   Tacita Dean, Courtesy the artist, Frith Street Gallery, London and Marian Goodman Gallery, New York / Paris)
Presented at the International Center of Photography (ICP) in New York City, 'Face to Face: Portraits of Artists' has collated more than 50 photographs by Brigitte Lacombe and Catherine Opie, alongside two films by Tacita Dean, each orbiting around cultural figures, presented through portraiture.
Showing from 27 January to 1 May 2023, the images focus on creatives in their element – on film shoots, in studios and in more tranquil moments – in a dedicated series that brings together archival material from each artist and includes video portraits from rarely filmed artists such as Louise Bourgeois and David Hockney.
ICP New York's 'Face to Face: Portraits of Artists by Tacita Dean, Brigitte Lacombe and Catherine Opie'
LA-based writer and curator Helen Molesworth worked on the ICP show, which places the connections created by the images at the forefront. 'I see all three artists involved in making pictures that are not only in dialogue with their given subjects, but also with the history of the genre of portraiture and the medium of photography,' says Molesworth.
'These pictures and films offer us formality and intimacy, patience and curiosity, and the thrill of an unguarded moment.' This intimacy is captured by Lacombe, Opie and Dean in an array of settings, and exposes the public to decades of documentation.
Brigitte Lacombe's long-term project of shooting on Martin Scorsese's film sets shows the American director's evolving practice and the changes in his works over time. Her contribution also includes portraits of Maya Angelou, Joan Didion and Glenn Ligon (the last from a series of Hauser & Wirth New York artists photographed by Lacombe for Wallpaper*).
Catherine Opie is known for her early portraits of members of the LGBTQ community, using the medium as a tool to subvert queer stereotypes, as well as her dedicated artist portraits. Here, her subjects span Thelma Golden, Lawrence Weiner, Rick Owens, and David Hockney.
Berlin- and LA-based Tacita Dean's moving image works have captured artists such as Cy Twombly and Mario Merz in solitary moments. Featured in 'Face to Face' are two films, Portraits (2016), focusing on David Hockney in his Los Angeles studio, and One Hundred and Fifty Years of Painting (2021), comprising a conversation between artists Luchita Hurtado and Julie Mehretu.
Dean records creatives paused in thought and, as described by Molesworth, 'each of these artists has engaged portraiture – a genre of image-making as old as modernity itself – as a means of connecting themselves to other artists. The results are three bodies of work that play with the historical conventions of the genre while nibbling away at its edges.'
'Face to Face: Portraits of Artists by Tacita Dean, Brigitte Lacombe and Catherine Opie', 27 January – 1 May 2023 at the International Center of Photography, 79 Essex Street, New York, NY 10002. icp.org
Receive our daily digest of inspiration, escapism and design stories from around the world direct to your inbox
Martha Elliott is the Junior Digital News Editor at Wallpaper*. After graduating from university she worked in arts-based behavioural therapy, then embarked on a career in journalism, joining Wallpaper* at the start of 2022. She reports on art, design and architecture, as well as covering regular news stories across all channels.