Modern family: face-to-face with Hauser & Wirth's New York artists
To hail Hauser & Wirth's new 542 West 22nd Street home – scheduled to open this Autumn – we get up close and personal with 14 of its New York-based talents, seen through the lens of Brigitte Lacombe, with accompanying video portraits on Instagram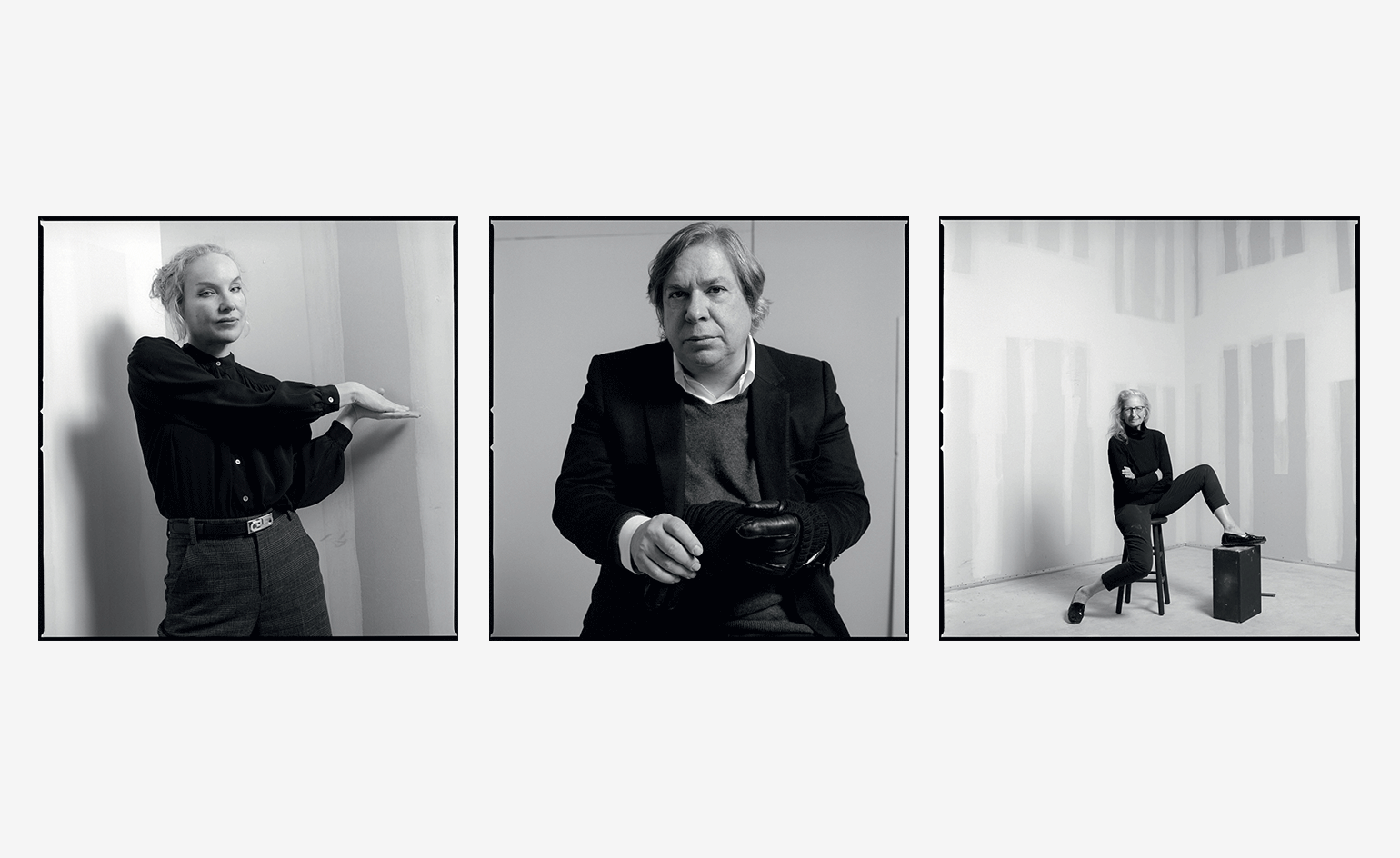 (Image credit: Press)
Mika Rottenberg
b. 1976, Buenos Aires, Argentina
Combining film, architectural installation and sculpture, Rottenberg investigates ideas of labour and the production of value in our hyper-capitalist world, creating unsettling, subversive allegories for contemporary life. Weaving fact and fiction, she has worked in diverse locations, among them a pearl factory in China and a Calexico border town. Following her 2019 exhibition 'Easypieces' at New York's New Museum and MCA Chicago, and a show at Hanover's Sprengel Museum, Rottenberg is developing upcoming solo presentations for the Tai Kwun Centre for Heritage and Arts in Hong Kong, the Museum of Contemporary Art Toronto, and Musée d'Art Contemporain de Montréal.
Nicole Eisenman
b. 1965, Verdun, France
Drawing from her personal experience as an artist in New York City, Eisenman explores narratives such as the dangers of technological dependence and the eternal dread of the future. Through expressive paintings, she has spotlighted issues of gender, race, economic imbalance and gun violence. Her monumental outdoor sculptural ensemble, Procession, was a highlight of the Whitney Biennial in 2019. Eisenman is currently working on a number of solo museum shows across the US and Europe, including presentations at Nottingham Contemporary, the University Museum of Contemporary Art (University of Massachusetts Amherst), and Oslo's Astrup Fearnley Museet.
George Condo
b. 1957, Concord, New Hampshire, US
Invented characters with bulging eyes, asymmetrical faces with comical expressions, and bizarre bodies populate Condo's work, which pays tribute to Old Master portraiture while nodding to the ambition and hysteria of contemporary American society. He has collapsed hierarchies between painting and drawing, the beautiful and the grotesque, and the comic and the tragic. His hallmark approach, 'artificial realism', involves 'dismantling one reality and constructing another from the same parts'. He recently unveiled his first major public sculpture at New York's Lincoln Center Plaza; titled Constellation of Voices, it evokes both a sun god and a lowly street performer, splendour and anxiety wrapped into one.
Matthew Day Jackson
b. 1974, Panorama City, California, US
Jackson's art grapples with big ideas, such as the evolution of human thought, the fatal attraction of the frontier, and the faith that man places in technological advancement. Working across a variety of media and using an eclectic material palette, he interrogates the dual forces of beauty and desolation, particularly in relation to the myth of the American Dream. He is currently preparing a solo exhibition of new work to debut at Hauser & Wirth (opens in new tab) Zurich in October. Foraying into design, Jackson is now expanding his 'Kolho' furniture line, first introduced in 2019 and produced by Finnish manufacturer Made by Choice (see W*242), and he is also collaborating with Calico Wallpaper on a special collection.
Glenn Ligon
b. 1960, Bronx, New York, US
Spanning painting, prints, photographs, sculptures and large-scale installations, Ligon's work engages with text and found imagery to highlight African-American experiences, rendering a portrait of America as a concept, a place and a nation. Preferring to pose questions rather than propose answers, he engages the state of the world and urges us to do the same. The mutability of images, and our perception of them, are recurring themes. Ligon had works on view in the Duro Olowu-curated exhibition 'Seeing Chicago' at MCA Chicago. He will also feature in the 'Prospect.5, New Orleans' art triennial, in the autumn, and is at work on upcoming solo exhibitions at Hauser & Wirth New York, and Carré d'Art in Nîmes, France.
Nicolas Party
b. 1980, Lausanne, Switzerland
Party's familiar yet unsettling landscapes, portraits and still-lifes simultaneously celebrate and challenge the conventions of representational painting. Using soft pastels, he has created a universe of fantastical characters and motifs, where perspective is heightened and skewed to uncanny effect. He has also created public murals, sculptures and architectural interventions to construct enveloping experiences for his audience. Party has recently shown at the Flag Art Foundation, New York, and at Hauser & Wirth Los Angeles. He is now at work on a mural commission from RxArt for the Children's Hospital Los Angeles, and a new exhibition at Museo d'Arte della Svizzera Italiana Lugano, both debuting later in the year.
Avery Singer
b. 1987, New York City, US
Singer's paintings employ the binary language of computer programmes and industrial materials in order to remove the traces of the artist's hand, while engaging with past art historical movements. Her themes have included typified art world scenarios, sexuality, and the female figure. Through deploying new technologies and disengaging with romanticised views of image-making, Singer creates her own way of seeing. Her work is part of the forthcoming exhibition, 'The Paradox of Stillness: Art, Object, and Performance' at the Walker Art Center in Minneapolis. She also has projects in the works at Hauser & Wirth New York in 2021, and a solo exhibition in Asia in 2022.
Lorna Simpson
b. 1960, Brooklyn, New York, US
Simpson came to prominence with her pioneering approach to conceptual photography. Her early work, which juxtaposed text and staged images, raised questions about the nature of representation, identity, gender, race and history. She has since embraced lm, drawing, sculpture and painting (see W*228), offering powerful critiques of institutional racism and sexism, and immersing viewers in the paradoxes of contemporary American life. From her David Adjaye-designed studio in Brooklyn, Simpson is working on a full schedule of major exhibitions, including solo presentations at the Kunstmuseum Thun, Switzerland, and Hauser & Wirth Los Angeles in 2021, and at the Serlachius Museum in Finland in 2022.
Jenny Holzer
b. 1950, Gallipolis, Ohio, US
A conceptual artist, cultural force and erstwhile Wallpaper* guest editor (see W*247), Holzer is known for deploying text in public spaces to illuminate injustice and call for political action. Beyond museums and galleries, her work has also appeared on storefronts, billboards and T-shirts, even projected on landmark buildings at epic scale. Upcoming projects include commissioned works for Castello di Ama, Château La Coste, Fondation Beyeler, and K21. Holzer will be the subject of a major museum show at Seoul Box this November, and will have an installation on view at MASS MoCA until July 2021. She is also curating an exhibition devoted to Louise Bourgeois at the Kunstmuseum Basel in 2022.
Ida Applebroog
b. 1929, Bronx, New York, US
A self-proclaimed 'generic artist' and 'image scavenger', painter and feminist Applebroog has spent the past half-century conducting a sustained enquiry into human relations. At once beguiling and disturbing, her work explores themes of violence and power, gender politics, and women's sexuality and domestic space. In an Applebroog exhibition, the visitor becomes an observer and participant in a domestic drama, presented as fragmented narrative scenes. Applebroog was the subject of a solo show at the Kunstmuseum Thun in Switzerland in 2019, and an exhibition of her Mercy Hospital drawings, executed during her stay in a psychiatric clinic from 1969–1970, opened at London's Freud Museum in February.
Rashid Johnson
b. 1977, Chicago, Illinois, US
Art history, individual and shared cultural identities, personal narratives, literature and philosophy all factor into Johnson's multidisciplinary output. His work is embedded with everyday materials and objects, such as radios, shea butter, record covers and tropical plants, often associated with his childhood and referencing aspects of African-American identity. He presented a new body of work at Hauser & Wirth New York last autumn with his exhibition 'The Hikers', and is currently preparing works to be presented at Hauser & Wirth London and the New Museum, New York, as well as an outdoor sculpture commission at Storm King Art Center in upstate New York.
Mary Heilmann
b. 1940, San Francisco, California, US
Known for her joyful approach to colour and form, Heilmann is among the most influential abstract painters of her generation. She is influenced by 1960s counterculture, the free speech movement and California's surf ethos, overlaying minimalist geometries with spontaneous gestures. Her work often has a complexity that only gradually reveals itself to the viewer. She is currently working on an exhibition for the Manetti Shrem Museum of Art at UC Davis, which will examine the sculpture and ceramics she made as a graduate student at Berkeley while spending time with the likes of William Wiley and Bruce Nauman, as well as her time as a visiting artist at UC Davis in the 1970s.
Annie Leibovitz
b. 1949, Waterbury, Connecticut, US
A leading portrait photographer and keen documentarian of social landscapes, Leibovitz consistently its style to technique through collaboration with her subjects, photographing them in their homes or locations of personal signi cance. Since her early years as a photojournalist for Rolling Stone magazine, she has captured historical and cultural touchstones throughout the US and abroad. Her career has dovetailed with, and advanced, photography's evolution as a force for art making. In addition to participating in a major upcoming exhibition, 'Le Noir et le Blanc dans la Collection Pinault', in Rennes, France, she is currently working on a solo show at Hauser & Wirth London, and publishing a new book with Phaidon in November.
Rita Ackermann
b. 1968, Budapest, Hungary
Ackermann's work negotiates the opposing ideas of creation and destruction, and aggression and fragility. While trained in printmaking, she is best known for large-scale paintings that occupy a space between the figurative and abstract. She has also worked in collage, photography, sculpture and performance. Ackermann recently opened a critically acclaimed exhibition, 'Mama '19', at Hauser & Wirth New York, debuting a series of paintings in which figures and motifs rise to the surface of canvases, only to dissolve and reappear elsewhere again. The polymathic artist also collaborated with French fashion house Chloé on its A/W20 catwalk collection.
INFORMATION