Largest collection of Mario Merz igloos pop up in Milan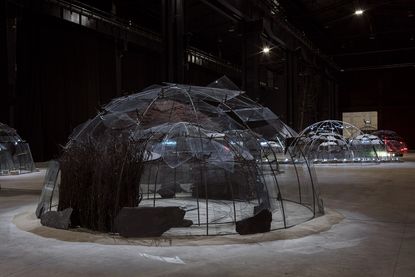 (Image credit: Renato Ghiazza)
In 1967, critic Germano Celan coined arte povera, an umbrella term for a cluster of avant-garde, anti-consumerist creatives originating from Turin, Rome and Milan. One of these artists was Mario Merz who sought to oppose what he viewed as the dehumanising forces of industrialism and the 'ready-made'. In the late 1960s, this concept was embodied in what would become his signature motif, the igloo.

Beginning his career in the wake of the Second World War, Merz's political activism in the Giustiza e Libertà anti-fascist movement earned him a year in jail. There he met critic Luciano Pistoi, who would later become a crucial influence in the artist's early work, fuelled by Bricolage, Informalism and the 20th-century writers including Cesare Pavese and Ezra Pound.

His first igloo was conceived in 1968 in Rome's Galleria Arco d'Alibert. Igloo di Giap is a hemispherical steel structure clad in bags of clay with snippets of literature scrawled around the circumference in neon. This was pivotal; Merz's paintings were sidelined and he got a taste for the igloo's symbolic properties, physical limitations and prehistoric roots. The artist became enveloped in its mobility, resourcefulness and potential; a venture that would endure, evolve and germinate for another 40 years until the artist's death in 2003.
The cacophonous 200,000 sq m decommissioned factory space of Pirelli HangarBicocca is now hosting the largest ever staging of these works in its Cubo and Navate spaces. In collaboration with Merz Foundation, the exhibition builds on the artist's solo show at the Kunsthaus, Zurich in 1985, with 31 of the iconic sculptures sourced from private collections and global art galleries curated in a largely chronological order. 'Here, the idea was that the igloos would form one work,' says Vicente Todolí, Pirelli HangarBicocca's artistic director.

Merz had a persistent fascination with Fibonacci sequence, a mathematical pattern of numbers whereby any given number is the sum of the two numbers that precede it. The sequence is a recurring theme on and around the igloos and even appears as a substantial standalone work running along 100m of Le Navate's rafters illuminated in neon.

It was the idea that the sequence was infinite, rational and corresponded with proliferation in nature, that Merz particularly revelled in. 'He always had these in his studio [Fibonacci numbers] they were the rhythm of his work and life,' says Todolí. For Merz, mathematics was an abstract concept, it was clearly entrenched in the laws of nature; his igloos are in turn firmly rooted in natural forms.
Here, the artist's aptitude for mixed media and material combinations is brought to the fore. He married raw, primordial substances like mud, moving water and wax with industrial materials including steel rods, precariously placed glass shards and newspaper stacks. As the concept evolved, he began to incorporate other metaphors including the table, signifying basic human need, fulfilment and social interaction.

This gave rise to a body of work riddled with contradictions: enclosure and exposure; occupation and absence; manmade and organic. 'Mario liked contrast, he liked to play with paradoxes,' Todolí reflects.

In this vast 'nomadic' encampment, 40 years of devotion to one form comes to fruition. For Merz, the igloo was a timeless symbol of humanity and organic transformation. 'The igloo is a home, a temporary shelter,' the artist remarked in 1984, 'since I consider that ultimately, today, we live in a very temporary era, for me the sense of the temporary coincides with this name: igloo.'
INFORMATION
'Mario Merz: Igloos' is on view until 24 February 2019. For more information, visit the Pirelli HangarBicocca website
ADDRESS
Pirelli HangarBicocca
Via Chiese, 2
20126 Milan
VIEW GOOGLE MAPS (opens in new tab)
Harriet Lloyd-Smith is the Arts Editor of Wallpaper*, responsible for the art pages across digital and print, including profiles, exhibition reviews, and contemporary art collaborations. She started at Wallpaper* in 2017 and has written for leading contemporary art publications, auction houses and arts charities, and lectured on review writing and art journalism. When she's not writing about art, she's making her own.