As David Hockney's immersive art show in London opens, here's what to expect
'David Hockney: Bigger & Closer (not smaller & further away)' is now open at London's Lightroom (until 1 October 2023)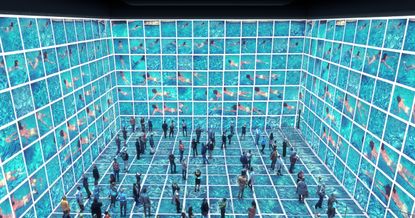 (Image credit: © David Hockney)
David Hockney has unveiled an ambitious, immersive art show in London, transforming his iconic paintings, rarely seen pieces and some newly created work into a multisensorial experience.
Three years in the making, 'David Hockney: Bigger & Closer (not smaller & further away)' is the launch show at Lightroom in King's Cross, London. The four storey-high space, designed by London architects Haworth Tompkins, is a joint venture between design studio 59 Productions and the London Theatre Company.
The six-chapter, 50-minute show features a dedicated score by American composer Nico Muhly, and commentary narrated by Hockney himself, in which he reveals his artistic process. 'It can plunge the audience right into the way he looks at the world, and the way he understands art,' explained the show's executive producer, Nicholas Hytner, in an interview with BBC Radio 4. 'There's an absolutely amazing sequence where we watch him create one of his iPad pictures of his house and gardens in Normandy, almost as if you're watching him paint in real time.'
Other chapters of the show are dedicated to LA, California's San Gabriel Mountains (which inspired the artist to create a 90-minute Wagner soundtrack back in 1990), Yorkshire, and an opera house where the audience will encounter animated recreations of Hockney's stage designs.
'We watch [Hockney] experimenting with perspective, using photography as a way of "drawing with a camera", capturing the passing of time in his Polaroid collages and the joy of spring on his iPad, and showing us why only paint can properly convey the hugeness of the Grand Canyon,' states the show description.
'Bigger & Closer' will demonstrate how Hockney, now well into his ninth decade, continues to embrace new media, following his experiments with photography, video and the iPad. 'I was looking for this, really, for a long time,' he said on BBC Radio 4.
'We'll have those nine big camera works of spring, summer, autumn and winter on the walls, but you'll be looking up, [it's] amazing to be really looking up at them. The audience will feel on it, they will feel in the forest, they will feel on the cliff. It's changing everything.'
Asked about inevitable comparisons to the slate of immersive exhibitions (notably reinterpreting the work of Van Gogh and Monet) that have cropped up in recent years, Hockney is unfazed.
'They are just using Van Gogh and Monet, and they're dead. They can't add anything to it,' he quips. 'Well, I'm still alive, so I can make things work better.'
'David Hockney: Bigger & Closer (not smaller & further away)', until 1 October 2023, Lightroom, 12 Lewis Cubitt Square, London N1, lightroom.uk; hockney.com
Receive our daily digest of inspiration, escapism and design stories from around the world direct to your inbox
TF Chan is a former editor of Wallpaper* (2020-23), where he was responsible for the monthly print magazine, planning, commissioning, editing and writing long-lead content across all pillars. He also played a leading role in multi-channel editorial franchises, such as Wallpaper's annual Design Awards, Guest Editor takeovers and Next Generation series. He aims to create world-class, visually-driven content while championing diversity, international representation and social impact. TF joined Wallpaper* as an intern in January 2013, and served as its commissioning editor from 2017-20, winning a 30 under 30 New Talent Award from the Professional Publishers' Association. Born and raised in Hong Kong, he holds an undergraduate degree in history from Princeton University.