Remembering Lawrence Weiner (1942–2021)
We pay tribute to American conceptual art pioneer Lawrence Weiner – known for his philosophical heft, linguistic dexterity and political candour – who has passed away aged 79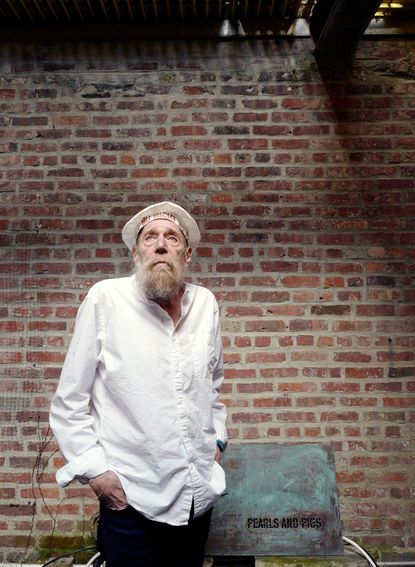 (Image credit: Courtesy of the artist and Moved Pictures; Archive Photo Maria Sprowls)
Lawrence Weiner was born in The Bronx, New York in 1942, where his parents owned a sweet shop. After graduating high school, he worked in manual industrial jobs: on oil tankers and railroad cars, but then he saw a Jackson Pollock at MoMA, and everything changed.
Returning to New York after a trip across North America, Weiner found Abstract Expressionism at its climax, and he was captivated. Much to his parents' concern, he began to pursue art. He presented his first work publicly at 19. Titled Cratering Piece, and involving four explosives and a field in Marin County, California, it announced a far from timid arrival on the scene.
For six years in the 1960s, he orchestrated a series of explosions in the California landscape to create craters as individual sculptures. Around the same time, he began writing instructive statements describing creative gestures: 'Two minutes of spray paint directly on the floor...' or 'A 36" x 36" removal of lathing or support wall…' (both 1968). It wasn't entirely clear whether the statement was attached to an artwork, or whether the statement was the artwork. And that was the point.
In 1968, Weiner wrote his 'declaration of intent':
'The artist may construct the piece.
The piece may be fabricated.
The piece need not be built.
Each being equal and consistent with the intent of the artist, the decision as to condition rests with the receiver upon the occasion of receivership.'
This manifesto, published in his first book, Statements, turned the conventional artist-viewer relationship upside down. It was now the viewer's responsibility to realise the work, the artist's role was to facilitate this realisation. The book contained only verbal descriptions of sculptures' materials and their relationships to space, shifting the mental heavy-lifting onto the observer. Through his modest 64-page paperback (now considered one of the seminal conceptual literary works), Weiner realised that his art could exist in language alone.
Weiner was present at the birth of conceptualism in the late 1960s. Shaking up conventions, he probed the essence of what art should stand for, what role the artist should assume, and how they should relate to the viewer.
RELATED STORY
As Weiner's ideas evolved, he moved away from describing metaphysical sculptures, and instead turned words themselves into sculptures. Through fragments of conversations, poetry and prose, he created graphically-rendered cryptic compositions, often laden with black humour, double meanings and wordplay.
He found words to be a versatile medium. He presented his work in galleries, in books, as audio, but most notably, in public spaces: as graffiti, on manhole covers, on billboards, and exterior walls. Sharp, poetic and rendered in his unmistakable caps-locked typeface, Margaret Seaworthy Gothic, Weiner's work was always succinct, and always expressive. He is best known for To See and Be Seen (1972), Motion Enough to Bring About…(2008), and All The Stars In The Sky Have The Same Face (2011/21). The latter was recently installed on the façade of the Jewish Museum, New York, a commentary on the poignant history of Jewish self-isolation in response to anti-Semitism.
From 2007–8, the artist was given major retrospective surveys at the Museum of Contemporary Art, Los Angeles (MOCA) and the Whitney Museum of American Art, New York.
Other major international solo exhibitions were held at the Stedelijk Museum, Amsterdam (1988/89), Hirshhorn Museum and Sculpture Garden, Washington, DC (1990), Institute of Contemporary Arts, London (1991), Musée d'Art Contemporain, Bordeaux (1991/92), Museo Tamayo Arte Contemporáneo, Mexico City (2004), San Francisco Museum of Modern Art (1992), The Jewish Museum, New York (2012) and Blenheim Palace, Oxfordshire (2015).
Weiner was a true anti-establishment creator. He shared his work liberally with the masses, and always left enough room for viewers to cultivate their own interpretations.
He posed questions without using question marks. He used text to interrogate, rather than explain. It wasn't just what things meant, but how things meant. Our debt to him goes far beyond words.
Receive our daily digest of inspiration, escapism and design stories from around the world direct to your inbox
Harriet Lloyd-Smith was the Arts Editor of Wallpaper*, responsible for the art pages across digital and print, including profiles, exhibition reviews, and contemporary art collaborations. She started at Wallpaper* in 2017 and has written for leading contemporary art publications, auction houses and arts charities, and lectured on review writing and art journalism. When she's not writing about art, she's making her own.