Cold hands, warm art: 10 winter recipes from leading artists
We've sieved through the Wallpaper* Artist's Palate archives to find the 10 best festive feasts, winter warmers and culinary showstoppers to spice up the season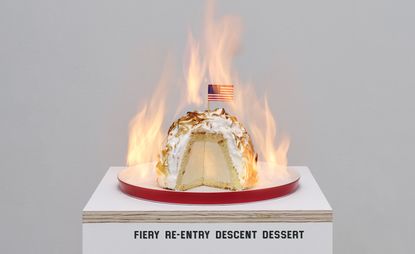 (Image credit: Photography: John Short. Entertaining director: Melina Keays. Interiors: Matthew Morris)
Artist's Palate is Wallpaper's modern take on a recipe feature. It's an homage to our favourite contemporary art, but also an excuse for some hands-on creativity at Wallpaper* HQ.
The process is (usually) simple: we contact our favourite artists and request their favourite recipe. Then, after some creative deliberation, we construct the dish in response to the artist's work, collaborating with top-tier photographers, set designers and chefs.
The series was conceived in 2009, inspired by a 1977 MoMA cookbook that saw artists serve up their favourite dishes – think Robert Indiana's Hoosier Borscht or Salvador Dalí's Green Vegetable Purée. Since then, we've racked up more than 120 contributions. The responses have been varied, from deeply personal childhood favourites and curious – sometimes challenging – instructions to originally conceived artworks (hats off to Judy Chicago). Over the years, it's offered joy, laughs, surprises, food for thought and lesser-known insights into each artist's life and work.
As winter descends upon us, we've sieved through the Artist's Palate archives to find you the best hearty home comforts and bold culinary combinations to spice up the festivities.
10 festive feasts from the Artist's Palate recipe archives
Ulla von Brandenburg's orangettes
Terry's Chocolate Orange may well be a festive staple (at least in the UK), but we propose an alternative for this classic citrus-cocoa combo: orangettes, courtesy of German artist Ulla von Brandenburg. If you need us, we'll be rockin' around the orange tree gorging on Brandenburg's biscuit-shaped treats, brandy-soaked and half-dipped in chocolate.
Tom Sachs' baked Alaska
What screams 'winter nights' louder than a roaring fire? Luckily, Tom Sachs has us covered. His Fiery Re-entry Descent Dessert is a spaceship in pudding form, created according to an exact diagram he provided. Sachs also outlined a few specifics for a smooth take-off: Bacardi 151 to ignite, Sara Lee all-butter pound cake to insulate and 'American flag toothpicks to simultaneously show patriotism and dissent' – bet you didn't see that one coming. He also suggests Tyvek space mittens to serve; we suggest caution when trying this at home.
Louise Bourgeois' leg of lamb with vegetables
The late, great Louise Bourgeois; an icon of modern art whose bulbous, erotic, latex or fabric-stuffed protuberances and dismembered animal limbs embody trauma, sexuality and domesticity. Fillette, an unmistakable penis, nearly two feet high, hung by a butcher's hook from the ceiling; another depicted her childhood fantasy of chopping up her dictatorial father into chunks of meat. Appetite still intact? Try Bourgeois' leg of lamb with vegetables for a hearty home comfort.
Cornelia Parker's eggs
Cornelia Parker's art is about destruction, resurrection and reconfiguration, which is all we can hope for in attempting to reconstruct her recipe for eggs. When she submitted the dish, her instructions were suitably conceptual: that we cook an egg in the style of our choosing, but do so left-handed and blindfolded. We can guarantee festive entertainment for all the family, but can't promise it will be pretty.
Christian Marclay's fondue moitié-moitié
Nothing notes the arrival of Christmas with more zest than the dulcet timbre of a French horn, particularly when that French horn can also function as a melting pot for a moitié-moitié cheese fondue. Christian Marclay, an audio-visual surrealist like no other, suggested a Valais region dry white as an accompaniment. We're giddy already.
Charles Gaines' Southern-style candied yams
Through grid-like compositions and rules-based processes, American artist Charles Gaines explores how art can conform to systems, and work against them. He offered a detailed formula for Southern-style candied yams, attributed to his mother, Amelia. The results are a sweet-meets-root vegetable flavour sits somewhere between candied yams and sweet potato pie.
Cindy Sherman's gnocchi with sage and butter sauce
Winter time: cue the inevitable 'new year, new me' manifesto. No artist has taken self-transformation to greater extremes than Cindy Sherman, whose self-portraits under a variety of guises are at once funny, disturbing and nostalgic. As it turns out, Sherman is also a dab hand with a ball of potato and flour. Her recipe for crescent-shaped gnocchi – complete with hyper-detailed method – makes for the ultimate cockle-warmer.
Daniel Buren's oysters and truffle
If you were describing the work of Daniel Buren in a game of festive charades, there is one motif you might be hard-pressed to avoid. As our editor-in-chief Sarah Douglas recently recalled of creating the French artist's oysters and truffle recipe: 'He dared me not to use stripes.' As challenging requests for Artist's Palate go, this was the cherry on top. The dish is one of colour-drenched optimism and celebration (unless you find yourself picking up the bill).
William Eggleston's shepherd's pie
While shepherds watch their flocks by night, you're likely to find us eagerly pot-watching William Eggleston's shepherd's pie. In keeping with his work, the celebrated photographer's traditional, everyday recipe was transformed into a delicacy. In a cinematic twist, Eggleston's pie is adapted from a recipe by filmmaker Richard Leacock.
Ed Ruscha's cactus omelette
As writer Paul McCann noted in 2010: 'You can never be sure when you ask Ed Ruscha about his favourite foods if he means to eat them or work with them.' So, playing it on the safe side (recommended when dicing hazardous food), we presumed both applied to his cactus omelette recipe. This dish, equipped with some important hand-typed, text-based advice, could serve as a reminder of sunnier climes in dark winter months (specifically in Ruscha's adopted state of California) – just mind the spines.
INFORMATION
Harriet Lloyd-Smith is the Arts Editor of Wallpaper*, responsible for the art pages across digital and print, including profiles, exhibition reviews, and contemporary art collaborations. She started at Wallpaper* in 2017 and has written for leading contemporary art publications, auction houses and arts charities, and lectured on review writing and art journalism. When she's not writing about art, she's making her own.