Artist's Palate: Christian Marclay's fondue moitié-moitié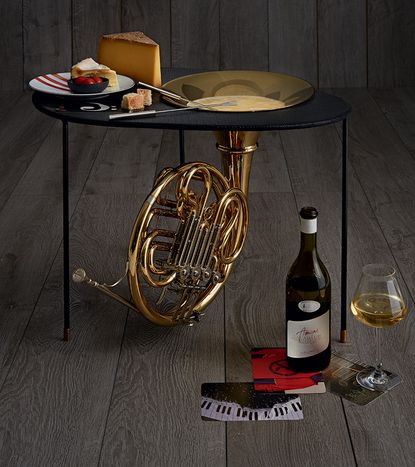 (Image credit: Gustav Almestal)
'Matégot Kangourou' table, £269, by Mathieu Matégot, for Gubi. 'Initiales Parallèles' dessert plate, £64, by Puiforcat, from Harrods. Pinch pot, £16, by Ian McIntyre, for Another Country. Mont d'Or cheese, £16 per 500g; Gruyère, £27.50 per kg, both from Jeroboams. Fondue set, £90, by Emile Henry, from Divertimenti. 'Series 4' French horn, £2,820, by Paxman. 'Shuffle' playing cards, by Christian Marclay. Fendant Balavaud Grand Cru, Jean-René Germanier, £23, from Alpine Wines. 'Château Baccarat' wine glass, €75, by Baccarat. 'Oak Silver Grey' flooring, £28.50 per sq m, by Parador
Swiss-American artist Christian Marclay is the coolest person to advocate a silky smooth combination of Gruyère and Vacherin Fribourgeois in quite some time. Marclay, who has won the Golden Lion at the Venice Biennale, had solo shows from LA to Seoul, and guest-edited W*151, is a sort of sound surrealist. He juxtaposes appropriated movie clips, images of instruments and musicians to make audio-visual collages. Having once made art from an accordion, with 7m bellows, making fondue hip again should be a cinch. Don't forget to rub your caquelon with garlic.

Ingredients
(Serves four)
1 garlic clove peeled and crushed, to rub the fondue pot
1 tbs cornstarch
300ml white dry wine, such as Fendant from the Valais region
400g Gruyère, grated
400g Vacherin Fribourgeois, cut into pieces
black pepper
pinch of nutmeg
small glass of kirsch
loaf of bread (700g) cut in cubes

Method
Crush and rub the inside of the fondue pot with the garlic clove, then discard. Dissolve the cornstarch in the white wine, and mix until boiling on stove. Slowly add the cheeses and melt slowly on a low flame while continuously stirring with a wooden spatula. Season with pepper and nutmeg and add the kirsch. As soon as the mix becomes creamy, put it on the table heater just before it boils. Maintain the fondue at the same temperature on the heater. Stir in the pieces of bread and eat. Diners should keep stirring the pot regularly to maintain the unctuous texture.
INFORMATION
Photography: Gustav Almestål. Interiors: Maria Sobrino