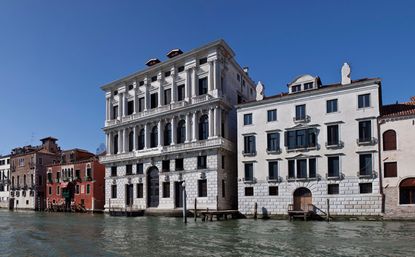 (Image credit: press)
The 54th Annual Venice Biennale (opens in new tab), directed by art historian and critic Bice Curiger, opened to the public last Saturday after contemporary art collectors and industry insiders enjoyed three days of previews, parties, and healthy servings of polenta with baccala.
Inside the city's former ship yard Arsenale, the crowds buzzed around Urs Fischer's three wax statues, including one burning variation of his own office chair and a portrait of his friend Rudolf Stingel.
Though not new, Christian Marclay's 'The Clock' video had every visitor transfixed with its remarkable minute by minute clips of thousands of films condensed into one 24 hour day. Another welcome rerun was Erwin Wurm's impossibly skinny 'Narrow House' which landed on a patch of green grass opposite the L'Accademia.
Though the English and Austrian pavilions made the biggest splashes in the Giardini, the newness at this Biennale was in the emergence of Middle Eastern artists such as sisters Shadia Alem and Raja Alem (Saudia Arabia), Farhad Moshiri (Iran) and Ahmed Alsoudani (Iraq).
For fashionable (and deep-pocketed) art foundations, commandeering a fresco-lined 16th century palazzo with canal views has become the preferred trend of the 21st century. Following Renzo Piano's restructuring of the Fondazione Vedova (two years ago) and Tadao Ando's touch on the Pinault Foundation's Palazzo Grassi (now celebrating its fifth birthday), Prada has said 'anch'io, per favore.' In one of the week's most anticipated events, the Milan based fashion house opened the doors to its new home in the exquisite Ca' Corner della Regina which was stuffed with works from the Foundation's permanent collection creating a heady mix of Lucio Fontanas, Jeff Koons, Anish Kapoors and Maurizio Cattelans along with Rem Koolhaas/OMA's design for the Foundation's headquarters in Milan which will debut in 2013